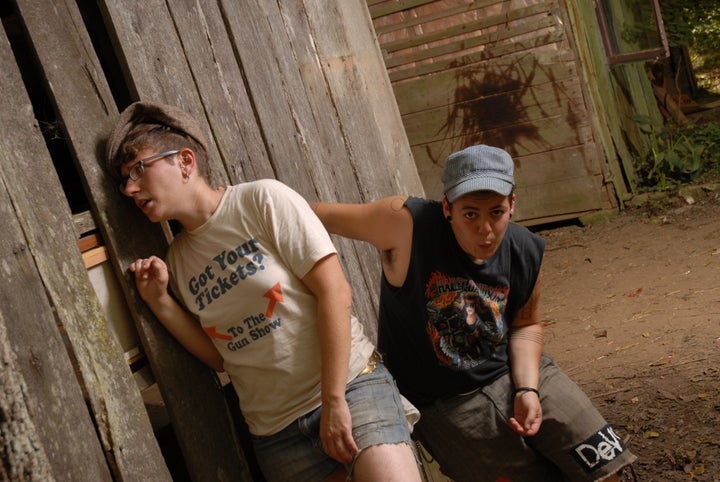 Produced by HuffPost's Eyes & Ears Citizen Journalism Unit
Chicago-based acoustic duo Actor Slash Model has been wooing audiences with their folksy tunes and clever song titles for years, but the band's newest project, "Riot Acts," is shedding much-needed light on trans and gender variant musicians in the indie music scene.
On Saturday, the Chicago International Music and Movies Festival screened "Riot Acts: Flaunting Gender Deviance in Music Performance," a feature length documentary directed and produced by Madsen Minax and Simon Strikeback of Actor Slash Model. This self-described "transfabulous rockumentary" highlights transgender and gender variant musicians from across the U.S. and Canada.
The 72-minute film weaves together stories from traveling musicians, with interviews from bands such as The Cliks, Novice Theory, Coyote Grace, The Degenerettes, Trannysaurus Sex and The Shondes, just to name a few. Bands and musicians speak candidly and at length about coping and adjusting to changes in vocal pitch and range while taking hormones, performing and choosing venues, understanding trans identities as political as well as personal identities, passing, not passing and gender presentation on stage.
Funding for the film came mostly from donations, Actor Slash Model record sales and grants. Minax and Strikeback also worked full-time while taking short breaks to tour and film for "Riot Acts." Though they have found many places to screen the film, finding outlets that are not exclusively LGBT or queer-focused has been difficult, the filmmakers said Saturday.
One reason to pursue this project was to challenge mainstream perceptions of trans identities. Minax said that he wanted to make a film that highlighted different kinds of trans experiences and also shows the ways gender performance and stage performance intersect. Instead of making a "trans education" film, Minax said, he wanted to give the audience the benefit of the doubt regarding their knowledge of queer and transgender experiences.
Producer Strikeback mentioned mainstream depictions of trans people in films such as "Boys Don't Cry," where being trans seems to go hand in hand with tragedy.
"We made a film about people, not tragedy," Strikeback said.
During the three-year process of interviewing musicians and traveling across the country filming "Riot Acts," the duo has a new perspective on their own experiences as trans artists, they said.
"Not everyone does trans in the same way," Minax said. "Even in the same community, there are different experiences."
"Riot Acts" has been well received in its initial screenings, and audience members at CIMM Fest were no exception. Audrey Habermann of Chicago said she thought it was "well done" and liked the wide-spectrum of musicians from both nationally recognized and locally known bands.
"Riot Acts" screens at the London Gay and Lesbian Film Festival on March 27-28 and again in Chicago at DePaul University on May 8.
Watch a clip from the film here:
Popular in the Community