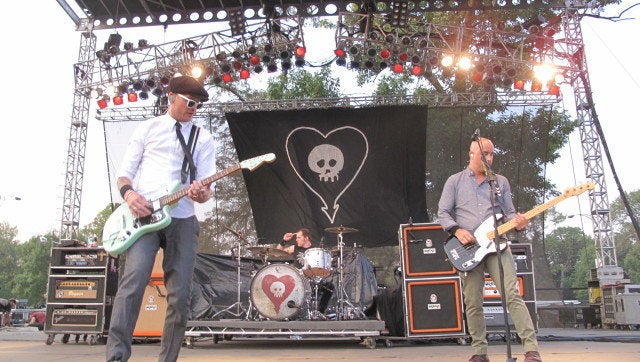 CHICAGO -- The final day of Riot Fest was anything but riotous. Perfect weather, a friendly crowd, old timer headliners and enough snarky t-shirts to stock 10 Alley's, the punk rock circus was a success.
Headliners Iggy and The Stooges, Gogol Bordello, Alkaline Trio and Elvis Costello & The Imposters knew why they were booked. Each act played a greatest hits set, or at least hits to the crowd.
The inaugural Riot Fest in Humboldt Park will hopefully happen again. No longer stuck choosing between legendary punk bands on opposite sides of the city, a Pitchfork-like setup made seeing acts, well, a day in the park.
Scroll down for our Tweets we thought were being sent out from Sunday at Riot Fest.
4:00 p.m. Do not drive to a music festival.
4:10 p.m. More September music festivals in Chicago. Perfect weather. Perfect.
4:25 p.m. Most spitting I've seen at any music or street festival.
4:45 p.m. If you can't afford a ticket, the view of The Jesus and Mary Chain from outside the park is quite nice.
5:05 p.m. Shoegazer in Humboldt Park on an almost-fall afternoon. Jesus, this is perfect.
5:10 p.m. Plan ahead. You will not have cell service. Are these going out?*
5:30 p.m. Elvis' organ is a good fit for the circus theme.
5:45 p.m. No bad view of the two main stages. Good planning.
6:00 p.m. Elvis doesn't need to talk the crowd.
6:15 p.m. Peace, love and understanding are visible at Riot Fest. No fighting, lots of hand holding and fans of all Chicago teams singing along to the hits.
6:20 p.m. A theremin and a PBS show theme song has been played at the 2012 edition of Riot Fest.
6:30 p.m. Shooting AK3 during "This Could Be Love" in the photo pit. Did this exact same thing in 2004 at Warped Tour.
6:50 p.m. AK3 is playing all of their songs that mention Chicago. Everyone appears pleased.
7:10 p.m. Another suitable name for Riot Fest is Bands We Had On Mix CDs in High School.
7:25 p.m. Based on no actual stats, the average age of a Riot Fest attendee is between 35 and 40.
7:45 p.m. The lead singer for Gogol Bordello is the most ripped hippie I've ever seen. 18-pack abs.
8:00 p.m. More gypsy and less punk, Gogol Bordello is perfect for their time slot. Get people dancing but not moshing.
8:05 p.m. Yes, people have been moshing. People still mosh.
8:10 p.m. And body surf. Lots of body surfing.
8:35 p.m. "Search and Destroy"!
8:45 p.m. We're only four songs in and Iggy has already invited people on stage.
8:50 p.m. And on song 5 Iggy spikes the mic and bassist Mike Watt makes love to his bass cab.
9:00 p.m. Iggy is 65 and body surfing. And singing.
9:10 p.m. Watching a circus performer make sparks to the beat of "No Fun."
9:15 p.m. Mike Watt is hanging out with his parents before the encore.
9:30 p.m. Iggy and The Stooges just drove by me on a golf cart. I squealed like a pre-teen.
*No. They did not go out. That was the only big problem with Riot Fest, cell service. AT&T and T-Mobile were essentially useless. Some Verizon users had better luck. More of a cell tower problem than a festival problem, but definitely a concert-goer concern.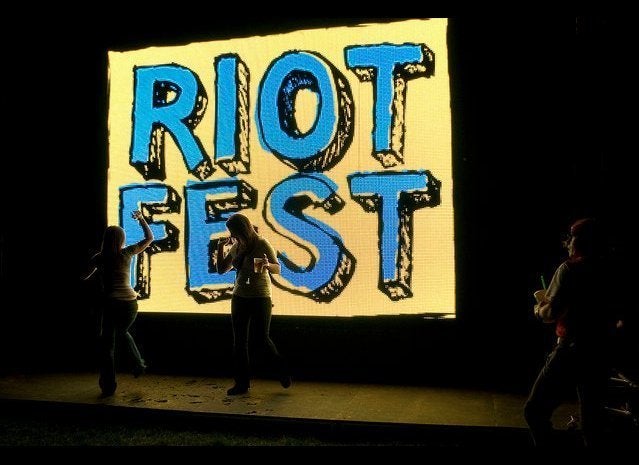 Riot Fest
Popular in the Community