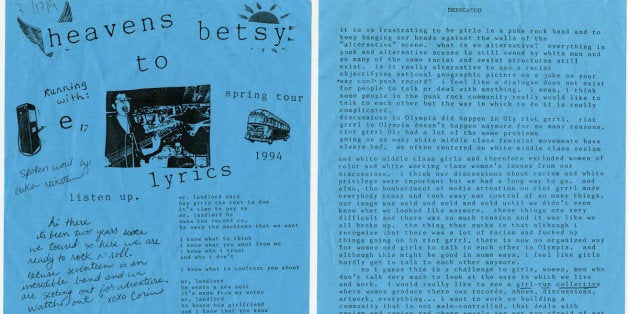 "Riot grrrl was the collective brainstorm of a small group of smart, angry women that eventually became a national news story and influenced an entire generation of girls." That's the succinct definition Lisa Darms provides readers in her book The Riot Grrrl Collection, outlining in so many words a movement that sprung out of punk music and art and moved to flood the minds and zines of '90s women from Olympia, Washington to Brooklyn, New York.
Drenched in DIY aesthetics and a sharp perspective on third-wave feminism, the attitudes of riot grrrls were marked not just by anger, but the passionate desire to challenge the patriarchy in any way they could. These feminist punks (Kathleen Hanna, Allison Wolfe and Molly Neuman amongst them) used political action and activism -- often in the form of music -- to form a community that placed empowerment at the forefront of its cause. It was utterly pro-girl, a response, in many ways, to the feminist inaction of the '80s, that aimed to tackle not just women's rights but racism, homophobia and inequality of all kinds. Grrrls were the vehicle for doing so.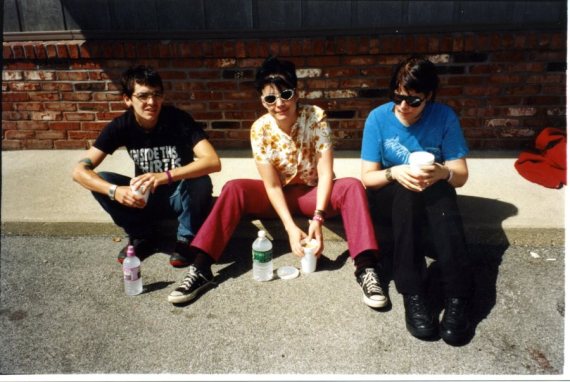 Le Tigre drinking coffee. Photo Courtesy of Dusty Lombard. An IFC Films release.
"BECAUSE us girls crave records and books and fanzines that speak to US that WE feel included in and can understand in our own ways." So declares the original Riot Grrrl manifesto. "BECAUSE I believe with my wholeheartmindbody that girls constitute a revolutionary soul force that can, and will change the world for real."
The movement made waves in the subcultural underbelly where riot grrrls thrived -- music venues, galleries, unofficial meetings -- but managed to make itself known in the so-called mainstream media as well. It was, unsurprisingly, largely misunderstood, and the fervor of the riot seemed to break down as quickly as it broke out.
"By the mid-90s, it was common knowledge among punks and indie rockers that Riot Grrrl had been dead for at least two years, if not longer." Sara Marcus explains in her 2010 book Girls to the Front: The True Story of the Riot Grrrl Revolution. "The early '90s were a difficult time to be a woman, especially a young one, and too little has changed in the intervening decades. Yet nothing else has emerged since then to confront sexism with a fraction of Riot Grrrl's fire and prophetic drive."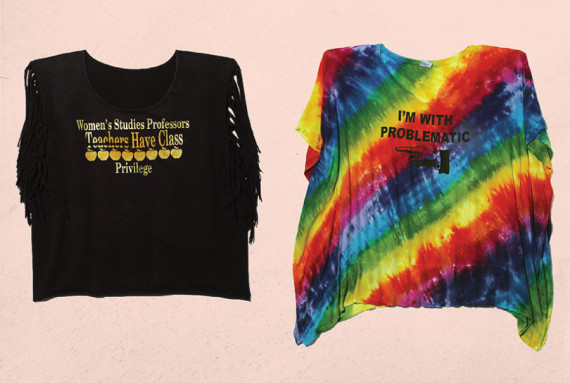 I'm With Problematic / Women's Studies Professors Have Class Privilege, from the series Creep Lez, Allyson Mitchell, 2012. Altered t-shirts with iron-on transfer and vinyl letters. Courtesy of the artist and Katharine Mulherin Gallery, Toronto.
Thankfully, in the past few years, the legacy of Kathleen Hanna et al has jumped back on people's radar. There's been an exhibit, a new documentary and a tumblr census. As the feminist world seems on the cusp of a fourth wave, the intersectional genius of riot grrrls is relevant all over again.
In honor of the timeless energy of the riot grrrl movement, we've delved into the archives to find our favorite, awe-inspiring lyrics. Take a trip down memory lane with the ultimate tribute to punk women: 9 Things Riot Grrrl Lyrics Can Teach You About Life.
1. How To Have Confidence à la Bikini Kill
"When she talks, I hear the revolution/In her hips, there's revolutions/When she walks, the revolution's coming/In her kiss, I taste the revolution!" The entire "Rebel Girl" song is a guide to empowering yourself, and loving your friends who ooze confidence like they should.
2. How To Let Go Of Other People's Expectationsà la Sleater-Kinney
"Let it all go at once/not piece by piece/but like a whole bucket of stars/dumped into the universe." (Bonus: Miranda July!)
3. How To Call Someone Out à la Babes in Toyland
"You see the stars through eyes lit up with lies/You got your stories all twisted up in mine/You got this thing that follows me around/You were born with glue instead of spine." It's a harsh song, but confrontation is bound to happen, and we can only hope we're as eloquent and poetic as these Babes. (Bonus: Cindy Sherman!)
4. How To Identify A Bad Relationship à la Bratmobile
"You make me feel so selfish/you make me feel like such a jerk/always taking all my licorice/ and say you wish that things would work." If you related at any time to these lyrics, it's a warning sign that the relationship you were in was not healthy.
5. How To Talk About Misogyny à la Le Tigre
"What's Yr Take on Cassavetes?/Misogynist? Genius? Misogynist? Genius?" Le Tigre taught us to really think about mainstream culture with a feminist eye.
6. How To Sing About The Male Anatomy à la The Breeders
"I'm just looking for one divine hammer/I'd bang it all day." Yup.
7. How To Process Fear à la L7
"Are these sensible shoes on my feet?/I wear my shades, so our eyes don't meet/I'm scared every fuckin' day/I wear my headphones, so I can't hear what you say." L7 sang about being afraid, and we listened.
8. How To Let People In à la Heavens to Betsy
"I barely know how true goodness feels/I don't even know how to feel/I know I built walls around/I'm begging you to knock them down." A beginner's guide to being strong, but allowing yourself to be vulnerable too. Hey, it's complicated.
9. How To Support Other People à la Team Dresch
"Read about her in the papers and on TV/they say she's outspoken/Many people try to destroy her/but if she were to stop, I stop, we all stop." An ode to solidarity.
Calling all HuffPost superfans!
Sign up for membership to become a founding member and help shape HuffPost's next chapter
BEFORE YOU GO
PHOTO GALLERY
The Riot Grrrl Collection