Decades before Facebook, Instagram or Snapchat, radio was social media, and the reason was radio personalities like Dan Daniel.
Daniel died Tuesday at the age of 81, and he left a legion of admirers who flooded sites like the New York Radio Message Board with memories of how much they simply flat-out liked the man.

It was easy to do. Nobody apparently ever told Daniel that Nice Guys Finish Last, so he became one and he didn't.
"Dan was my favorite afternoon drive DJ when I was growing up," says former WCBS-FM program director Joe McCoy. "Loved his voice, his smooth style, and the fact that he never got in the way of the music."
Born in Texas, Daniel got his first microphone time as a teenager on Armed Forces Radio in Manila. He worked at KXYZ in Houston and WDGY in Minneapolis before, on Aug. 18, 1961, joining WMCA in New York. That's where he would become one of the fondly remembered Good Guys.
In radio, everyone keeps their bags packed. Daniel bought a place in Larchmont and stayed for the rest of his life, some 55 years. That's just two years less than he was married to his wife Rosemary, the slightly mysterious "Size Nine" to whom he sent his love at the end of every show.
Daniel came to WMCA just as The Good Guys were launching a decade-long duel with the Goliath of 1960s rock 'n' roll radio, WABC.
"It was a daunting challenge," Daniel recalled. "WABC had more money and a much stronger signal. So needed all the promotion we could get. We worked 14-, 18-hour days. It was tough, but we supported each other. We felt like a team."
That attitude led to some amusing moments, like when he recorded a novelty song called "Where Were You When the Lights Went Out" about the New York City blackout.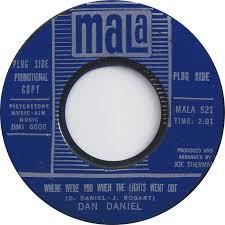 It had a more somber side on Nov. 22, 1963, when President John F. Kennedy was shot.
"I'd been visiting my parents in Texas and I was getting ready to fly back," he recalled. "The station called me and asked if I could give a report. So I just talked about it from the standpoint of being stunned. I asked why it had to happen in Texas. I stayed for a few days and did more reports - and a lot of that is still with me."
Happily, most days were better.
"We laughed a lot," he said. "Our music meetings every Tuesday morning at 11 were like comic relief."
What blew the 1960s radio game open, he said, was the arrival of the Beatles in 1964.
"Up to then, we were playing music for the whole family," he said. "We'd play rock 'n' roll, we'd play Jimmy Roselli. But when we heard the Beatles, we jumped right in, as did WINS and WABC. I've never seen anything like it. The Beatles became a religion. And I've still never heard any sound as painful to the ears as the one the fans let out when they came on stage at Carnegie Hall.
"We were running on vapors and adrenalin. But it changed the whole radio game. It ramped everything up."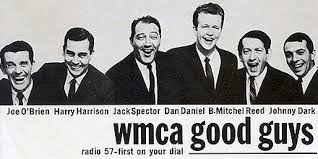 WABC outlasted WMCA, though Daniel said years later that "everybody won. We had 10 years of fun and I think the listeners did, too."
Daniel, who was born Vergil Daniel in Buffalo, Texas, didn't have the sharp-edged personality of a Dan Ingram, the bravado of a Murray the K, or the gimmick of a Mad Daddy.
He had an easy, relaxed tone that felt just a touch Southern. He identified himself as either Dandy Dan Daniel or Triple-D, "the world's most adequate swinging disc jockey."
As this suggests, he often sounded bemused and he always sounded upbeat.
He made listeners feel like they were in his living room, chatting and enjoying his records. It sounds easy. It's hard. It's a style that had been around for a while with announcers like William B. Williams, but was polished and honed in the early rock 'n' roll era, when fast talkers like Alan Freed, Jocko or Cousin Bruce Morrow were balanced with the smoothness of a Daniel, a Harry Harrison or a Chuck Leonard.
After WMCA turned off the music, the tall-and-handsome Daniel spent some time in television. In 1972 he hosted AM New York, a two-hour local morning television show on WABC-TV that became one of the prototypes on which Good Morning America was eventually built.
He hosted other TV shows as well, and appeared in commercials for the likes of Colgate toothpaste, Korvette's and Chase Manhattan Bank. In his last TV ad, he drew Xs and Os on a chalkboard for a coffee-sipping Joe Montana.
"I liked television," he said several years later. "But I was also glad to get back to radio."
In 1979 he resurfaced at New York's WYNY. He played country and adult contemporary music there and at WHN until February 1996, when WYNY switched to rhythmic dance.
WYNY management let the country staff have one final weekend on the air, and Daniel served as the conductor and godfather, with other DJs talking about how much his professional style and personal friendship had meant to them.
"Everybody couldn't wait to get in," he said a few days later. "It was a wonderful kind of closure."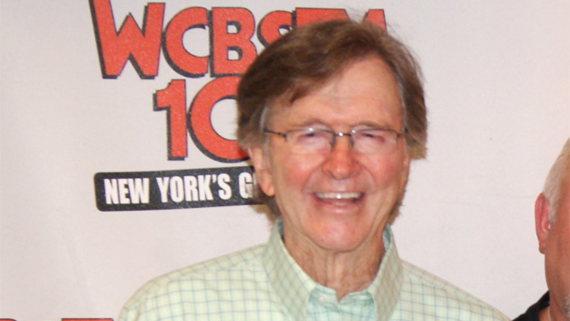 Shortly thereafter, Daniel joined oldies WCBS-FM, playing much of the music he had played on WMCA three decades earlier. "It was a thrill for me to add him to the staff," says McCoy. "He was the perfect fit. I'll always remember that infectious laugh and big smile."
Daniel left full-time radio on Dec. 31, 2002, and made his final WCBS-FM appearance on a Rock 'n' Roll Radio Greats Reunion weekend in 2012.
On his last 2002 show, he played "It's All Over Now" by the Rolling Stones and finished up by saying, "The reason I show up for work every day isn't me. It's you. I'm Dan Daniel and I love you a bunch, especially you, Size Nine."
He closed with Sonny and Cher's "All I Ever Need Is You."
Asked a while later if there was anything he never got a chance to do in radio, he said just one thing came to mind.
"I like so many kinds of music," he said, "that I always wanted to do one freeform show, where I could play it all, anything I wanted. Radio just doesn't work that way."
No, it doesn't. But what Dan Daniel did play and say left him well-remembered.
He is survived by two sons, Chris and Paul; a daughter, Jennifer; and Size Nine.
Popular in the Community