In 1978, one year after I was widowed suddenly with two young children, I discovered the Mudd Club -- not far from my Pearl Street home -- in a loft building on White Street in Tribeca. I was grieving, restless, and looking for diversion. The place was a perfect hangout -- dance parties, punk bands, fashion shows, and avant-garde events that suited a mind and a soul trying to reconstitute itself.
I went alone, somehow managing to be selected by the bodyguard/bouncer out front, probably because I looked forlorn and different. I did not have any body piercings and I dressed like the young woman I was, a newly minted graduate student with a Ph.D.
I was not into drugs and pretty naïve about the same-sex bathrooms where most folks were shooting up. I hung out there unafraid, probably because that was as close to danger as I could go without getting into trouble.
One day, I arrived early and made my way to a booth upstairs where one fellow was sitting. Neither of us said a word for five or ten minutes. Then, to break the silence, I asked him if it was the first time he was there. He laughed and said, "no!" I poured out my story to him. How I was a little too old for the place but found comfort in its being outside the norm of my regular life. I told him that my husband had died the year before of a heart attack.
It's a good place for anonymity he responded, smiling. I stared at his face and noticed that he had one blue eye and one brown. I had been talking to David Bowie and he, somehow, had comforted me.
Several months later, I saw Bowie again at the Mudd Club. I had gone there to report a piece for New York Magazine (October 8, 1979), on a two-day rock-n'-roll funeral commemorating the untimely deaths of such youth heroes as Janis Joplin and Elvis Presley. This time around, though, Bowie and I did not speak.
Instead, I described in detail the tableaux: with mourners carrying sympathy cards, scented candles and plastic flowers filing slowly past the shrines. Brien Colemen told me that Steve Mass, the Mudd Club owner, asked him to do Jimi Hendrix, but that he chose to do Mama Cass after he saw a food choking poster in the tearoom where he worked. Andy Warhol's superstar Viva, Taylor Mead, poet-playwright Gary Indiana, and drag performer Jackie Curtis all delivered eulogies. The shrine for Jim Morrison displayed a menacing gold snake crawling down a pair of black leather pants.
Years later, I crossed paths with David Bowie again. One day, my architect husband Shael Shapiro came home with some wood and tiles for the renovation of our second bathroom. They were left over from the construction of Bowie's loft in SoHo where my husband was working with Bowie's English architect.
The Mudd Club had closed years back, in 1983, but David Bowie remained in my life.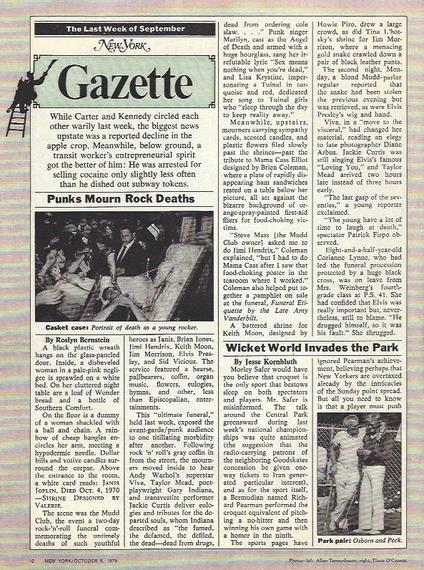 Calling all HuffPost superfans!
Sign up for membership to become a founding member and help shape HuffPost's next chapter