Some actors fight against being stereotyped. Frank Vincent settled back and enjoyed it.
Vincent, who died Wednesday during open heart surgery at the age of 78, was best known for playing Phil Leotardo, the New York mob boss who became Tony Soprano's chief antagonist in the final season of HBO's "The Sopranos."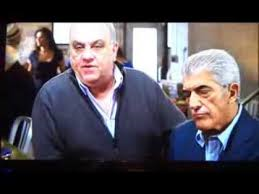 Phil wasn't generally a lot of laughs, though his arguably most famous "Sopranos" scene was staged with very dark humor.
Enraged and offended that his fellow mobster Vito Spatafore (Joseph Gannascoli) was gay, as if this would soil the otherwise pristine moral reputation of the Lupertazzi crime family, Phil arranged to have Vito killed.
The unsuspecting Vito is brought to a room with the several fellows who will soon beat him to death. Just before that transpires, Phil bursts out of the closet.
With that one gesture, before he has said a word, he has announced Vito's crime, declared his guilt and pronounced his sentence.
Vincent was perfect for Phil. He had the looks and he could summon both the attitude and the cold eyes that said he really, truly, genuinely didn't care what happened to you. Or you.
Phil didn't kick off Frank Vincent's career as a mob character. It was more like Phil was the pinnacle, that his earlier career had all built up to Phil.
Vincent's first role was in the low-budget 1976 Mob flick "The Death Collector," and he got his foothold in the acting biz by playing shady guys in three Martin Scorsese movies: "Raging Bull," "Goodfellas" and "Casino."
His extensive TV and film resume was sprinkled with titles like "Rubout," "Made Men" and "Witness to the Mob." When he guested on "NYPD Blue," he played a character called The Rat.
He played an associate of The Dapper Don in the TV film "John Gotti" and he played his "Casino" character, Frankie Marino, in the "Streets Dreams" video by rapper Nas.
Okay, it wasn't all Mob, all the time. He appeared in two Spike Lee films, he played Aristotle Onassis and most recently he voice Jon Gabagooli in the animated series "Mr. Pickles."
But where some actors known for exuding menace say they yearn for a role in a family sitcom, Vincent didn't seem to mind hanging out where the jobs were.
He told interviewers he loved all of the nuances to Phil Leotardo, like the way he didn't think Tony Soprano could be a real mobster because he was from Jersey, not New York.
Perhaps ironically, Vincent got his start in show biz as a comedian, half of a two-man stage act with Joe Pesci. Robert DeNiro saw their act and hired them both, which worked out pretty well all around.
Over the years Vincent became what's known in the film and TV biz, with respect and affection, as a character actor. The fact we remember his characters says that, all due respect to the late Vito Spatafore, he made the right call.