Hugh O'Brian lived a much better life than the man he is most famous for portraying, Wyatt Earp.
O'Brian, who died Monday in his Beverly Hills home at the age of 91, was a dedicated, clean-cut, no-nonsense lawman for six years on The Life and Legend of Wyatt Earp, one of the bedrock shows in the golden age of TV Westerns.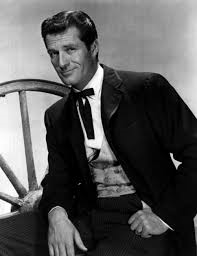 It had a great theme song, the chorus of which is forever embedded in every fan:
Wyatt Earp, Wyatt Earp,
Brave, courageous and bold.
Long live his fame, and long live his glory
And long may his story be told.
It had several verses, too, which may be less well remembered. The first:

I'll tell you a story, a real life true story,
A tale of the Western frontier:
The West it was lawless
But one man was flawless
And his is the story you'll hear.
The real-life Earp wasn't quite that. While he did indeed serve as a lawman and he was one of the good guys in the famed Shootout at the OK Corral, he was also a hustler and sometimes-scoundrel who was arrested nine times and whose many occupations included running a brothel.
History has redefined his brand, however, and no piece of history did it more effectively than O'Brian in the TV show. Wyatt Earp was one of TV's more ambitious Westerns, weaving an extended serial-style tale of Earp and his world rather than just doing a shootout of the week.
It helped that O'Brian was the classic All-American Male. He was tall, rugged, square-jawed and handsome, with a voice that was commanding yet reasonable.
O'Brian's Earp cleaned up three towns during his run on TV: first the tiny village of Ellsworth, Kansas, then Dodge City and finally Tombstone, Ariz. That TV arc loosely mirrored the arc of the real-life Earp, with a few strategic adjustments and omissions.
O'Brian, a World War II Marine drill instructor who was about to enroll at Yale when he got sidetracked by acting, recognized both the advantages and the downside of creating a memorable character.
On the one hand, it made him successful, and provided a touchstone by which he remained recognizable. A recording of a live 1975 Elvis Presley concert in Las Vegas has Elvis introducing O'Brian in the audience.
O'Brian reprised Earp several times in later years, including the 1994 film Wyatt Earp: Return to Tombstone.
On the other side, O'Brian never fully established an independent acting identity despite appearing in dozens of films, TV shows and stage productions.
These ranged from Fantasy Island and The Love Boat to Murder, She Wrote, mostly as a guest star. He landed one other regular TV series, Search, which ran one season in 1972-73.
He had a small role in the 1976 Western movie The Shootist, where he had the trivia-question honor of being the last person John Wayne ever killed on screen.
But while O'Brian remained active in acting for much of his life, he increasingly devoted more of his time to The Hugh O'Brian Youth Leadership Foundation (HOBY), which sent select high school students to seminars on how to become effective community leaders.
O'Brian said it was inspired by Dr. Albert Schweitzer, and starting in 1958 it sent more than 400,000 students to its programs. Alumni include actor James Van Der Beek and pro basketball player Shane Battier.
The goal of HOBY, O'Brian said, was to help level the playing field for promising students who were not born with the advantages some of their peers had.
While O'Brian had a public life, he guarded his private side. He didn't marry until he was 81, to his girlfriend of 18 years, Virginia Barber. They reported they spent their honeymoon studying philosophy at Oxford.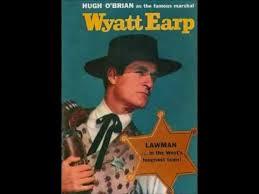 If Wyatt Earp had sat down and plotted out ways in which he could be remembered as a clean-cut symbol of American right and justice, he couldn't have done better than to request that one day he be played on television by Hugh O'Brian.
He cleaned up the country,
The old Wild West country
He made law and order prevail
And none can deny it,
The legend of Wyatt
Forever will live on the trail.
Calling all HuffPost superfans!
Sign up for membership to become a founding member and help shape HuffPost's next chapter