World renowned "Caravan" actor Thinley used to say Eric Valli had done a great service to Nepal by taking its identity to the international arena. When asked about the Nepali cinema industry, he used to say that unfair means won't succeed. If one can't succeed the first time, they can in second and third. French Director Eric Valli helped Caravan actor Thinley for his cancer treatment. "He did for me what my own parents didn't, he gave me an identity." " I am from one corner of the world while he is from another." He took me to France for the cancer treatment.
Caravan is a history in itself in the Nepali Cinema industry and the world market. The entire credit goes to actor Thinley and French director Eric Valli. It is a movie which even the youths debasing Nepalese work long to see. Actor Thinley and film Caravan will always remain. Just his natural acting without any formal training took Nepali film industry to the international market. This is a stepping stone for Nepali Movie Industry.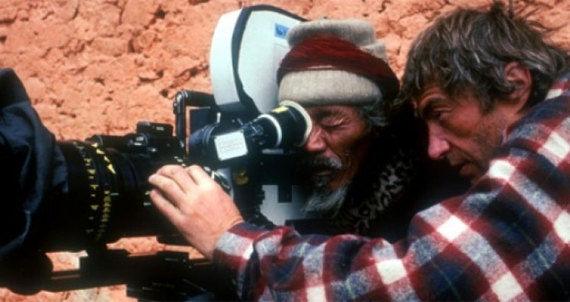 Thinley Lhondup and Director Eric Valli
Thinley Londup is not just a Nepali actor but also an individual active in the social welfare of Upper Dolpa region. He became famous via his lively acting in world renowned film called "Himalayan Caravan." Based on the lifestyle of Upper Dolpa, this French film was produced under Director Eric Valli.
Born in Upper Dolpa, Thinley acted in few music videos. Before coming to the film industry, he was elected chairman of Saldang VDC working for people. He had been travelling across capital and Dolpa suffering from stomach cancer while making a residence at Dunai. On April 24, 2016, he died. Thinley's horse was hit by another horse while travelling from Dolpa's Dunai towards Chipka. While the horse had died at the spot, Thinley was alive. Few tourists noticed the incident and brought him down to Chipka. Thinley died at around 5 pm while on the way to Kathmandu for treatment.
His film Caravan was released in 1999. The film is based on the lifestyle of Dolpa district. This film is directed by French Director Eric Valli has won many prestigious awards immediately after its release. Besides, this film has been dubbed in many different languages in different nations like Nepal, Dolpa and Germany.
The film has been nominated among the excellent films at 72nd Oscar in foreign language. This is the only Nepali film nominated at Oscar.
There are thousands of stories pertaining to Nepalese society that have great opportunity to go into the international market in the form of films. The best example of this fact is none other than "Caravan." Dolpa's local story became a household song in the global arena making Nepal famous in the world.
Nepalese films do not seem to be improving in any manner. It's really hard to find a unique Nepali film because of various exploitation, low-class stories and duplication of Hindi cinemas.
We will not be able to pierce the world market unless we can present our own stories. We are Nepali and we must bring about our own subject matter. We do not need a duplicate Korean film story in our productions. Just like we continue to love our own Nepali cuisine despite all the scientific progress, we must bring the Nepali taste to the world market. We will just be degrading ourselves if we do not bring quality to our restaurants, films and enterprises.
Popular in the Community