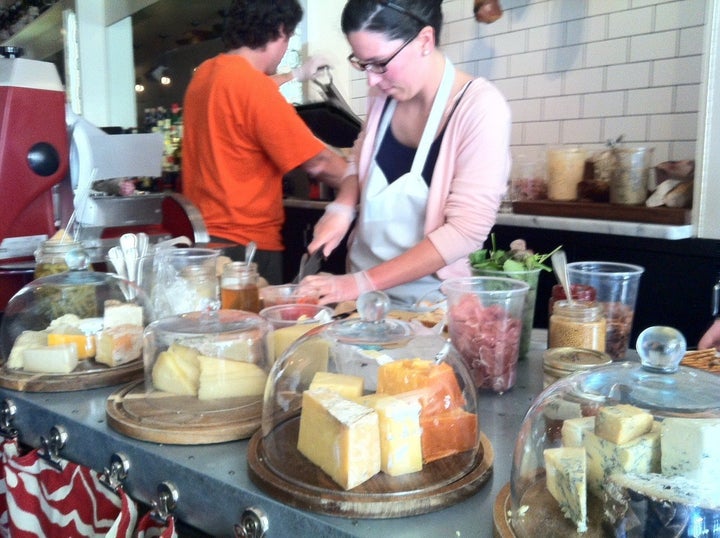 WASHINGTON -- Grilled cheese sandwiches have long been a make-at-home standard. This hallmark of American comfort food is easy to make when you have a craving or don't want to expend much energy cooking. That's part of the reason why you don't see it too often listed on restaurant menus.
Sure, D.C. has its Big Cheese food truck hawking fancy iterations of grilled cheese. But it's not every day you come across a restaurant with its own a gooey-delicious grilled cheese bar.
Mondays through Thursdays, Ripple in Cleveland Park will offer a variety of grilled cheese options, including one where you select the cheeses and various add-ons to build a custom-order creation. It's bifurcated, from 5-6:30 p.m. for the early birds and 10:30-midnight for those in need of a grilled cheese before bed.
On Monday, The Huffington Post sampled some of Ripple's creations, including our favorite, the Krusty Krab, where grilled Mt. Tam triple-cream cheese is coupled with jumbo lump crab imperial with bechamel sauce. (That's $11.) The Swiss Bank Account comes with hand-sliced prosciutto, challerhocker cheese and truffle butter. (That's $12.)
For those who don't mind stronger flavors, the Stinky Pete is, according to the menu, a "hideously smelly torta la serena cheese with asparagus and anchovy." (That's $9.)
While we didn't get to try Ripple's French Onion Dip, it comes with caramelized onions, bacon and comté cheese. But that combo seems like it'd be a delicious bite. (That's $9.)
With the high-quality ingredients from well-known artisinal cheese producers, these grilled cheese creations are pricier than the basic grilled cheese you can make at home. Nowhere will you find an American cheese slice or white bread on Ripple's menu. But these gooey, cheesy bites will hit the spot when you have a craving.
REAL LIFE. REAL NEWS. REAL VOICES.
Help us tell more of the stories that matter from voices that too often remain unheard.
BEFORE YOU GO