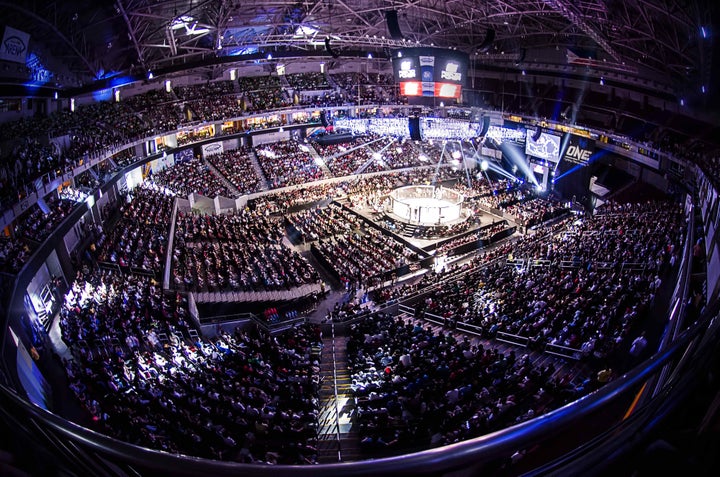 Singapore-based martial arts promotion ONE Championship announced last week a monumental new partnership, which saw Sequoia Capital (India) make a sizable investment in the fast-growing company. The new partnership raises ONE's total capital to over US $100 million and allows the company to continue to solidify its market dominance in Asia.
Atin Kukreja, CEO of Rippledot Capital Advisers, the advisory firm responsible for bringing ONE Championship and Sequoia Capital together, says he was absolutely blown away by the passion for martial arts from Chatri Sityodtong, Chairman and CEO of ONE.
"In our very first meeting with Chatri, we were blown away by his passion for martial arts and his enthusiasm to create the top sports media property in the region," said Kukreja. "It's our privilege to be supporting Chatri and help him realise his dream."
Kukreja, like Sityodtong, is a visionary. With his vast experience in the investment banking industry, Kukreja recognized ONE Championship as an amazing company with a great leader, and it didn't take long to realize the enormous potential of the promotion. For Kukreja, who specializes in connecting world-class enterprises such as ONE Championship to a major global company such as Sequoia Capital, this partnership was right up his alley.
"I would say Rippledot is the equivalent of Goldman Sachs, but for entrepreneurs on the global stage of business," said Sityodtong.
Sequoia Capital manages a portfolio of investment funds in the United States, as well as funds specific to Israel, India, and China. The firm's mantra, "We help the daring build legendary companies," falls in line with its aim to play a role in the development and growth of promising ventures. Some of the world's biggest global brands have received investments from Sequoia Capital, including Apple, Google, Oracle, PayPal, Stripe, YouTube, Instagram, Yahoo! and WhatsApp.
Rippledot, which played a major role in the partnership, is equally as impressive.
"Rippledot does an amazing job for its clients, offering true white glove service and a relentless focus on value-added strategic advice," said Chatri.
ONE Championship, in its few years of operation, has managed to attract big business its way, securing a long list of top blue-chip sponsors such as Disney, Facebook, Marvel, Under Armour, Sony, Universal Music Group, GoDaddy, Haier, Kawasaki, L'Oreal, and others.
With the added muscle and capacity of Sequoia Capital, the promotion is set to even further develop the sport, not just in Asia, but across the entire world. The promotion holds at least one live event each month all across the region, with plans for around 24-30 shows in 2018.
Although ONE has experience great success, in the end, what matters for investors is that they have a positive return, and that's what Rippledot saw in ONE Championship.
"Rippledot saw an opportunity in an amazing company in ONE Championship, and a world-class team that is incredibly dedicated," said Kukreja. "ONE Championship is absolutely exploding as an organization. It's very clear to see the astronomical growth and massive potential."
This year, ONE Championship has shown a 58 per cent increase in total fans as compared to 2016, as well as nearly five times more video views at 299 million, and over three times more social media shares at 746,000. These incredible viewership numbers are in line with the company's current trajectory in the first half of 2017.
In data released by Nielsen, Facebook, and Repucom earlier this year, ONE Championship has shown exponential growth from 2014 to 2017.
The data shows that ONE has come from 352 million social media impressions to a projected 4.8 billion, marking an increase of over 11 times the previous tally by the end of the year. With the rise of digital and online video, ONE has also catapulted their numbers from 312,000 to a whopping 600 million video views by the end of the year.
Furthermore, the annual TV broadcast per country and the peak TV ratings share numbers have increased dramatically based on the data. From an average of just 12-18 hours of TV broadcast in 2014, ONE has increased that number to 100-1800 hours. It has also seen its peak TV ratings share spike to 11 to 26 per cent from 1 to 2 per cent just three years ago.
These are all fantastic numbers, and explains why the Sequoia Capital partnership can be extremely beneficial for all parties involved.
Sityodtong, the promotion's Chairman and CEO, believes his team is on the verge of a billion dollar valuation.
"As one of the most successful venture capital firms in the world, Sequoia has an unparalleled track record of partnering with early stage companies and helping to build them into global market leaders," said Sityodtong.
"Asia has been the home of martial arts for over 5,000 years; ONE Championship is an authentic celebration of Asia's greatest cultural treasure and its deep-rooted values of honor, integrity, humility, courage, strength, and discipline."
The promotion has come a long way from its humble beginnings in 2011. Today, it is recognized as the largest sports media property in Asian history, and with this new blockbuster partnership with Sequoia, ONE continues on its quest for global dominance.
Support HuffPost
The Stakes Have Never Been Higher
Related
Popular in the Community