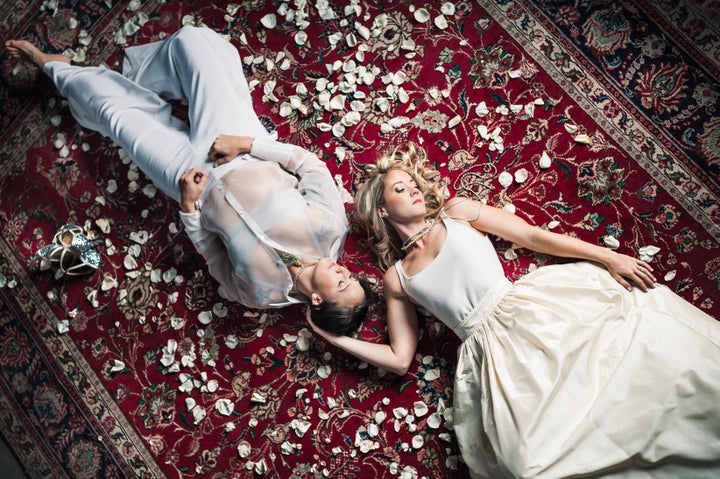 "There's something that's been happening with weddings. Traditions have been tossed, protocal no longer exists. The Supreme Court ruling to legalize same-sex marriage has changed people's lives and given new hope to couples all over the country." -Risa Kostis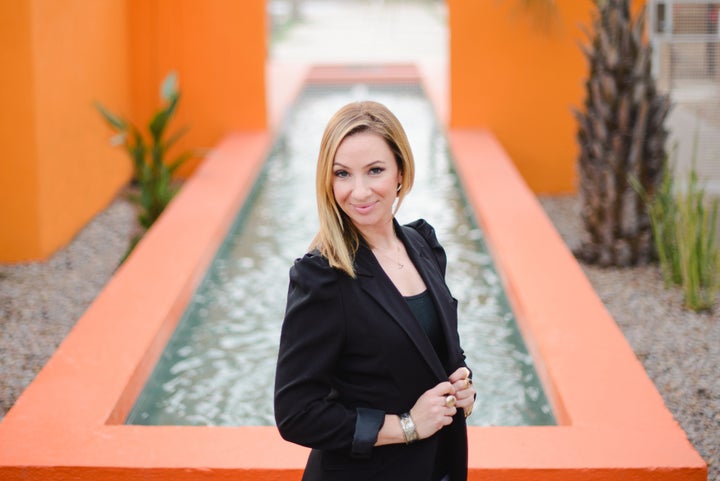 I was recently approached by a talented team of individuals based out of Phoenix, Arizona. They had this story that I felt was compelling and deserving of public attention. They dared to ask the question, "Why isn't the wedding industry giving same-sex marriages the same kind of editorial exposure as heterosexual marriages?"
You know, I had never really thought of this. I mean, why would I? I'm not perusing wedding magazines to plan out my fairytale wedding. Partly because I'm not a woman and partly because I don't have a fiancé. However, this does adversely affect the people in my community. My best friend is marrying the love of her life this year, and they were the first people that I thought of when Risa approached me with this subject. How is it fair that she has to have the "societal norm" of a heterosexual wedding thrown in her face every time she wants to browse a wedding magazine to plan out her special day? Shouldn't she be able to relate to an editorial portraying a lesbian couple on their wedding day? Shouldn't she be able to envision this for herself and her future wife?
This talented team consisted of:
Risa shares her account of this remarkable collaboration:
The Supreme Court was on the verge of legalizing gay marriage and we recognized a divine opportunity to work in a profound arena and create an equal playing field in the world of art, fashion, and photography. I reached out to Kenny asking if he was interested in teaming up. This garnered his immediate response, "Viva La Revolucion!" Those three words became the theme of the project, the words it lived by, and its name. Not only was there change happening in the world, but locally as well. There's a fashion revolution rising up in the Phoenix area, and we all wanted to set the pace and be a part of the creative paradigm shift.
There's something that's been happening with weddings. Traditions have been tossed, protocol no longer exists, personalization has taken on a whole new meaning; but most importantly, the Supreme Court ruling legalizing same-sex marriage has changed people's lives and given new hope to couples all over the country. We saw that change coming and wanted to be a part of love having no boundaries and getting the platform it deserves.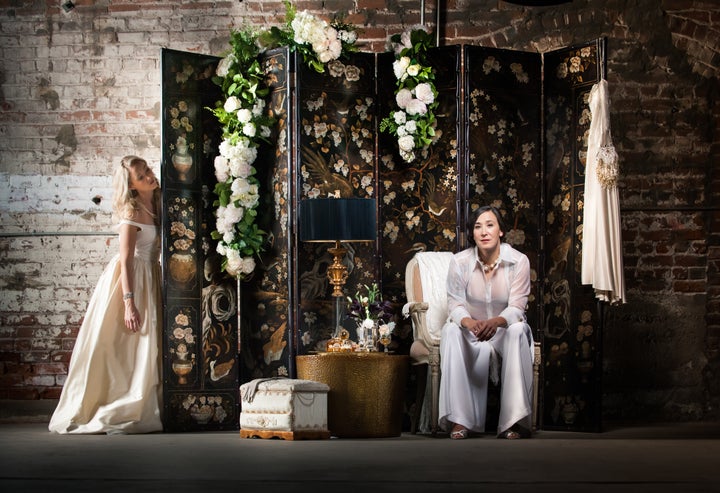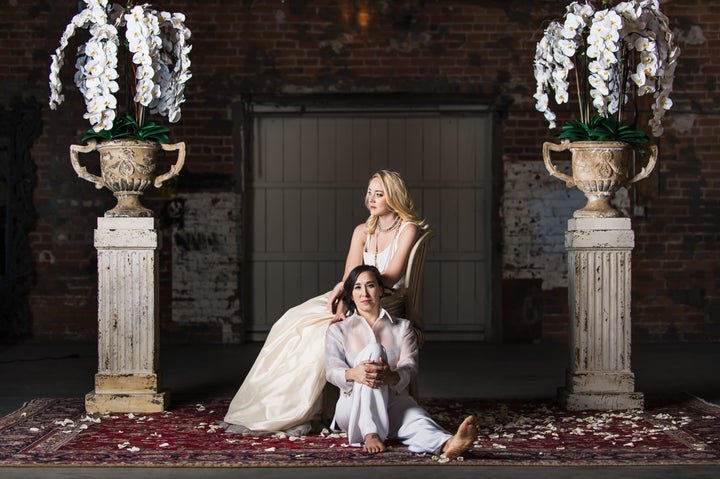 A plan was in motion to recreate a beautiful and editorial worthy same-sex marriage displaying the concept of breaking through the glass ceiling of love in the 'traditional' sense. It needed the proper team in place to bring it to fruition. If you're not familiar with planning a photo shoot, there are a lot of moving parts when it comes to producing something so intricate. The vendors and people involved needed to be passionate about this project. Additionally, the couple you choose to capture says everything about your vision. It was our good fortune that Kenny was given the name of a photographer named Nick Kulyniak of NTK Photography, a seasoned wedding photographer that serendipitously informed us that he had recently had the pleasure of capturing a married couple named Celeste and Karine on their wedding day. Two perfect subjects that were not only willing to be a part of our vision, but would also be celebrating their anniversary the same month as our scheduled shoot. Where it really became symbolic, was when we discovered the next coincidental date.
"The morning of our shoot my husband placed an article in front of me from the Arizona Republic about the first legal same-sex marriage which occurred in Boston, MA on the same day as our shoot in 2004, eleven years prior. It was a sign. A huge sign, which perfectly set the stage for an incredible experience to be shared", described Hankerson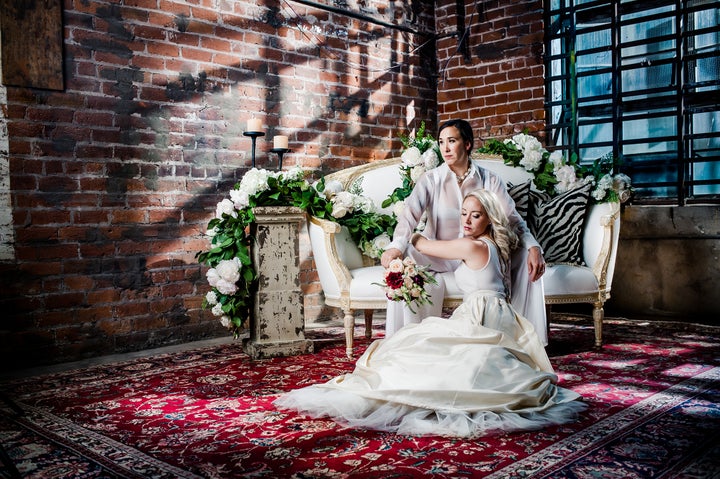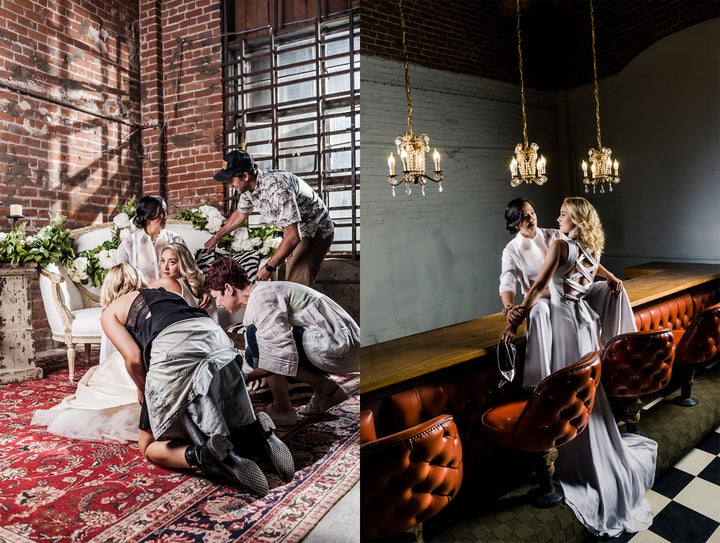 As the concept grew, so did the interest of local vendors and businesses in the area (credited below). As a non-profit, creative project, there wasn't a budget so finding the perfect partners became key. The vision was starting to become a reality. We wanted to involve the people that would have a sincere passion for this project, so we reached out to Scottsdale-based LGBTQ non-profit group One N Ten organization, and their Chairman of the Board of Directors, Thom Brodeur.
"La Revolucion is a selfless group of caring creatives that have a unique concept to help empower underserved individuals and give voice to those who need to be heard. We were happy to partner on this project as their mission falls in line with what we aim to promote at One N Ten every day. The story they created for such an important date in the LGBTQ community (May 17), as well as their intention to help legalize same sex marriage is something we fell in love with. Too many stories go untold and need to be shared. We stand behind La Revolucion and appreciate their vision to change perception and create awareness with love and beauty", says Brodeur.
The idea for the shoot was simple: Daring couple runs off in the night to get married with no one around and their bags packed for an intimate celebration. A secret rendezvous at a modern speakeasy in the middle of nowhere; captured in color and black and white to enhance the time period and emphasize the romance.
The shoot went from sunset to sunup the next morning for a few reasons. It was about feeling that struggle, an ounce of what so many couples have experienced while trying to create a life together, not to mention what the LGBTQ community has endured for far too long. It was also about waiting for the perfect light to capture each stage of the story, to ensure not a moment was missed.
"It's all about the authenticity of the story and creating a visceral reaction through images that will make you feel something real. To eventually move the proverbial needle and have conversation. It's a reminder that despite differing opinions on sensitive topics, in the end you can't ignore beauty. A beautiful set, beautiful clothes, and models, it all has to flow. Our focus was high fashion with period specific location and an emphasis on celebrating the LGBTQ community," says Lange.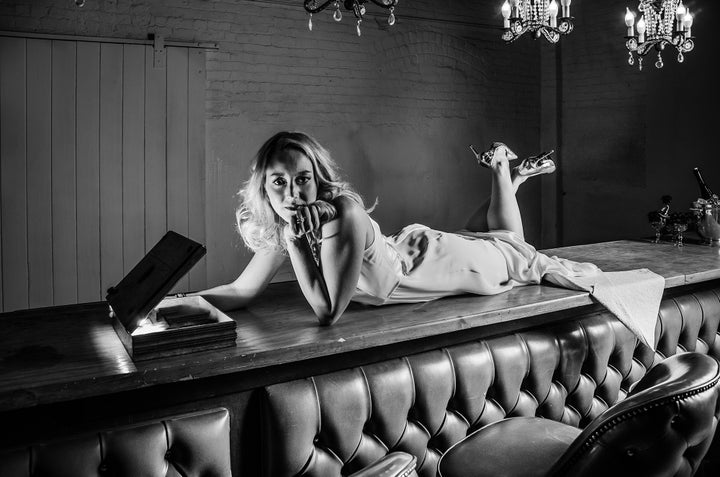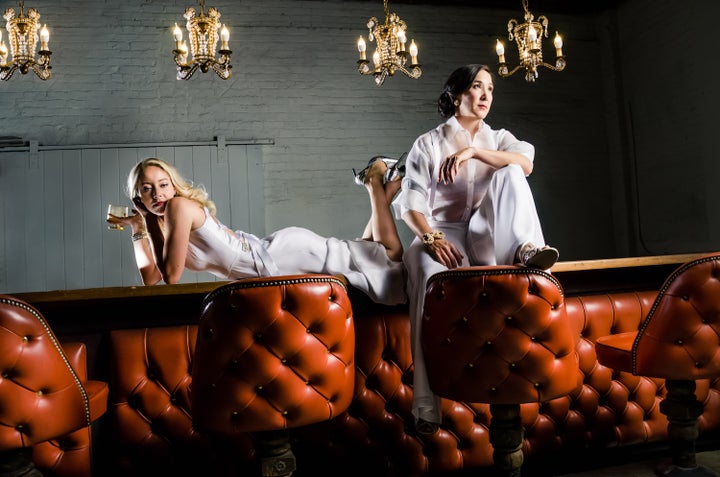 The overnight experience was exhausting, but it forced a bond and gave the group the chance to tell stories, discuss their own personal struggles, and develop a passion for what was taking place. One in particular came from Ashley, a videography volunteer on set that bravely came forward to tell her story.
She came to us and shared that she was feeling scared about the world she was coming out to, and by being part of this shoot she was happily reminded that she would be welcomed and accepted for who she is, it was quite touching.
It was then that the realization set in that we were making a difference, a small difference on set and hopefully an even greater difference to the world. In a society filled with hate, anger, violence and unpredictability it's the perfect time to celebrate love and provide a platform for all couples. We were excited to show the images we created and remind people that love is love and it's a beautiful thing; to escape for a moment and be subjective, for art is open to interpretation and so should be the conversation of love. Oh and we should mention…Celeste and Karine are thrilled to be welcoming a baby next January, so their love story continues to grow.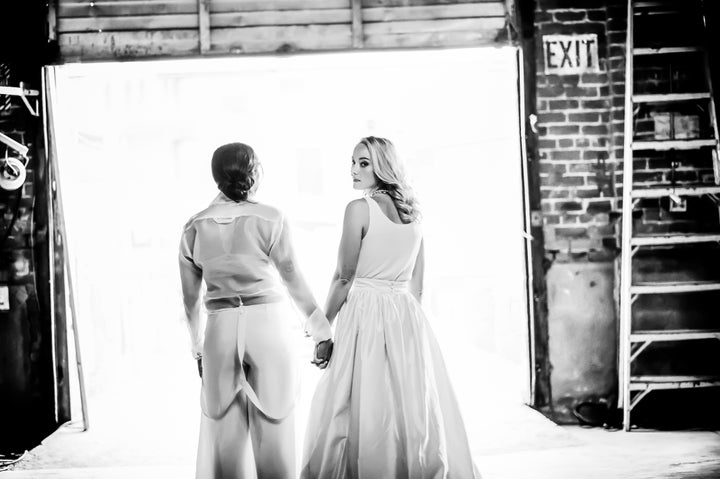 Celeste Johnson and Karine Inoue – Models
Vintage Fashion Inc. – Jewelry and Accessories
Ryan Baker and Ashley Januzik – Videography
Related
Popular in the Community