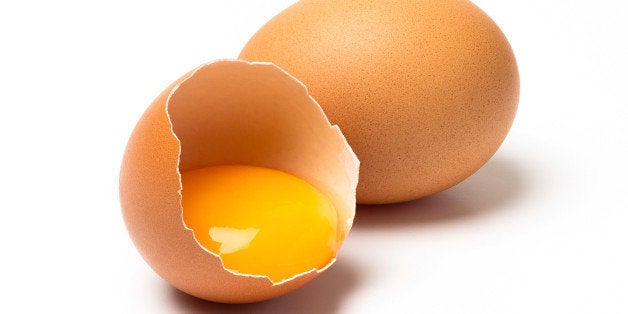 They say that simplicity is the ultimate sophistication.
In today's world though, excessive glorification of "busy" happens all too often -- particularly when it comes to healthy lifestyles. Through complicated diets and workout plans, getting lost on your fit journey becomes possible.
Possible, yes, but inevitable, no.
And if you're going to synthesize your wellness plan, why not start with the most important, and arguably the most delicious, meal of the day?
Put down that overly perplexing dietary regimen, because here is healthy and delicious made easy with four energy packed breakfasts to kick start your morning.
And the best part? They each require only four simple ingredients.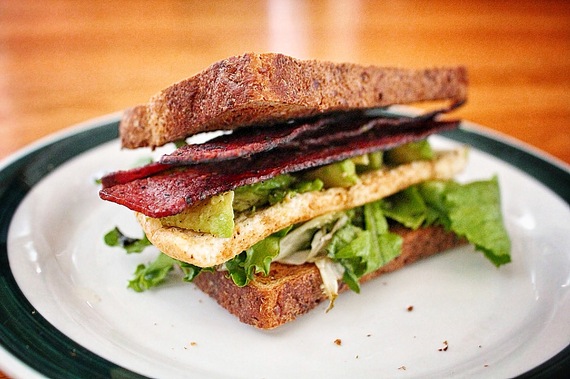 The Four Ingredients:
two egg whites
1/3 avocado
turkey bacon
whole grain bread
How To:
Cook egg whites
Cook bacon slices on stove top for 2-4 mins. on each side, or until your desired level of crispy deliciousness is achieved
Slice avocado and season generously with pepper
Put it all together between toasted bread
This meal is the perfect healthy morning twist on the classic BLT. Simple and easy? Yes. Tasteless? Absolutely not. Add a little hot sauce for an extra kick and you'll be ready to tackle the day.
#2: Guilt Free Banana Pancakes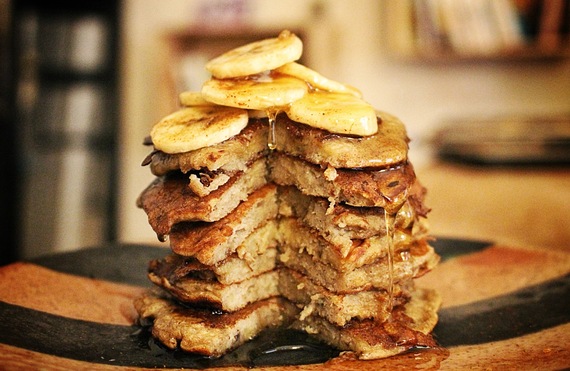 The Four Ingedients:
1-2 ripe bananas
1 egg
1 tbsp. baking powder
cinnamon
How To:
In a small bowl, mash the bananas. You can use a blender, but I used my hands and let's face it, that's just more fun.
In a large bowl combine mashed bananas + egg + baking powder + cinnamon -- mix well
Spoon a glob onto a hot pan + cook for 2-4 mins on each side
Top it with fresh bananas + honey + cinnamon -- toppings are limitless here!
These banana breakfast blessings would even give Jack Johnson a run for his money. Perfect for those rainy days when you just want to stay inside. But the most perfect part? They shake out to about 50 cals per pancake, giving you all the flavor without any of the guilt.
#3: Open-faced Poached Egg + Spinach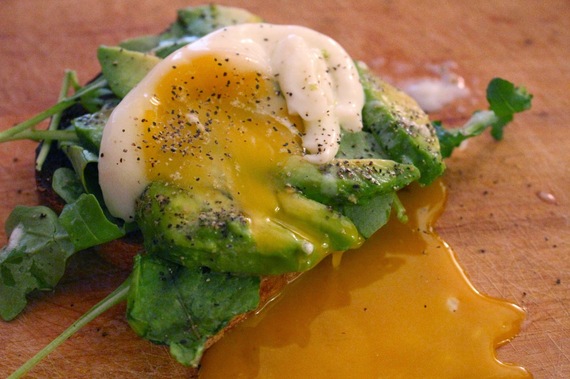 The Four Ingredients:
two whole eggs
whole wheat toast
spinach
avocado
tools:
tea cup + saucer for quick poaching
How To:
Fill tea cup with 1/2 cup water
Carefully crack egg into cup
Place saucer on top of cup and microwave for 45-60 sec
Remove cup + set aside
Slice avocado + season well with pepper
Sprinkle lemon juice onto toast + top with spinach + avocado
Carefully remove egg from cup and place on top
Half the fun with this meal is taking a fork to that poached egg and letting all that yolk goodness radiate. Who's says you're too old to play with your food? And the only thing better is eating it.

#4: Peanut Butter + Apple Breakfast Burger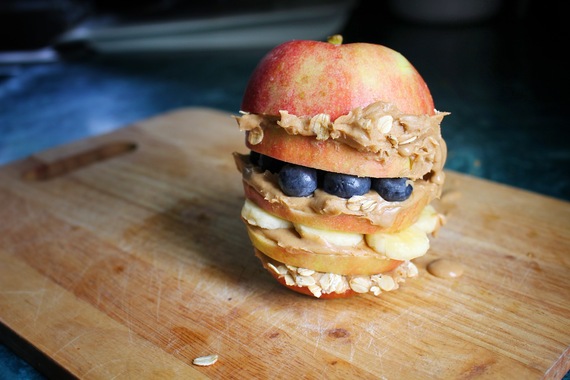 The Four Ingredients:
medium apple
all natural peanut butter
blueberries
banana
How To:
Slice apple 3-4 times horizontally
Remove seeds + core from slices
Layer with peanut butter and your desired fruit fillings
Perhaps you're curious how to go about eating this. Well, not like a lady, that's for sure. Be prepared for the peanut butter evidence of this perfect meal to remain all over your face. But hey, lifes better a little messy, right? And definitely better with peanut butter.
I used all natural and delicious Honey Vanilla Bourbon Peanut Butter from A Loving Spoon which was nothing short of incredible, but the beauty of this meal lies in its creativity -- the sky's truly the limit. Get nutty and share your tasty combinations.
Moral of this story? Simple does not mean boring.
And more importantly, with the right ingredients, healthy does mean delicious.