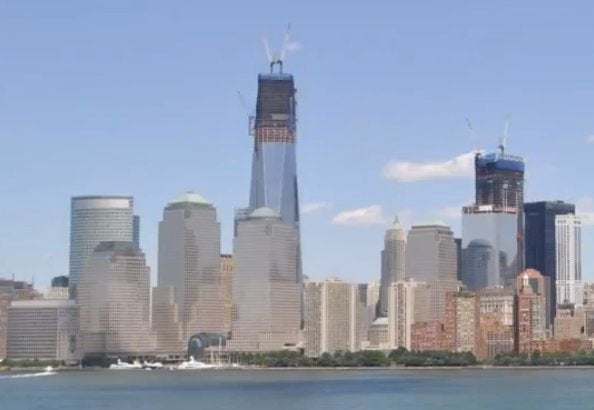 By 9/11/13, a completed building will finally stand again on Ground Zero, but it will neither be the world's tallest (a disappointment to some) nor the most beautiful (a disappointment to many). If you saw Mission Impossible: Ghost Protocol, you probably know that the architecturally megatall and aesthetically megadull Burj Khalifa is now the world's tallest skyscraper. But do you know why it's not called the Burj Dubai? How many others in the top ten do you know? And how many of those ten are American? Chinese? On the list as of 9/11/01? 2020?
The answers to those questions hint at the future of the global economy, but the future of global well-being is more complicated. Are supertall skyscrapers powerful, templar symbols of faith, or are they imperial palaces, reflecting the vanity of the powerful? For those who regard size as a measure of importance, it matters to be able to dream big, harness the capital, create the demand for, apply the technology and manage the resources necessary to accomplish that dream. A skyscraper, no matter where it is built, is a complex, public-private venture that requires ambition, political will and practical ability to realize. Building the tallest skyscraper in the world shines a light that is both symbolically significant and substantively meaningful.
Failure is meaningful, too. Moscow's Russia Tower, which might have been the world's second tallest building, was scrapped because of concerns about financing and feasibility. Construction on North Korea's nearly completed Ryugyong Hotel began in 1986 to be the world's tallest hotel, but for years it stood as an empty shell while other, taller hotels surpassed it. The Burj Dubai was re-named the Burj Khalifa shortly before its grand opening, after Dubai required economic assistance during the global financial crisis.
But the promise of prestige is apparently greater than the threat of failure. Early in the Great Depression, New York City -- which for decades after would be the undisputed financial capital of the world -- went through a period of two years during which four of its buildings (the Woolworth, Bank of Manhattan Trust (at 40 Wall, now Trump), Chrysler and Empire State) held the title of world's tallest. The competition was so fierce that the Chrysler's architect famously hid the building's spire until completion to deceive 40 Wall's architect into believing he'd won. When the Sears (now, sadly for whom these things matter, the UK-branded Willis) Tower became the United States' and world's tallest building in 1974, it defied Chicago's reputation as America's "second city," signaling it might be the first city of American architecture. But that 2,000-foot Chicago Spire you once heard about? Canceled for cost.
Terrorists targeted the World Trade Center in 2001 not only to murder but also to destroy symbols of others' economic dominance and cultural hegemony. The Twin Towers had been briefly the tallest buildings in the world, and they were still the tallest buildings in the city that had led the race to the sky, situated in a financial district that had for several decades been considered the epicenter of American power. Naturally, from the ashes of the fallen, figurative jungle, citizens and leaders decided to build again, this time to a symbolic 1,776 feet, higher and better than the symbols now gone. Without at all reducing the significance of real lives lost, the rise of a new building would also be significant, a symbol of "life victorious," in the words of Daniel Libeskind, the site's master plan architect.
The new One World Trade Center recently became New York's tallest again, and when it is finished, it might briefly become the world's third tallest building (pending a complicated dispute about which antennae figure in the official height calculation of a skyscraper). Nine of today's top ten are between 30- and 150-degrees east of the Greenwich Prime Meridian, which is looking less like the center of world every day. In scarcely more than a decade, the world's tallest title moved from Malaysia to Taiwan to the United Arab Emirates. Four of the tallest ten skyscrapers are in China and Hong Kong (five if you count Taiwan), seven of them were completed in this century, and only two of them are expected by the Council on Tall Buildings and Urban Habitat to be among the top ten in 2020.
What does it all mean? A rapid shift in economic power is occurring, but we already knew that. What matters is whether the rise of emerging markets will deliver the distributive justice that capitalism has historically promised but disappointed. This redistribution of economic power might yet help us all if these miraculous markers of human achievement help us to recall some valuable lessons taught to children in every culture, in every era: that quality is more important than quantity, and substance matters more than size. On further consideration, we should prefer a beautiful building to a big one. An energy-efficient building to an enormous one. A permanent icon to a temporary one. A humane future in which looking higher and building supertall inspire innovation without envy, well-being over wealth, and peace over terror.
Related
Popular in the Community