Nepal's 122 parties and 6,128 candidates are vying for the 240 directly elected seats in the constituent assembly elections due on November 19. When the major political parties failed to forge a consensus on federalism and power structure of the executive, the first Constituent Assembly was dissolved in May 2012 after having exhausted extensions allowed by the Supreme Court. Yet again, a jumbo parliament of 601 will be formed in a second attempt to write a new constitution.
A small faction of the Maoist party is hell-bent on creating chaos and disrupting the election. Nepali media is reporting sporadic episodes of attack on candidates and obstruction to campaigns all over the country. Nepali Congress, the United Marxist-Leftist (UMP) and the United Communist Party of Nepal (Maoist) will dominate the seats in the Assembly.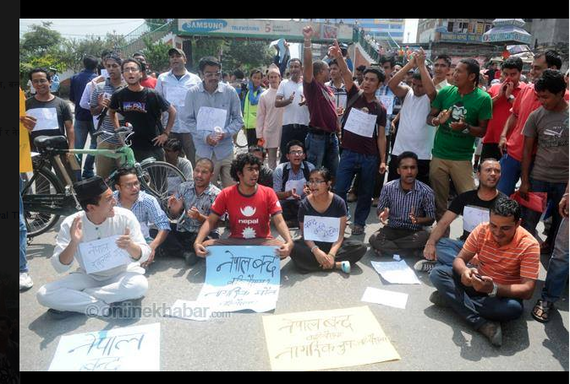 Photo @Bibeksheel FB page
The 2008 elections of the Assembly ended Nepali monarchy that reigned for 240 years. Ex-king Gyanendra Shah and few of his loyalists see the November election as a testament to the failure of political forces' capacity redirect Nepal to a much-hyped "new direction." The United Communist Party of Nepal (Maoist) led the change campaign. They fought a ten-year brutal civil war, promising a corruption-free federal republic. The party received 38 percent of the vote and became the largest political force.
Fast forward to 2013. The Assembly failed in writing a new constitution and billions of dollars were spent on the process. People remain deeply disillusioned. The overwhelming majority does not trust old dogs in the national politics. The major parties leadership is old and lack creative insights to solve increasingly complex social and economic woes that Nepal faces.
Amidst all odds, a group of determined youth is setting on a long and arduous journey to change all of that.
In what appears to be a deeply entrenched syndicated political conundrum that systematically discourages young and aspiring youth from taking leadership roles, a group of educated and dedicated youth is beginning to chip away elite capture and steal the elections in four of the Kathmandu's much watched constituencies.
Bibeksheel Nepali (literally meaning common sense wisdom) is a new political movement founded in 2012 to galvanize young and disillusioned youth into a powerful force to counter the age-old elite parties that perpetuate incompetency, corruption and conspiracy in every spheres of public life in Nepal.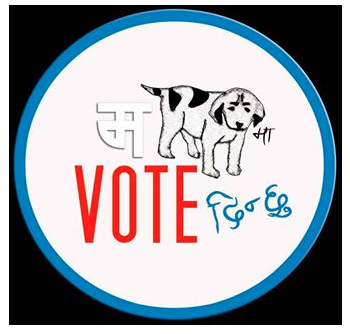 Photo: Bibeksheel election symbol
For more than a year, Bibeksheel ran effective public campaigns against frequent strikes, law reforms to address women violence and corruption in public offices. Their creative use of social media and public outreach brought together a broad coalition of people who have stayed out of the political process for too long.
The movement is now massively deploying Facebook, Twitter, mobile and emails to organize and mobilize people to volunteer for door-to-door campaigns, run social networks, write manifesto and even to solicit donations. In a polity where secrecy, especially when it comes to the financial activities of major leaders, is the norm, they stand out for their complete transparency, even posting financial activities in facebook.
All the major parties have now publicized their manifesto, glittered with wildly optimistic dreams that are becoming harder to sell among educated and aware youth. Bibeksheel is distinguishing itself by providing solutions to community problems by encouraging active and meaningful local participation. Never in Nepal's history has a political unit recognized community's role in building a stronger nation. On issues of vital national interest, Bibeksheel calls for concerted efforts of honest, dedicated and knowledgeable Nepalis in designing and implementing public policies.
Their headquarters in Maharajgunj, Kathmandu is buzzing with young aspiring leaders dedicated to make their candidates victorious in the November election. These tech-savvy young people are tired of seeing the same tainted politicians at the help of power. The four candidates from Bibeksheel are fielding their candidacy in Kathmandu's hotly contested districts. They chose dog as their election symbol, a powerful gesture in many respects. Bibeksheel wants its leaders to serve people faithfully and chase away corrupt and incompetent leaders.
Victory in the November elections will surely upset the political establishment in Kathmandu, and that is what they are precisely looking to do. Their hope is that such a victory will unleash a nation-wide movement to bring youth from every part of the country to finally defeat the old and evil parties that have cheated too often.
No one can precisely predict if Nepal will write a new constitution under the second jumbo team of 601 members. Failure to produce a new constitution will be tragic for this beautiful mountainous country. However, many young volunteers at Bibeksheel finally see the dawn of a new era in Nepali politics. Their hope is that this will be the time when people will at last say enough to the old bickering and endorse a new thinking and a new set of leadership to tip Nepal to a bright era of "prosperity"!
Popular in the Community