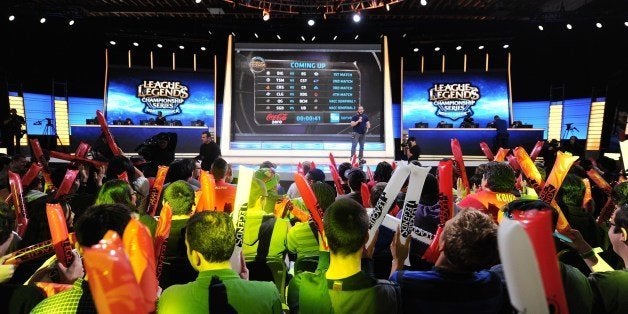 Last month, 1.3 million people watched NBC's livestream as the New England Patriots secured a Super Bowl victory -- that is nearly triple the number of people who watched the Super Bowl online in 2012, the first year the event was streamed online.
The growth of Super Bowl online viewership shows the tremendous influence streaming technologies have on the way we enjoy many kinds of entertainment. In the video game industry, streaming capabilities gave rise to a new category of sporting events -- professional video game competitions. Esports is a million-dollar industry with millions of vocal fans worldwide and is quickly becoming the fastest-growing and most-viewed sport in the U.S.
More than 100 million viewers watch video game play online each month, according to Twitch. According to Newzoo, that number will jump to 145 million in 2017. Last year, The International, a premier esports competition, drew approzimately 8.5 million simultaneous viewers at its peak -- the same number of fans that watched the deciding game of the 2014 Stanley Cup finals.
Esports tournaments exploded in the past 14 years. What started as small events with amateur players grew to nearly 2,000 tournaments featuring the world's top professional players.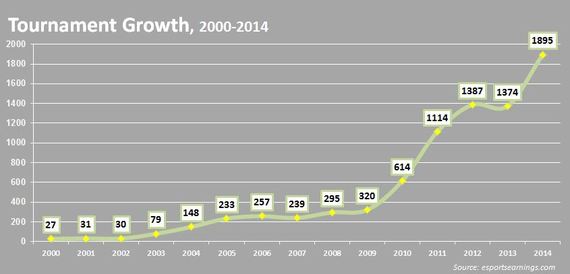 The fan base continues to grow. A decade ago, amateur competitions drew a few thousand fans in person and over the Internet. In October 2013, 32 million people watched the championship of Riot Games' League of Legends on streaming services such as Twitch and YouTube. That's more than the number of people who watched the TV series finales for Breaking Bad, 24 and The Sopranos combined; it's also more than the combined viewership of the 2014 World Series and NBA Finals.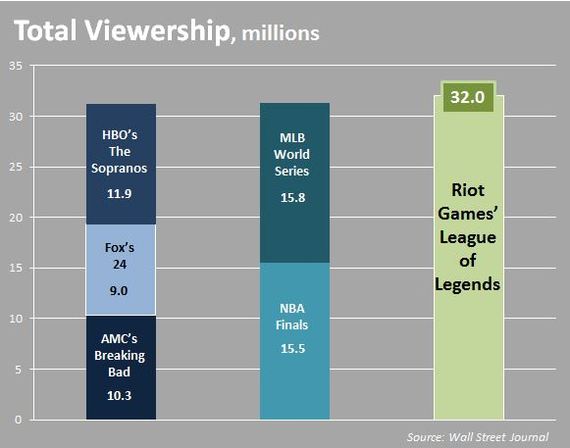 Prize money increased by 70 times. In 2000, the total prize money from 27 tournaments barely topped half a million dollars. 14 years later, organizers shelled out more than $35 million in prize money over nearly 2,000 tournaments, not counting lucrative sponsorships. Coca-Cola, Ford and American Express provided multimillion dollar sponsorships and organizational support to the world's top players, many of whom earn seven-figure salaries and attract a large and passionate online following.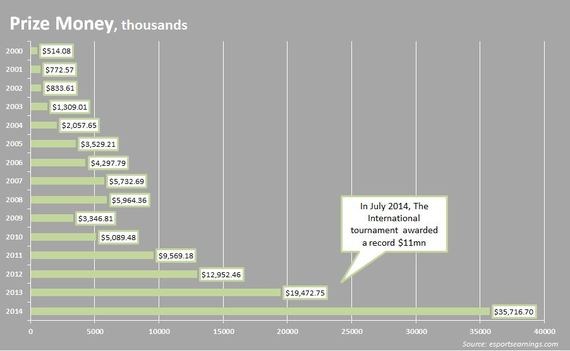 Players increasingly gain recognition from those outside of our industry. Sasha Hostyn, better known as Scarlett, one of the top Starcraft players in the world and the most accomplished woman in the history of esports, recently commanded a lengthy profile in the New Yorker. In 2014, the State Department began granting visas to professional game players under the same program used by traditional athletes. The Obama administration, recognizing the growing importance of esports, even enlisted the sport's top personalities to encourage Americans to sign up for an affordable health plan through HealthCare.gov.
Opportunities for esports teams on college campuses continue to grow. Last fall, Robert Morris University in Chicago handed out more than $500,000 in athletic scholarships to gamers, the first of their kind in the United States. The University of Pikeville in Kentucky recently followed suit, offering 20 athletic scholarships as part of its flagship esports organizations. Major League Gaming joined their collegiate peers, opening a small arena in Columbus, Ohio, with bleacher seating and broadcast booths, to capitalize on the region's college demographic. More than 10,000 students participate in the biggest college gaming league, dwarfing the number of athletes who play on men's Division I college hockey, basketball and soccer teams.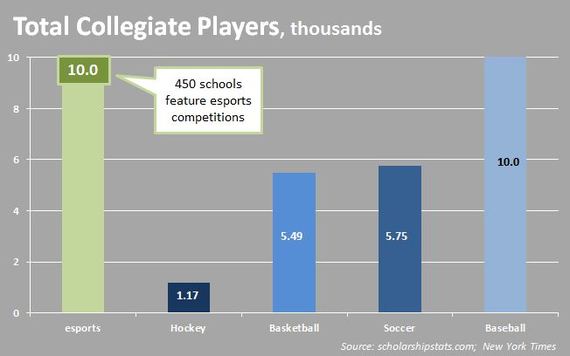 Traditional sports outlets broadcast and cover every mouse click. Last July, ESPN broadcasted Valve's Dota 2 International Tournament in Seattle and Riot Games' League of Legends Championship Series Finals in Seoul, Korea -- the latter commanded a half-hour ESPN2 special previewing the annual tournament. ESPN also partnered with esports league Major League Gaming to make professional game play part of the X Games. And earlier this month, TheScore Inc., a Canadian sports news mobile application, announced that it will start reporting on video games just as it reports on traditional sports.
We'll continue to witness the uptick in sponsorship, schools recognizing the sport's potential, the recognition of players and media coverage. Let the Golden Era of esports begin; the possibilities are endless.