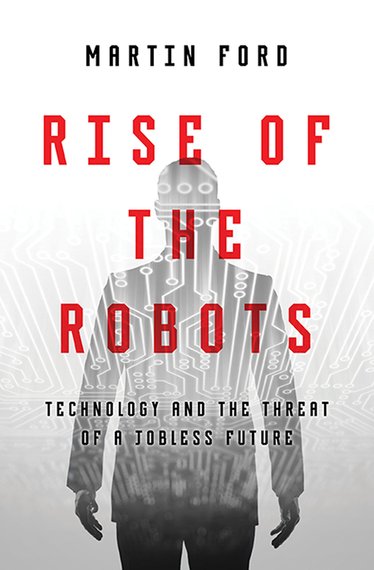 "Let the old world make believe
It's blind and deaf and dumb
But nothing can change the shape of things to come"
-Barry Mann & Cynthia Weil (theme song for the movie Wild in the Streets)
I've read it. Five different times in four months. I also stopped to read Ford's other book, The Lights in the Tunnel. Depending on your outlook or life situation, it can be the most fascinating or terrifying book you will ever read.
It's not that Ford writes about automation changing the economy. Automation has been happening since the cavemen and we have been noting it ever since. Ford does make a compelling case for how that change is happening at a rate so fast that we can't adapt to the new world order and that the losers will more quickly outpace the winners.
What is so gripping about Rise of the Robots is the unpredictability of the jobs being wiped out. It has long been seen that lower end, predictable positions are eliminated by technology or the ability to outsource them to another country. Ford argues that nearly EVERY job or position can be ultimately eliminated by technology, especially as artificial intelligence improves.
What Ford zones in on is how the biggest gains in profitability happen when high-paying careers are eliminated or marginalized by technology.
When you eliminate a radiologist for a high-powered computer or a research-oriented attorney for a research-oriented website, you can increase profitability more quickly than 10 minimum wage positions.
So do we build a wall? Or start locking up everyone in the Silicon Valley? No.
What history has taught us is that suppression of information and creativity is not a viable long-term strategy. We have to embrace the future.
To paraphrase from the movie Saturday Night Fever, you can't say, "f___ the future," because the future f____s you.

Thus, a report by the Perryman Group, an economics and financial analysis firm based in Waco, Texas, brings an optimistic and refreshing perspective to the world that Rise of the Robots so graphically describes.
Essentially what the Perryman people discovered was by making payments faster, easier and more accessible, it allowed the American economy to grow more quickly than it would have otherwise.
That makes sense. I've spent a good portion of my life waiting for "the check in the mail" from customers and won't spend money until I am absolutely sure that check has cleared the bank. Since most of our clients pay by electronic transfer, we get the money more quickly. Which means our employees and vendors get paid more quickly. And those people are able to buy groceries more quickly. And so on and so on.
I did not have a quantifiable way to track the concept before I saw the Perryman report, but now it all becomes clear to me.
The rise of electronic banking has had a dramatic impact on two of my businesses. McNay Settlement Group Inc., based in Lexington, Kentucky, is in the business of providing structured settlement annuities to injured people, and Kentucky Guardianship Administrators LLC, based in Richmond, Kentucky, administers qualified settlement funds (468b funds) and special needs trusts. By affiliating with banks on large projects, we have been able to take advantage of the electronic banking system and take on national projects that would have been cost prohibitive for a Kentucky-based firm in the pre-electronic era.
An article by Peter Ferrara in the Daily Caller cites the Perryman report and says that "the use of payment cards creates over 23 million permanent jobs and add 12 percent to the gross domestic product."
To quote former Washington Redskins football coach George Allen, "the future is now." Technologies are eliminating jobs, but also creating them. Hoping to go back to the "good old days" is not an option.
As the song says, "nothing can change the shape of things to come."

Don McNay, ChFC, MSFS, CLU, CSSC is a financial expert, journalist and author of eight best-selling books. His new book, Brand New Man: My Weight Loss Journey, released on Feb. 27.
McNay is one of the world's best known experts on structured settlements and how lottery winners handle their money. He lives in Lexington, Kentucky, and you can learn more about him at www.donmcnay.com
McNay has a Masters Degree from Vanderbilt University and a second Masters Degree from the American College. He has four professional designations and is in the Eastern Kentucky University Hall of Distinguished Alumni.
McNay has been a Huffington Post contributor since 2008 and his insights have appeared in hundreds of publications, including the New York Times, Washington Post, Time Magazine, Los Angeles Times, Forbes andUSA Today. He has appeared on television and radio programs around the world including CBS Morning News, CBS Evening News, ABC News Radio, AM Canada, CTV News and RAI Television in Italy.
Popular in the Community