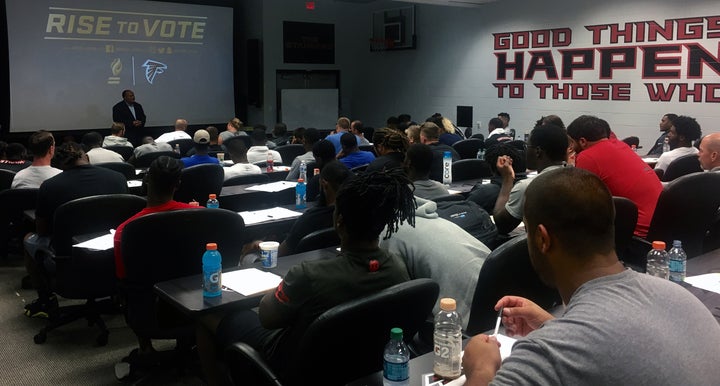 Over the weekend the issue we focus on at RISE became the biggest story in the country when the president publicly scathed athletes for expressing their First Amendment rights to bring attention to racial inequality.
The collective response from owners, coaches, players and front office staff throughout the NFL was a show of unity rarely seen in an industry that is about competition and beating your opponent.
One by one, each team expressed in their own way their commitment to raising awareness around ways to advance equality and ensure that our country lives up to the ideals of the Constitution.
This week we launched RISE to Vote, a yearlong nonpartisan campaign that aims to register as many athletes as possible to vote and encourages them to spread the important message of voting to their fans.
In our democracy voting is one of the most tangible things you can do to promote social change and bring about a better world. According to our data, as someone becomes a registered voter, it's often the first and most influential step they can take toward being engaged in local issues. And by becoming active and informed citizens we can impact our world on a local, state and national level.
RISE to Vote is partnering with state and local election officials and nonpartisan organizations like the League of Women Voters and the Drum Major Institute with expertise in leading and executing effective voter registration drives in all 50 states. Our goal is to encourage athletes to become informed and engaged citizens and inspire their fans to do the same.
Four professional teams – the NFL's Atlanta Falcons and Miami Dolphins and the NBA's Atlanta Hawks and Brooklyn Nets – already have completed RISE to Vote sessions, where the players also met with Martin Luther King III, who spoke to them about the significance of engaging in our democracy.
This is only the beginning.
More and more teams from across various sports leagues are ready to hold RISE to Vote sessions. This movement can begin with professional athletes but grow to one that involves coaches, staff, fans and student-athletes who follow in the steps of their role models. Information about the importance of voting could be distributed, and registration could be offered at major sporting and community events. Athletes can voice the importance of voting through social media and can go back to their hometowns or universities and hold voter registration drives of their own.
The work that's required to bring people together and advance equality and positive change in our country becomes more powerful and effective when athletes are leading the charge. And, as I recently told The Washington Post, regardless of your political leanings, we all have a stake in making sure our society is one where we are unified.
One of the most moving and inspiring moments I've observed this week was seeing Martin Luther King III, oldest son of Dr. Martin Luther King Jr., remind athletes that his father stood on the steps of the Lincoln Memorial in May 1957 and said, "Give us the ballot, and we will transform the salient misdeeds of bloodthirsty mobs into the calculated good deeds of orderly citizens."
The athletes in the audience heard his message and responded by registering to vote and embracing their rights and their power to change the world.
As we move forward to Week 4 of the football season, we can anticipate that other issues will emerge to dominate our national discourse. But what will remain is a steadfast and growing number of athletes at every level in every league registering to vote and leading their fans to do the same.
Jocelyn Benson is CEO of the Ross Initiative in Sports for Equality (RISE).
Calling all HuffPost superfans!
Sign up for membership to become a founding member and help shape HuffPost's next chapter