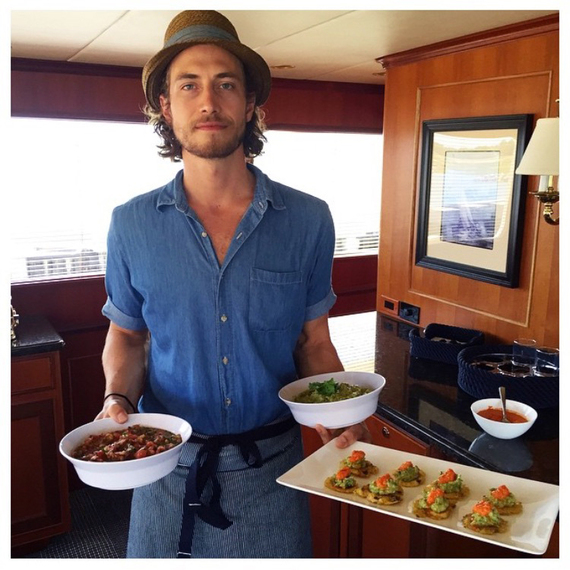 I met up with personal chef and restaurant consultant Adam Kenworthy at the farm-to-table restaurant Cafe Clover in the West Village, an apropos locale for our interview as Adam is passionate about organic, farm-to-table food. I spotted Adam immediately as he entered the restaurant; he is tall and lanky with an outdoorsy pretty boy look from his shaggy hair to his scruffy beard to the wooden beads he is wearing around his neck. He also has a spiritual, gentle vibe about him which is immediately disarming. He arrives bearing a gift, a beautiful pot of honey from his non-profit farm Finca Santa Marta in Nicaragua.
We sit down at a booth in the corner of the restaurant and order some haricots vert, market crudité and shishito peppers (I followed his lead ... when in Rome), with a Bee Sting drink for me and tequila with grapefruit and lime for him. "I like to mix fresh juices with the spirits. Grapefruit is healthy; orange juice has more sugar," he says.
Adam's cooking focuses on vegetarian and vegan cuisine and, no surprise, he mostly eats that way himself although he tells me that he has been eating more pescetarian this summer. "In a perfect world, I would be a vegan," he admits, but cites the lack of access to vegan cuisine during his travels, or at parties or events, for his more flexible and balanced approach to eating.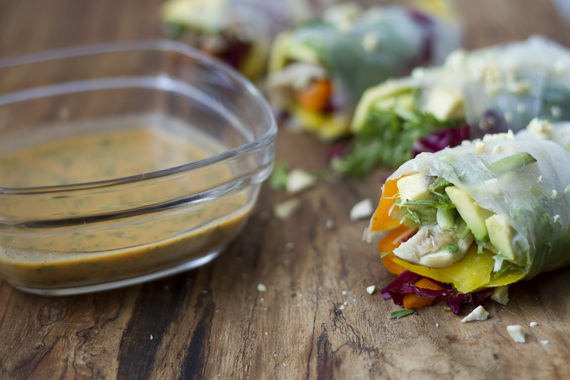 We launch into a discussion about his fascination with food and cooking and where it started. While attending Colorado State University, he developed a passion for endurance sports, and did everything from mountain biking to snowboarding to trail running, including challenging himself to take on a 4,000 mile solo bike ride from Washington State to Maine. As a poor college kid with a big appetite after daily training for these events, it was simply economical to start cooking for himself which led to him starting to focus on how he could put the healthiest foods possible into his body to keep him in his best shape.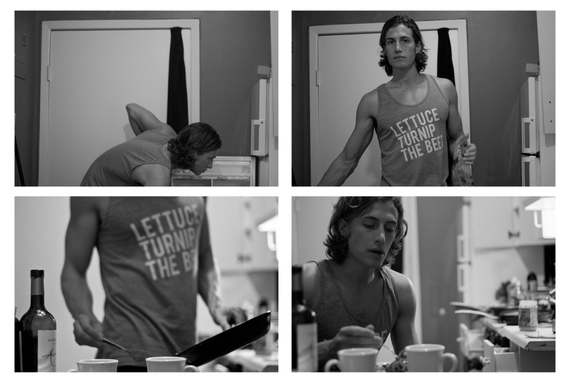 His cooking today is ultimately completely self-taught, stemming from a passion early on for organic fresh food, watching the chefs closely when we worked as a server in a restaurant in Aspen, making friends in the industry and trial by error at home. He describes his food as "healthy vegetarian and vegan plant-based food" and views it as art. "I don't mean that in a cocky way," he says, "I mean that my food is my form of expressing art. But it can't just stop there, it has to taste good which has taken years of practice." He has a good eye for plating that he attributes to his artistic sense and love of photography. "I'm very visual" he says. The cooking videos on his website reflect this; they are as equally artistic as his food.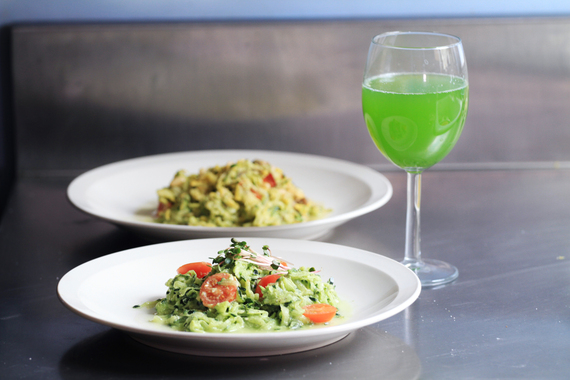 Although he will cook meat for clients if they request it, he prefers to cook vegan or vegetarian cuisine because that's what inspires him. He loves showcasing his creativity by taking something reminiscent of something else and making it plant based, like taking squash and using a spinner to turn it into noodles for a pasta dish. One of his current obsessions is avocados, and he also loves making new and interesting dips which he believes are a great foundation to a vegetarian diet. He's very interested in sustainability and the environment, and how returning to a vegetable and fruit diet is more environmentally sound. "Cows create emissions that are worse for the climate than cars" he tells me.
To that end, Adam has founded the non-profit farm Finca Santa Marta in Nicaragua which provides jobs and organic fruit, vegetables and herbs from its farm, and honey from its bee farm, to the people of Nicaragua. He started it five years ago, and it stems from his fondness for the country and its people after teaching kids to surf there during several summers. One family in particular, the Garcia family, had a strong impact on Adam. He recalls how they lived so simply on dirt floors with little food for themselves yet they selflessly offered to feed him. He would sit and eat with them in the darkness and would laugh along with them without really understanding the language. But he continued to visit during the summers, working on his Spanish and surfing, and wondering how he could give back and help the people of this country. So he started raising money by throwing dinner parties and doing a 100-mile run, and eventually formed the non-profit. "My parents think I have it backwards" he smiles. "They say 'Here you are, you are broke, just out of college and you are starting a non-profit'. But it's really a labor of love and I hope to be able to keep giving more and more to the farm." His dream is to be able to do workshops down there, from cooking to meditation to yoga, with at least a few dozen employees on premises.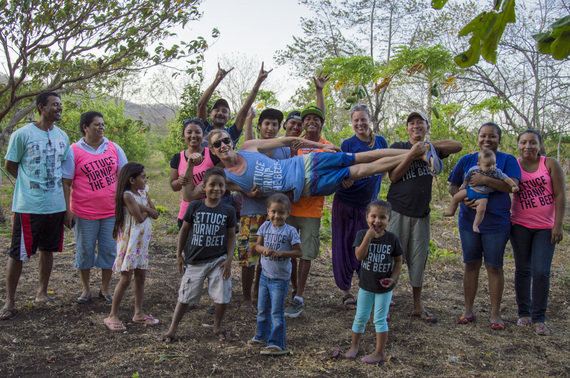 Balance is a word that keeps coming up during our conversations, and it's evident that Adam's healthy diet extends to his healthy outlook on life. I mention that I first learned of him during an episode of BRAVO's Real Housewives of New York (he was the private chef at a dinner party) which experience ultimately resulted in him dating one of the stars of the show Carole Radziwill (yes, they are still dating). Of that, he says "Really it was a cooking job during one episode of the show. There was never any expectation that I would meet someone that I would like. The beauty of life is that you never know how things are going to work out or how they are going to happen." I wonder if he has any regrets since he was the topic of drama on the show due to the age difference between him and Carole which led to disapproval from some members of the cast. "I think that things became misconstrued to a degree because of the magnifying glass of reality television. But I think it's been fun, and Carole is super awesome and super funny so any drama created from it is a bummer to see but it doesn't affect me. I make conscious decisions and I don't live with regrets."
Where does he see himself five years from now? "Hopefully I will be doing even more consulting with restaurants, I will have a rooftop penthouse with a vegetable garden outback and I'll be expanding my video database with even more artistic videos." And with that, he got on his bike and cycled away down the streets of the West Village, the whole world in front of him.

Check out Adam's videos here for fresh new ways to make delicious vegetarian and vegan cuisine.