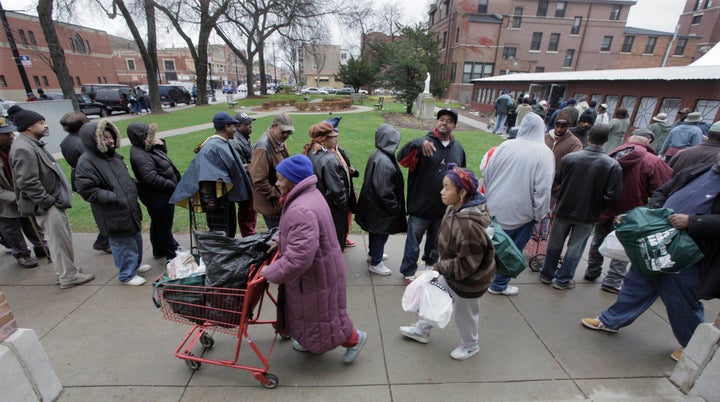 Between October 2010 and January 2011, the Bank's food price index increased by 15 percent, and the global prices of wheat, maize, sugar and edible oils have all increased sharply.
As a result, since June 2010,
"there has been a net increase in extreme poverty of about 44 million people in low- and middle-income countries."
America isn't immune from the trend.
According to Gallup Polls conducted between 2006 and 2008, 16 percent of people in the Americas have gone hungry due to finances. And the trend of rising food prices is going to push more and more families into that category.
The U.S. Labor Department released its consumer price index survey this week. It reports that the price of grains such as corn, wheat and soybeans has roughly doubled since last summer, due mainly to bad harvests and also the use of corn for ethanol. Wholesale food prices rose by 3.9 percent in February -- the sharpest increase in more than 36 years. Meat and dairy prices also rose, as did fresh vegetable prices, leaping by nearly 50 percent in February. And the Department predicted that "food costs are likely to keep climbing for most of this year."
The effect of rising food prices can be seen in Lee County, Alabama, where more than 3,000 families accessed the Community Market food bank during the past year, as reported by CNN.
Community Director Elsie Lott told CNN,
"If prices go up any more, you are going to see more people here and other food banks... People that used to give us food are now asking for it."
One in four Americans is "worried about having enough money to put food on the table in the next year," reports the Food Research and Action Center (FRAC). Their information comes from a national hunger survey conducted last month by Hart Research Associates, commissioned by FRAC and Tyson Foods, Inc. The survey found that 24 percent of respondents "indicated they are very or fairly concerned about being able to afford food at some point in the next year, while 31 percent are slightly worried."
Related
Popular in the Community