If you're a fan of Ed Sheeran, John Mayer or OneRepublic, you need to check out rising indie pop singer Tor Miller.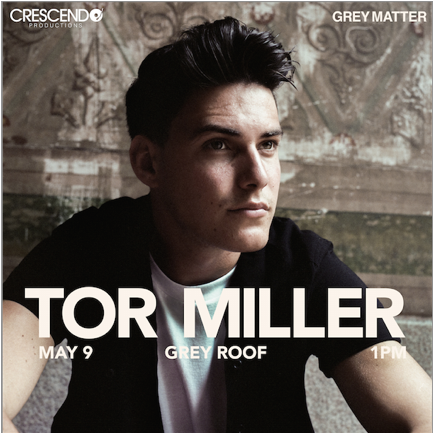 Tor Miller, 22, hailing from Brooklyn, NY performed his new single "Baby Blue," on the rooftop at GREY New York ahead of his full-length debut album, American English on September 30th. His EP Headlights is available now.
 
The performance is part of GREY's newly revived music series, produced by GREY's own music department, Crescendo Presents, in collaboration with GREY Matter, GREY's forthcoming hub of content, culture and events.
Josh Rabinowitz, EVP/Director of Music at GREY Global Group is one of the instrumental forces behind this event series. "What's amazing about it is we're able to get a great array of top line talent who's in town either touring, or recording and we feel like it's a great opportunity for us to show our employees.  I think everyone will really enjoy it," he adds.  
Not only are events like the music series good for agency culture, but it's great for the artists like Tor because it's his target audience. By playing this small event, he is walking away with new fans that may have never heard his music otherwise.
Pam Workman, SVP/Director of Reputation Management at GREY New York also plays a major role. "Advertising is at the heart of so many types of experiences today to the point where you don't even realize it's advertising anymore.  We hope this series opens people's minds creatively to new ideas as this is definitely part of the overarching mission at GREY" she says.  
I had a chance to chat with Tor afterwards about his music inspirations, being an artist and of course about his upcoming album:
Can you tell me about your new single "Baby Blue"?
Baby blue is a song about someone who I was very close to at one point, who came to the city, after living on the west coast their whole life. Their lifestyle and ideals instilled in her from an early age weren't exactly congruent with the aura of New York City. So she was going through a learning curve and was balancing her old and new self.
Who are some of your role models in the industry and why?
Most of them are dead, but Bowie and Prince are definitely up there. They did what they wanted to do, unapologetically and they were constantly reinventing themselves.
What inspires you as an artist?  
Life, really. My relationships, odd encounters on the street, other pieces of art (across all mediums).
How old were you when you started playing the piano?  Is that what stemmed you to pursue singing?
I was 6 or 7 and it was a music teacher when I was about 10 who urged me to start writing and singing.
What's the meaning behind your new album title "American English"?
It's my way of speaking and living which is all informed by my long stints in London.
What can we look forward to from this album?
This is my attempt at recreating some of the 70's records I love so dearly. So we have lush string and horn arrangements. Basically you will have the story of my life in song over the last 4 years.
How was your experience performing in the series at GREY?
It was very fun. Can't beat the rooftop on a beautiful day. And free food, which is great cause I am so broke. And I love performing with Hayden and Sean.
What do you hope was the takeaway from the event for the attendees?
Hopefully, I walked away with more fans and we will be seeing my songs in more places!
Calling all HuffPost superfans!
Sign up for membership to become a founding member and help shape HuffPost's next chapter