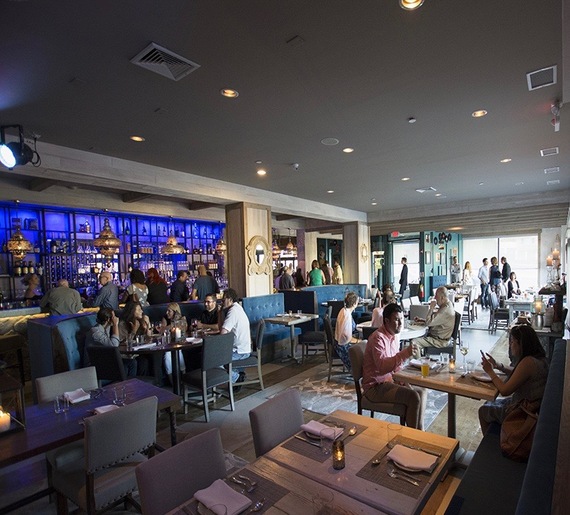 Nyack is a 17th century town that has long been one of the loveliest on the banks of the majestic Hudson River, about 25 miles north of Manhattan on the western end of the Tappan Zee Bridge. Once a shipbuilding center, the town has gone through its boom and bust years, but it has always held an artistic cachet, not least as the home of painter Edward Hopper.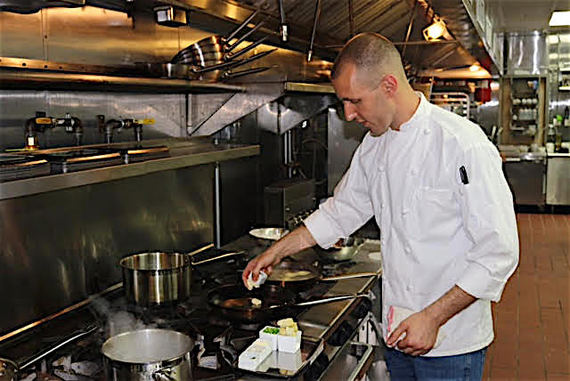 The streets are lined with clapboard houses, galleries and restaurants, and one that has set itself apart is the new Sixty 5 on Main, whose mundane name tells you nothing about the sublime cooking done there by Chef Moshe Grundman (below), who, after three years in the Israeli army, worked in many stellar NYC kitchens, including as sous-chef at Oceana. Sixty 5 on Main--its address--is stressing small plates with large flavors and beautiful presentation within a smart-looking dining room and bar area whose designer, Dawn Hersjko, sought to "combine the charm of a farmhouse with the intrigue of a cigar bar, while keeping a small hint of Moroccan smoothness in the background." It all works well--at least once inside, for the wholly nondescript façade seems out of whack with Nyack's historic cast.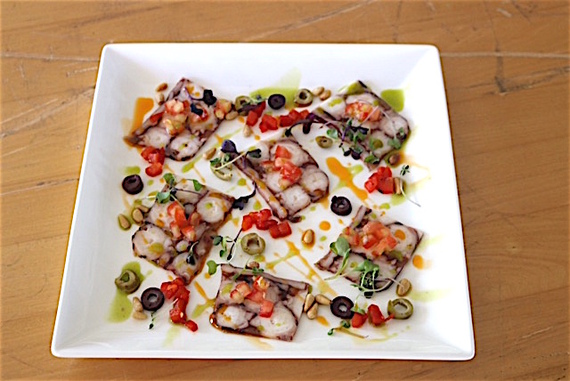 Everyone these days is serving octopus and tuna crudo, but Grundman brings a fresh look and appeal to both. The very tender, thinly sliced and flattened octopus carpaccio (above) is served cold with a confetti of Syrian and Kalamata olives, capers, pinenuts, infused olive oil and a touch of chili infused olive oil ($13), while the tuna is treated to lemon and orange for tartness and sweetness, snow peas and a yogurt cheese called labene ($14). The panko-crusted short rib fritters with a barbecue mayonnaise and flavorful Moroccan spice ($11) make for an interesting turn on short ribs, and meatballs atop spaghetti cakes (below) with a three-cheese sauce and tomato sauce and topped with a tangle of crispy angel hair ($12) makes for wonderful textural contrasts. So, too, there was a nice crunch to the flakey buraka pastry filled with potato or cheese, chopped boiled egg, pickle and tahini sauce ($10). Sautéed fish morsels come in little taco shells, with avocado and much-needed pico de gallo to perk up the bland flavors ($13).
Some dishes are offered in small and large plate formats, most of them successful, especially a very juicy skirt steak with a tabouli quinoa, Marcona almonds, pomegranate seeds and ranch dressing ($12 or $24), and the plump ravioli with puréed peas, pecorino cheese, a touch of mint, tender artichoke hearts and fresh peas ($12 or $24) is a triumph of perfectly complementary flavors. The fish of the evening was a beautiful grouper ($14 or $28), simply prepared. The only dull dish was a plate of chicken-layered steamed buns with ginger, soy chili sauce, scallions, peanuts, roasted bell peppers and sliced pickles ($12), which should've added up to more than it was.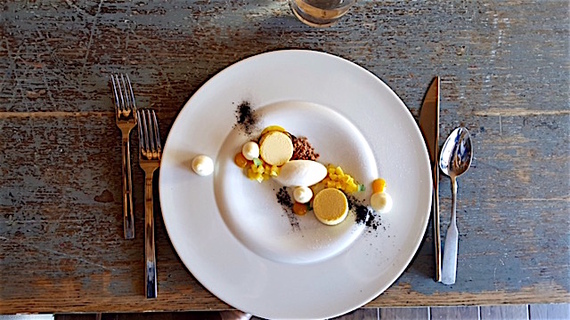 No restaurant these days can get away with shipped-in desserts, and pastry chef Choya Hodge shows why in his marvelously composed and carefully layered creations like his green apple on delicate millefeuille pastry with vanilla gelato ($10); vanilla yogurt panna cotta with marinated fruit, cookie, and a puree of passionfruit, banana and mango (10); a chocolate flourless cake with rich milk chocolate ganache, white chocolate mousse, macaroons and chocolate gelato ($12); and a marvelous tropical Caribbean mango parfait, with a puree of coconut gelato and a banana, pineapple and passionfruit sorbet ($10).
The wine list at Sixty 5 on Main is a disappointment, being composed almost entirely of overly familiar brand names, though prices are fair enough. Cocktails run $10 to $12.
Otherwise, Sixty 5 on Main has remarkable balance on every aspect of its menu, so that you come away knowing you've never had so many things that were so well matched and so much that you won't find anywhere else pulsing with this kind of creativity and color. Grundman is already a major talent, and his restaurant is well worth the drive from anywhere in the tri-state region.
SIXTY 5 ON MAIN
65 Main Street
Nyack, NY
845-358-5200

Open for dinner Tues.-Sun.; Brunch Sun.
Calling all HuffPost superfans!
Sign up for membership to become a founding member and help shape HuffPost's next chapter