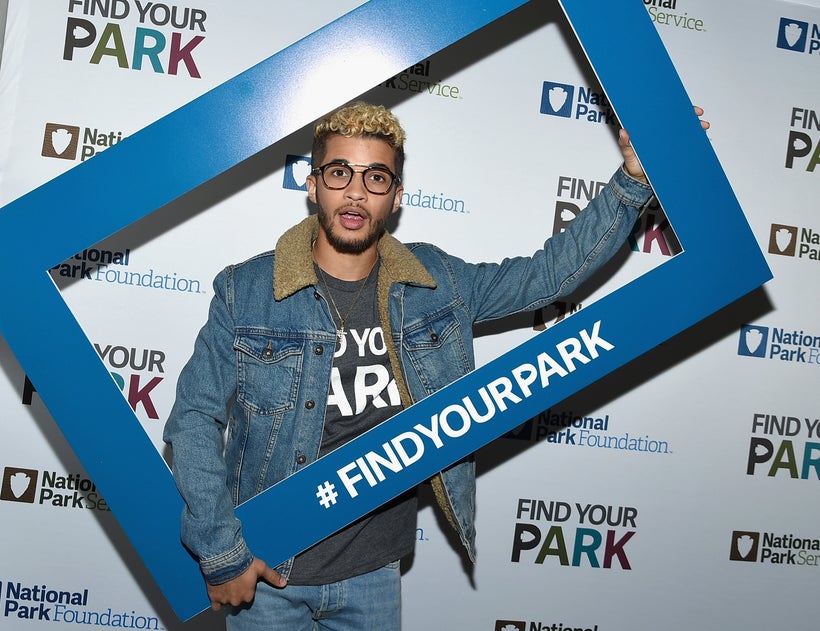 In part with Parks 101, a new initiative from the National Park Foundation & National Park Service after a successful year celebrating the Centennial with #FindYourPark, Park Ranger Vladimir Merzlyakov gave a private tour of the Hamilton Grange Memorial in Harlem. The iconic structure was once called home by Alexander Hamilton and his family. The Grange was moved not once, but twice, being lifted 30 feet into the air, traveling on steel beams over a church and then down a hill to its new location.
Vladamir then took us into Hamilton's den, which is a stark green color that reminded me of Nickelodeon's signature slime. Before anyone could make a pass at the color of the walls, Vladamir actually told us how rare this paint was. "Green was a very prestigious color to flaunt," he said. As I looked around the office, almost everything was green. This was Hamilton's room to show off. This was the room where it happens, housing Hamilton's desk where he wrote hundreds of documents that shook the country.
Tag-teaming on the tour was rising actor, singer and National Park Service Ambassador Jordan Fisher. Jordan is known for his role on Disney Channel's Liv and Maddie, Grease Live, Phillip Hamilton and John Laurens in Lin-Manuel Miranda's musical Hamilton, as well as his own music.
I had a chance to sit down with Jordan to discuss everything Hamilton, his new role with the National Parks Service and Lin Manuel-Miranda.
Tell us about your new role with the National Park Service.
"I'm helping bring awareness to America's beauty and history. We're so lucky to have these historic gems at our fingertips. For those Hamilton fans that are still Hamilton obsessed from the play, go out and explore beyond the theatre stage."
How did the process go with being a part of the musical Hamilton?
"From the first day on set I felt very at home with a very welcoming cast. Before each show, the cast does a prayer circle that started initially with Chris Jackson. It was a nice reminder to go do the thing that people spent a crap ton of money on that waited a year to see.
Also whenever a new [King George III] comes in," he added, "there's a thing called a corny-ation. There's a garter that goes just below the King's knee, and there's a passing. Brian D'Arcy James started it when he passed it along to Jonathan Groff, and so on and so forth. We have a tea party and that kind of thing. It's fun."
What's your favorite song from the Hamilton soundtrack?
"Blow Us Away was a fun one. My favorite moment in the show that I was a part of was the end of Yorktown. We took down a global powerhouse, to do the impossible and it was such a powerful moment with the scene having everyone on their own plateau."
How was it to work with Lin-Manuel Miranda?
"I love him to death. When we're together its great. He created possibly the most masterful piece of work on Broadway on an artistic level, a historic level, a social and political level. It will live well beyond him. The dude is insane and being able to call him a buddy is greatly appreciated."
Fisher was featured on "You're Welcome" with Lin-Manuel Miranda for the Moana soundtrack.
Hamilton ends with the song, 'Who Lives, Who Dies, Who Tells Your Story.' How do you want to be known, or remembered?
"I love this question. I want to be remembered as a great artist, creator, collaborator, actor, writer, singer, but an even better father, husband, brother, and son.
I get to do what I love everyday I'm in planes all the time, I'm so tired all the time, lacking sleep, but I look forward to doing it all again the next day. I've been doing this for the last 13 years and it really just started to take off about 4 years ago. It can be anyone you just have to keep at it."
REAL LIFE. REAL NEWS. REAL VOICES.
Help us tell more of the stories that matter from voices that too often remain unheard.
This post was published on the now-closed HuffPost Contributor platform. Contributors control their own work and posted freely to our site. If you need to flag this entry as abusive,
send us an email
.