ABC premiered #RisingStar Sunday night and generated more than 1 million app downloads, and there is more to this innovation than television finally moving beyond the simple hashtag for live programs.
Users connected either a Facebook or Twitter account to activate the application during the two-hour music talent show hosted by Josh Groban. The gimmick is that by being a voting "judge" users might see a profile photo on a huge video wall that rises, if a performer gets 70 percent of the vote to move to the next round.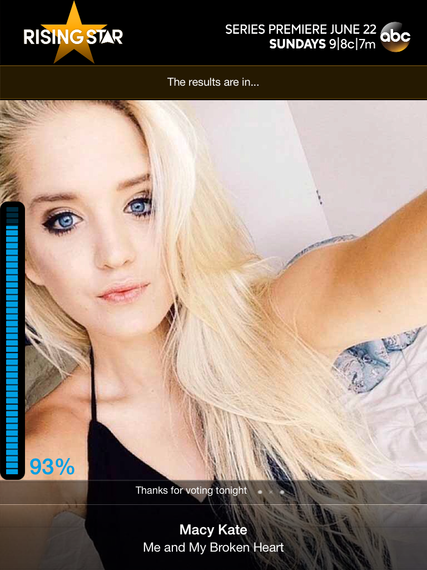 The #RaiseTheWall hashtag generated some of the usual activity on Twitter, but it was the Rising Star app that is worth further attention. While the 2-ton wall was mostly difficult to see, the show was collecting massive amounts of user data.
Once connected, the app followed along as three voting "experts" -- Chris "Ludacris" Bridges, Kesha, and Brad Paisley -- were introduced. Groban established the live nature of the show with World Cup talk and some edgy banter with the stars.
Each time a performer was introduced, app users were required to check in to be eligible to vote. Thus, ABC can show advertisers how many engaged viewers stayed with the show and how quickly they re-connected after each commercial break. These viewer behavior data are far ahead of traditional audience sample household data.
Rising Star also pushed messages during the commercial breaks, such as meeting a couple of "fellow judges" and humor about taking the app to the bathroom.
There are some issues with the technology. The app takes the entire screen of a smartphone or tablet, which means users might need two devices to continue to follow other social media during the show or bail out.
Online criticism of the show included questionable talent, slow program pace (with a second West Coast broadcast) and audience vote priming through expert panel antics. Yet, in the end, the live show broke some new social media ground. The final performer of the evening, selected from an earlier Instagram audition, nailed the live performance. The studio audience went wild, and Rising Star had the expected happy ending.
TV must use mobile app technology in this way for a variety of programming -- from presidential debates to sports and awards show -- for it to find a happy ending in the fragmented social media world that searches for audience attention.
REAL LIFE. REAL NEWS. REAL VOICES.
Help us tell more of the stories that matter from voices that too often remain unheard.