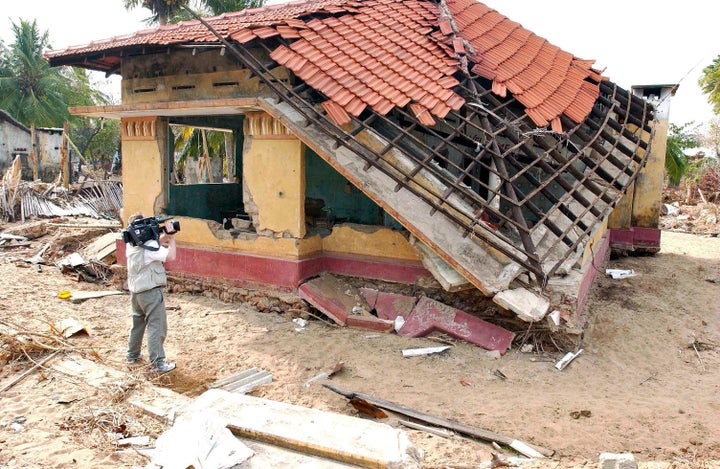 Over the last week I have moderated discussions in Geneva and New York in which representatives from tsunami-exposed countries including Chile, Indonesia, Japan and Maldives have shared their recent experiences of this rare but most deadly of disasters.
This has provided me with a keen insight into the challenges around this natural hazard which, down through the ages, has taught us many hard lessons about the thin margin between life and death in many exposed parts of the world including countries bounding the Pacific, the Indian Ocean, the Atlantic, the Mediterranean and its connecting seas.
It is sobering to be reminded that 80% of the Maldives is just one metre above sea level and that the country abandoned 13 islands following the devastation wreaked by the Indian Ocean tsunami in 2004.
At the same time, it has been heartening to hear about the improvements in disaster preparedness and disaster risk management which have taken place in all these countries as a result of past tragedies.
In Indonesia, disaster risk reduction is a major pillar of the country's development strategy. The Indian Ocean tsunami warning system installed following the 2004 tsunami ensured that warnings were issued within five minutes of an 8.6 earthquake being felt in Banda Aceh on April 11, 2012; ensuing events demonstrated the importance of holding drills and educating the population on evacuation procedures.
Chile took legal action against officials following confusion over issuing early warnings following the February 2010 earthquake and tsunami and has since put in place much tighter coordination with broadcast media and other key stakeholders to ensure there is no repetition.
Japan continues to deal methodically with the aftermath of the 2011 Great East Japan Earthquake and Tsunami by introducing incremental improvements in the design of its coastal cities and their defences and greater protection for critical infrastructure.
What has become clear to me as we commemorate the second edition of World Tsunami Awareness Day on November 5, is that much of the work of reducing disaster risk depends on forging a deeper understanding of disaster risk if we want to prevent future disasters even as conditions on this planet conspire to drive up the possibility of future losses.
The same risk factors apply to tsunamis as they do in the case of extreme weather events but perhaps even more so.
Poverty, inappropriate land use and building codes, the disappearance of protective eco-systems such as mangrove forests, weak governance, population growth in coastal areas are all factors which drive exposure and vulnerability to floods and storms, the two most common natural hazards.
If you are aware of your tsunami risk then you are likely to be aware of the other risks which could impact your community in the age of climate change when sea levels are rising, oceans becoming warmer and storms are becoming more intense.
Tsunamis have profoundly shaped international agreements on how we reduce disaster risk. The Hyogo Framework for Action (HFA) was adopted by UN Member States just weeks after the Indian Ocean tsunami killed some 228,000 people.
It was an event which shocked the world into action and the adoption of the wide-ranging goals of the HFA helped to raise public and institutional awareness, generate political commitment and mobilise key stakeholders across civil society, catalysing actions by a wide range of stakeholders at all levels in an effort to reduce disaster losses.
The key paradigm shift sought by the Sendai Framework is a move from managing disasters to managing disaster risk in order to avoid the creation of disaster risk, reduce existing levels of risk and manage what cannot be reduced.
Outside of large-scale famine, a pandemic or a nuclear accident, there are few worst-case scenarios than a tsunami.
One common theme has been running through all the discussions we have had over the last week and that is the importance of education, including evacuation drills, for ensuring that communities act decisively and without panic when the tsunami warnings reach them.
Tsunamis may be rare events but as with all natural hazards it is only a matter of time before the next one. We need to be aware and informed, ready and prepared.
*Robert Glasser is the UN Secretary-General's Special Representative for Disaster Risk Reduction
Related
Popular in the Community