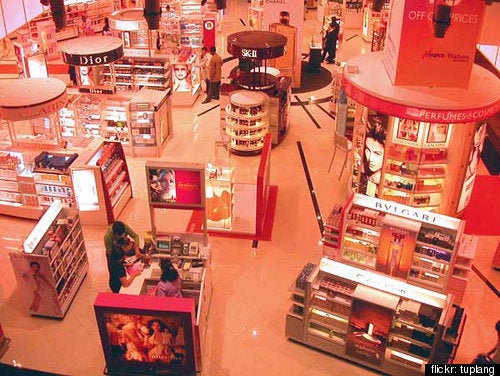 As the Obama Administration works with Congress to pass comprehensive health care reform legislation this year, President Barack Obama told reporters at the July 10 Group of 8 news conference, "We have to bend the cost curve on health care, and there are some very specific ways of doing that - - game changers that incentivize quality as opposed to quantity, that emphasize prevention."
Most cosmetics and personal care products on store shelves today contain five major categories of toxic ingredients. These are: frank carcinogens (cancer causing); precursors of or "hidden" carcinogens; endocrine or hormonally disruptive; penetration enhancers; and allergens.
Our skin is highly permeable. Less than one-tenth of an inch thick, skin is a porous membrane that is highly sensitive to toxic chemicals. What we put on our skin affects our health just as much as, if not more than, what we put in our mouths.
Some toxic ingredients illegally remain unlabeled. Of particular concern are hormonal phthalates, and synthetic "aroma boosters" which strongly intensify organic fragrances.
Expressing concerns on carcinogenic products, the late U.S. Senator Edward Kennedy of Massachusetts, in 1997 Senate Hearings on the U.S. Food and Drug Administration (FDA) Reform Bill, warned that, "The cosmetics industry has borrowed a page from the playbook of the tobacco industry by putting profits ahead of public health."
However, this is an understatement. Tobacco products are labeled with explicit warnings on cancer risks, which relate only to late adolescents and adults. In striking contrast, there are no warnings whatsoever on cosmetics and personal care products. Yet their ingredients pose unrecognized lifelong dangers to the entire U.S. population, including the fetus, following maternal use and absorption through the skin into maternal and fetal blood.
The cosmetics and personal care product industry, other than relatively small U.S. Department of Agriculture (USDA) certified organic companies, can no longer claim ignorance of the wide range of toxic, and even life threatening, ingredients in products manufactured and sold by multibillion-dollar, besides smaller, companies.
The FDA is responsible for the regulation of cosmetics and personal care products. The legislative framework for regulating these products, whether manufactured in the U.S. or imported, is based on the 1938 Federal Food, Drug, and Cosmetic (FD&C) Act, and its amendments.
FDA Regulations stipulate: "Each ingredient used in a cosmetic product and each finished cosmetic product shall be adequately substantiated for safety prior to marketing. Any such ingredient or product whose safety is not adequately substantiated prior to marketing is misbranded unless it contains the following conspicuous statement on the principal display panel: 'Warning: The safety of this product has not been determined.'" This is commonly known as a "Black Box" warning.
Nevertheless, the FDA has rarely exercised its explicit authority over the last seven decades, no matter how dangerous the product and its ingredients.
Clearly, the time to require the cosmetics and personal care products industry to phase out carcinogenic and other toxic ingredients is well overdue.
There has been recent progress in one state. Following six decades of the FDA's reckless failure to comply with the requirements of the 1938 Federal Food, Drug, and Cosmetic Act, Governor Arnold Schwarzenegger enacted the California Safe Cosmetics Act. This requires that cosmetic companies disclose to the State Department of Health Services any ingredients in their products that have been identified as causing cancer or hormone disruption. The Department can then require the manufacturer to disclose these ingredients and their toxic effects on a website for public viewing.
As detailed in Toxic Beauty (2009), there are only a few exceptions to products containing these toxic ingredients, notably those that are certified organic by the U.S. Department of Agriculture. However, these products are now the fastest growing segment of the cosmetics industry.
There is also major recent progress at the federal level. Dr. Margaret Hamburg, the newly appointed FDA Commissioner, is well recognized as a leading public health advocate. As such, she is likely to be highly responsive to concerns on toxic products, and take prompt appropriate regulatory action!
Samuel S. Epstein, M.D. is professor emeritus of Environmental and Occupational Medicine at the University of Illinois at Chicago School of Public Health; Chairman of the Cancer Prevention Coalition; The Albert Schweitzer Golden Grand Medalist for International Contributions to Cancer Prevention; and author of over 200 scientific articles and 15 books on the causes and prevention of cancer, including the groundbreaking The Politics of Cancer (1979), and five books on cosmetics and personal care products, including Toxic Beauty (2009).
Ronnie Cummins is National Director of the Organic Consumers Association.
Related