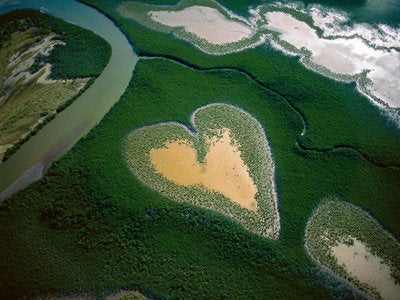 "Like the resource it seeks to protect, wildlife conservation must be dynamic, changing as conditions change, seeking always to become more effective." ~Rachel Carson, Silent Spring
As the recent PBS Frontline story, "Poisoned Waters" so vividly brought home, once pure and pristine, our extraordinary natural treasure of beautiful shorelines, waterways, estuaries, lakes, rivers and ponds continue to be polluted by the home and industrial waste that we persistently both knowingly as well as unwittingly contribute to -- so much so that it now severely threatens our own health and that of the flora and fauna with which we share our planet. Wreaking havoc on global well being, with animals and individuals becoming ill daily from contact with contaminated water eco-systems, without dramatic and fundamental action, it's a problem that'll only continue to grow exponentially. Point blank -- our water systems are being altered to the point of no-return by our own selfish human impact.
Often invisible to the naked eye, the most destructive elements to our planet's life's blood, our water, are hidden, secret, and malignant -- agricultural pollution and excrement in runoff waters, chemicals from home waste treatment systems, everyday cleaning supplies gurgling down our drains and flushing down our toilets, lawn care products leaching into the ground water -- plastics, lubricants, petro-fuels, body lotions, bug repellents, deodorants, soaps and even the decomposition of the soles of our shoes as we walk and jog all adding to the problem. With dangers to everyone and everything living and growing now being found in water -- we all stand to be negatively impacted.
The particulates from our own medicated bodily fluids are so fine that there are no water processing plants in the world that can trap them, and so, to be perfectly frank, your neighbor's Viagra, your daughter's birth control, your uncle's HIV/AIDS medications, your grandmother's diabetes drugs, your minister's pain medications, your teacher's thyroid supplements, your dog's flea and tick protection, etc., are all ending up in micro doses in the water we all brush our teeth with every day.
The run-off from some agricultural livestock is so densely polluted that it creates dead zones in water masses that not only cannot sustain life, but also kill any life forms that unfortunately find their way into their morass.
Through our toilets or from our tap, we're discovering that the most refined water processing doesn't always remove the new synthetic forms of pollutants, and with more and new kinds of contaminants being found in water, we no longer know what's lingering in the H2O we drink and bath in. It's our failure to monitor and control what gets into our water that haunts this life force all over our planet.
Any investment in environmental science and the actions of well-meaning politicians and civic groups may solve some of these problems, but until we begin to seriously tackle what are even today insurmountable issues, this same "bureaucracy" may also indefinitely continue to keep the purity of our water tied up in a giant toxic bow of red tape.
The time is urgent and the stakes are high. The danger signs are everywhere and we have mountains of choices that need to be made. There's no question in my mind that we all need to make small and simple changes because, unfortunately -- we're all polluters -- and it's our shared responsibility to no longer be such.
I suggest that the answers lie within each and every one of us. Daily mindful actions carried out by each and every person -- all of us stepping up and taking responsibility to restore what we've already lost or are about to lose forever -- one person at a time, one family at a time, one block at a time, one neighborhood at a time, one city at a time and so on can and will make a difference. As oft quoted, the late anthropologist Margaret Meade emphatically stated, "Never doubt that a small group of thoughtful, committed citizens can change the world; indeed, it's the only thing that ever has."
But here is where paralysis sets in -- the point where we all become deer caught in the headlights, unable to move this way or that, doomed to the fatal onslaught of our own making. We've been taught to believe that it's only the powerful, the wealthy, the political, the connected that have any real control over our lives and our actions. But again, the perceptive voice of Rachel Carson can powerfully move us beyond our complacency: "Only within the moment of time represented by the present century has one species -- man -- acquired significant power to alter the nature of his world."
So conversely it should also be true that in our present century, only our species can acquire the significant power to reverse the nature of this world for the positive. As the mindful, free-thinking, creative individuals we were born to be, please consider what Rachel Carson tried to instill in us 60 years ago: "If I had influence with the good fairy who is supposed to preside over the christening of all children, I should ask that her gift to each child in the world be a sense of wonder so indestructible that it would last throughout life." The truth of the matter is however, that somewhere along the way we each self-destroy that power and validate it to "the powers that be.
Take just a few steps back and fully understand that until only 50 years ago, almost every chemical found under almost every kitchen and bathroom sink in the developed world today existed only in chemistry labs -- and now they are part and parcel of products that have been marketed to us as "new and improved," "germ-fighting," "antiseptic," and "essential" to modern life. So when asked to consider what you, as one mere individual can do to strengthen the environment, consider some of the following and surely you will tap into your own creative nature and develop other mindful adaptations.
For instance, the next time you're cleaning your kitchen or bathroom, consider sprinkling baking soda onto your nonporous bath and kitchen surfaces instead if chlorine bleach, cutting a fresh lemon in half and using the fruit side as your scrubby pad, wiping down the surfaces and then rinsing them with freshest tap water available (micro-Viagra notwithstanding!) [Note: Also never use anything acidic on marble or similar surfaces. No lemony fresh scent, but no pock-marked counters either.]
You can also do the same thing to your body. (What a bill of goods we've been sold by the cosmetics industry!) More than 85% of the active ingredients in personal grooming products have never been tested for safety, and fewer than 5% of ingredients need, by law, to be listed on the package. And that's cradle to tomb -- from baby shampoo to denture cream. And what doesn't get absorbed by our own bodies gets washed down into the water supply and absorbed by the babies and elderly down the block, the fish and fauna at the beach, etc.
But by thinking mindfully, acting safely, and respecting all manner of life on our planet, you can achieve the same results for less money, less packaging, and less pollution. For instance, by creating a three-to-one paste of baking soda and H2O and massaging it gently all over your face and body, your skin will glow with a new found polish by eliminating those dead skin cells, leaving your skin soft, tender and smooth. Rinse well with warm water and allow your skin to air dry. Do it every day, and watch your transformation.
Tired of spending $30, $50, or $100 on the newest wonder youth cream at the cosmetics counter? You can revive your skin with spritzes of natural olive oil combined with water. Mix one-third olive oil to two-thirds water in a small, clean (recycled) spray bottle to give yourself an exhilarating after-bath all-over body moisturizing treatment. Let it soak in without towel drying.
The above all work well, are super-affordable and harmless to you, to your kids, to the fish and fowl, and to the environment. By simply taking a moment, musing over what has brought us to this toxic abyss, and channeling Ms. Carson, you can start a new eco-movement of your own, do your part for this and future generations, and preserve the precious water systems that would otherwise be altered by your own human impact.