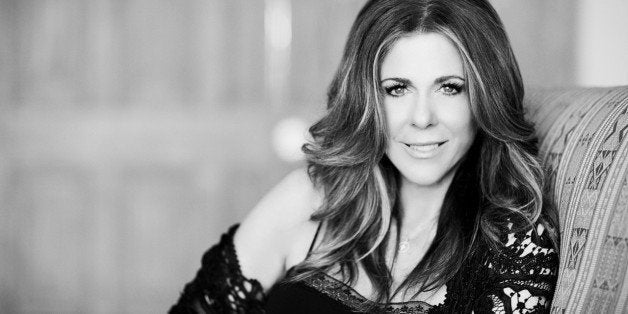 Happy birthday, Rita Wilson! The actress, producer, writer, singer and Huff/Post50 editor-at-large turns 58 on Sunday, Oct. 26. In her own birthday well wishes to us here at Huff/Post50, Rita recalled a toast her dear friend Nora Ephron gave her on her 50th birthday: "I am here to tell you good things can happen after turning 50." And no one illustrates this message better than Rita, who has gone from actress-producer to singer-songwriter -- with great success.
Not only does Rita enjoy a recurring role on "The Good Wife," but she also has a new album coming out in 2015 featuring original songs she co-wrote. In addition, she just completed a two-week run singing those songs at the Café Carlyle in New York City. She garnered great reviews. As Theater Mania put it, it's impossible not to like Rita, noting that "her honesty and sincerity make you root for her as she unveils each new song."
Whether it's performing live or launching Huff/Post50's 50 Over 50 initiative, Rita has taught us that you can live your best life at any age. And that's just one of many things we love about her. She also inspires us as a mother and as part of one of Hollywood's most popular long-running couples. (She married actor Tom Hanks in 1988.)
To celebrate her birthday, Huff/Post50 asked Rita a few questions about life and what's best about being over 50.
What's most surprising about life after 50?

There is so much good stuff that happens after fifty. You have a sense of who you are and what you want. I have enjoyed it so much. Along with all that I have found that being an empty nester also has its challenges. Seeing friends has to be scheduled since everyone is scattered with their own interests and finding time together takes effort. If you have aging parents, you must take care of them which is something many of us are dealing with. Still, I find that there's a gratitude for life that seems to really kick in.
What are some things you are doing now that you never imagined you'd be doing?

After I made my first album of cover songs, AM/FM, in 2012, I never imagined I would be doing a second album of original songs I have co-written with some incredible songwriters. I never dreamed I would have a concert at Disney Concert Hall or play the Bluebird in Nashville singing my own songs. Life is full of surprises and you have to be open to them. I read something Oprah said that influenced me a lot about five years ago. She said something along the lines of ... If you know what you want you can get it. Most people don't know what they want. I remember thinking how can I possibly want anything when I already feel so blessed and so grateful. I wouldn't even allow myself the fantasy of answering the question. But, I realized it was a question that went deeper than any superficial desire. It was about purpose. And listening to your heart without distraction.
Do you have any particular secret for staying and looking so young?

I laugh a lot! I try to exercise everyday but don't always make it. I don't do anything like Botox or collagen. No judgment on it, it's just not for me at this point in my life. I have cut down a lot on sugar and carbs. Tom [Hanks] is a Type Two diabetic so I'm trying to live with less sugar. I went to a nutritionist and got some education about how best to do that. I'm obsessed with paddle boarding. It's like walking, but on water with your friends. Hours go by before you even realize it! I ski in the winter. I have been doing that since I was fifteen. Generally, though, I am extremely grateful for my husband, kids, family, health and that I can still be a creative person because as a very talented artist said to me, "Creativity is time independent."
Is there a mantra you live by?

I love the quote Polonius speaks in Hamlet: "To thine own self be true." It is vital to make sure you are listening to yourself and hearing what it is your body is telling you. When you hear what it is saying, do something about it. I have learned to say "no." I am, by nature, a people pleaser, so saying "no" has been a tough lesson for me to learn. Usually, this means I am saying "yes" to something else, something that would be better for my spirit. I still struggle with it but it's getting better. You can't be everywhere at once.
Happy birthday Rita! You inspire us every day!
REAL LIFE. REAL NEWS. REAL VOICES.
Help us tell more of the stories that matter from voices that too often remain unheard.
BEFORE YOU GO
PHOTO GALLERY
Couples Celebrating 25 Years Of Marriage