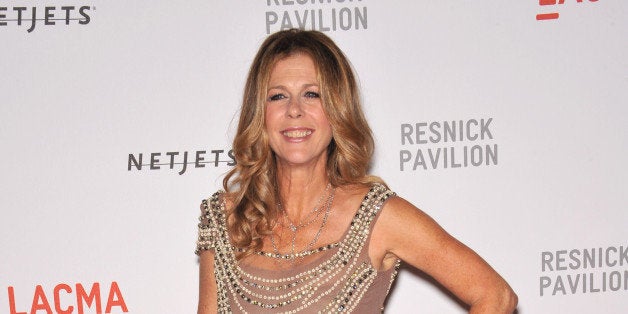 Happy birthday, Rita Wilson! The actress, producer, writer, singer and Huff/Post50 editor-at-large turns 57 today.
In her own birthday well wishes to us here at Huff/Post50, Rita recalled a toast her dear friend Nora Ephron gave her on her 50th birthday: "I am here to tell you good things can happen after turning 50." Rita is a living embodiment of that statement, showing a joyful love of life as she takes on whatever challenges come up, all the while encouraging other women to do the same.
To celebrate her birthday, Huff/Post50 asked Rita a few questions about life, love and what's left on her bucket list.
1) What do you want people to know about life after 50?

Life after 50 keeps getting better and better. You know who you are. What you have accomplished, whether it's raising a family, or raising a career, maintaining a long marriage or caring for elderly parents, allows you to accept that you are a survivor. You have the confidence to know that you can rise to the challenge and meet it.
You may also start thinking about how you want to spend the rest of your life. There are so many things available to people that cost nothing but allow your life to expand. Communities offer classes in so many areas, ways to give back or get involved in things that matter to you, areas where you can explore what interests you. I have met so many people who have learned new things, which led them to another new thing, which allowed them to grow.
2) How do you keep so fit, active and healthy?

I have run the gamut of what I do for exercise so I have come to the conclusion that you must do something every day. Walk, run, cycle, a sport, whatever it may be. I am not as fit as I would like to be, or as I have been, but I am committed to doing some form of exercise every day. I love sports like skiing, or tennis, but I would say walking quickly is the easiest thing to do. I read somewhere that if you do something every day for 66 days it becomes a lifestyle. So, I am exercising and controlling portions to see where I am in 66 days. For example, I knew I had a busy day today and that I would need to get up early to get my walk in, so I set the alarm for 5 a.m. so I could be ready at 6 a.m. for the Glam Squad.
3) Is there a mantra you live by?

I love the quote Polonius speaks in Hamlet: "To thine own self be true." It is vital to make sure you are listening to yourself and hearing what it is your body is telling you. When you hear what it is saying, do something about it. I have learned to say "no." I am , by nature, a people pleaser, so saying "no" has been a tough lesson for me to learn. Usually, this means I am saying "yes" to something else, something that would be better for my spirit. I still struggle with it but it's getting better. You can't be everywhere at once.
4) How do you feel about your sons becoming adults and heading to college?

We have one son who has just graduated from Northwestern University and another who is applying to college now. I used to hear it all the time from my parents, but it goes so fast! Tom [Hanks] and I have enjoyed the prospect of being empty nesters. But, I love having all the kids around. I would say it is our most favorite way to spend our time.
5) What do you think is the biggest challenge for women over 50?

If I could talk to every woman out there, no matter what you have done, or what you haven't done, I would say the biggest challenge is your own mind. It is so easy to talk yourself out of something you want to try. Feeling that you're too old, or that life has passed you by, is a myth. When I turned 50, Nora Ephron toasted me by saying, "I want you to know, great things happen over 50." Nora didn't direct her first film until she was 50. You may think, "Well, that's Nora Ephron, she could have done anything." She also had fears, yet she did it. These challenges or fears can apply to most anything. I choose to believe that each challenge is an opportunity for growth. Don't let anyone stop you. As Molly Shannon's character says, "I can kick, stretch and kick. I'm 50!"
6) What's on your bucket list? What's one thing you still want to do?

I would love to visit Egypt with my family. Seeing the Nile and the pyramids has always been a dream. I also would love to do a family snorkel in the waters of the Great Barrier Reef.
Calling all HuffPost superfans!
Sign up for membership to become a founding member and help shape HuffPost's next chapter
BEFORE YOU GO
PHOTO GALLERY
Couples Celebrating 25 Years Of Marriage