He played Al Bundy's co-worker on "Married with Children", and made guest appearances on many other TV shows, such as "Designing Women" and "Roseanne." Ritch was able to translate his modest success on TV into an obscure film career, appearing in Steve Martin's, "Roxanne," and Eddie Murphy's, "Beverly Hills Cop II," before moving on to minor roles on smaller pictures.
Ritch wrote for sitcoms such as "Roseanne", "The Jeff Foxworthy Show," and HBO's "The Mind of the Married Man." He wrote material for Jeff Foxworthy's Grammy-nominated comedy albums, "Totally Committed," and "Big Fun." He also wrote for Ron White and Jay Leno.
In 2006, Ritch was co-author of a book on stand-up, "I Killed". In 2010, Ritch produced and performed in an award-winning documentary on the world of stand-up comedy, "I Am Comic". Currently Ritch is writing a movie adaptation for HBO of Bill Maher's book, "True Story".
While you were studying Business and Sociology at Gettysburg College, what possessed you to write, produce and star in comedy skits for parents' weekends and fraternity events?
I was appearing nightly in the fraternity TV room - heckling the TV and anyone who heckled my heckling - so the guy in charge of entertainment asked if I wanted to help with the parents' weekend show. For years, their big comedy numbers were football-players-in-drag and the old "arms" bit. Another underclassman and I staged a coup and wrote new material mocking TV commercials, the school, the parents. Everyone was pretty drunk, so it went over well. I'm sure a few people awoke the next day with a vague, uncomfortable memory of people pointing and laughing at them. It wasn't stand-up, but probably my first show of any sort. Nobody performed in my family, other than trying to get out of trouble.
During your time as a substitute teacher, did you use your classes as captive audiences to try out any stand-up comedy bits?
I mostly used the class time to recover from hangovers. I certainly wasn't creating any comedy material or even thinking of doing stand-up. Although years later, a former student told me the kids always enjoyed my shredding of any challengers. Since a substitute teacher is tested every 15 seconds, I guess my vicious counter punching for the sadistic laughter of a roomful of captive teens could be seen as decent training for future bouts with comedy club hecklers.
While you were studying law at George Mason University in Fairfax, Virginia, you decided to become a comedian. How did that happen?
I was a frustrated amateur comic - that might be redundant. My waking hours were largely spent scanning conversations for opportunities to crack wise, and barely getting by on those little tidbits of laughter. A classmate dragged me to a talent night at a nearby coffee house. I followed a serious poet and got exactly one more laugh than he did. Actually, it wasn't a laugh from the whole audience, or even part of it. Near the end of rambling, a guy reacted with a sound closer to a grunt than an actual laugh. Five minutes of silence from the audience was punctuated by a single "ha." Later, I replayed the cassette tape of my set - hitting "play" and "rewind" over and over, listening to that magical "ha." That brief strangled reaction from a stranger was all it took for me to try it again.
In your early stand-up days, how did you make the transition from open mic coffee houses to opening for bands?
There were no comedy clubs in DC in 1977, but every bar seemed to have a talent night, loaded with genuine Seventies singer-songwriters. At first I was an irritant, a barking piece of sandpaper on all that sensitive soul-searching. I worked hard to become tolerated. A local promoter saw me as ideal stage fodder for touring rock groups- I was cheaper than a local band, needed no stage prep and if things went really bad there was only one body to dispose of.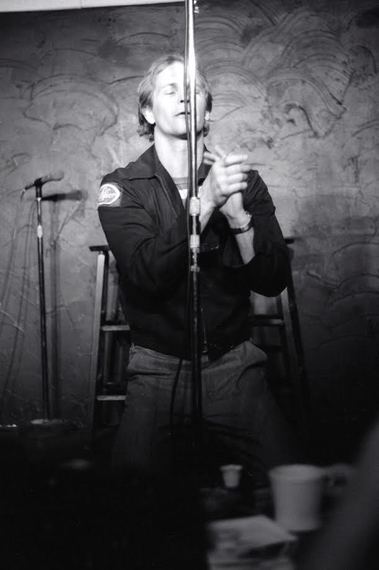 What was it like for you opening for rock bands as a comedian?
It was quite an adrenalin rush walking in front of a few hundred people who didn't know I was going to be there and had no idea of what I was about do when I barely did either. When it worked, the ego boost lasted for days. And when things went sideways, I got a great story to tell. It really wasn't about the money, which often just went to the alcohol needed to maintain the stage high or forget what just happened up there. It was all about the stage time. The art of stand-up is getting laughs from a group of people. The only way to learn how to do that is trying to get laughs from groups of people. In retrospect, the whole thing was insane. I was learning the craft, trying new jokes and generally building my act in front of 500 rock fans. That's what youth has that age can't buy.
How did you make the transition from doing stand-up comedy in Los Angeles to getting a regular role on the sit-com "Married With Children"?
You go on stage night after night making audiences laugh. Finally, someone says, "Hey, he's pretty funny up there. Let's see if he can be funny over here." I took acting classes, but honestly I wasn't that good an actor. I never got that in-the-moment freedom performing someone else's words with other actors that I could performing my stand-up. The best that I could do was to act like I was acting, but that was good enough to get a few residual checks. There is nothing better in Hollywood than residual checks. It's the pony in the pile of manure.
You were married to comedian/comedy writer Carol Leifer, who is now married to a woman. Did that turn of events surprise you?
Two women falling in love might have surprised me in junior high school but by the time I heard about Carol and Lori, I had seen a rodeo, a World's Fair, and a moon landing. There were a few hacky nozzleheads who joked that I turned Carol gay. If I had that kind of power over people, I would have dropped comedy, started a church and made some real money a long time ago. I only wish Carol happiness, as I do any woman unfortunate enough to tangle with the younger me.
You've done the Carson, Letterman and Leno shows? What was your overall experience doing each? Which was more fun? More nerve-wracking? Better for your career?
There was nothing more nerve-wracking than my first Carson shot in 1984. I broke out in shingles - painful, open sores - and couldn't sit down for days before the show. When I walked on that stage for the first time my right hip and butt were covered with medicated pads. I think Carson gave me credibility with my parents and Letterman with my peers. I was probably most comfortable with Jay because I knew him off stage. I don't think any particular talk show appearance meant more to my career than any other. It was just a totality, with each appearance saying, "Here I am. Still here. Here."
You returned to stand-up after 13 years of retirement? Why so long? What did you do during that time?
I don't know if I ever called it a retirement. I think for there to be a retirement, your co-workers have to know you're no longer there. The comics ahead of me in line didn't know I was gone and the people behind me just took a step forward. After my last failed sitcom in '93, I started writing for TV and performing less until one day I was no longer doing stand-up. I left the stage for regular appearances in the psychiatrist's office, swapping laughter for medication. Those lost years were a lesson in what stand-up really meant to me.
Who are the older and younger comedians who you admire/influenced you/make you laugh?
I've been influenced by every comic I ever watched, whether they were good or bad. As for comics I admire, it can be categorical. Albert Brooks is The Natural, with a preternatural genius for funny. Jerry Seinfeld has more passion for, and insight into, stand-up than anyone. Bill Maher is the most fearless satirist, in the Mark Twain lineage. I admire Jeff Foxworthy as a comic, but even more so for how he lives his life off stage. Younger comedians... I'm 63 now, so that's a pretty big group. In the 90's, Chris Rock just blew me away, a one-man new wave. Bill Burr, Louis CK and Sarah Silverman are classic killers. My oldest daughter and I share a love for Maria Bamford, with characters and voices on a Lily Tomlin level. I love how Jeffrey Ross reinvigorated the roast, and insult humor.
Before I ever thought of taking the stage, the people who shaped my funny, or modeled stand-up were Robert Klein, Groucho Marx, Phyllis Diller, George Carlin, Alan King, Kelley Monteith, Lenny Bruce, Peter Sellers, Richard Pryor, Albert Brooks, WC Fields, Art Carney, Red Skelton, and my dad. When I first started doing stand-up, I learned much from the comics I saw every night in the New York showcases; Jerry Seinfeld, Gilbert Gottfried, Bill Maher, Larry Miller, Rich Hall, Kevin Rooney, Glenn Hirsch, Kelley Rogers, Garry Shandling, and Rick Overton.
You've also written for sit-coms. How did that experience compare to or help/hinder your own stand-up act?
In grade school there were comments on my report card, such as "Ritchie does not pay well with others," that foreshadowed problems in the writers' room. The transition for any comic can be difficult. A stand-up controls every aspect of his or her performance - the writing, directing, editing and costuming. You walk into that writers' room and suddenly someone else is telling you what is funny. It can mess with your confidence and stand-ups need to have a certain sense of invincibility when taking the stage. But the trade-off was the money, and being home to see my kids grow-up.
You are listed as one of the comics organizations can hire on the Recovery Comics website. Can you talk a bit about your recovery? To what were you addicted? How did it affect your life? For how long? How did you get through it?
I was a pretty fear-ridden kid. When I started drinking at 12 it immediately emboldened me, so the search was on for more. I preferred whiskey and cocaine, but was always willing to try anything that might shut down those negative voices in my head. Eventually the alcohol and drugs that gave me so much freedom became a prison sentence. Even when it took away my most prized possession, my sense of humor, I couldn't stop. An old drinking buddy took me to a group of people whose only purpose was to stay sober and help others do the same. I did what those people did, and it worked. That was over 31 years ago and I still love hanging with those people. They're easy to find. Just say you want to quit alcohol and drugs out loud enough times and someone will point you in the right direction.
What other jobs have you had besides show business ones?
Mostly the jobs were while in school - recapping truck tires, constructing sewage lines, pumping gas, handyman, beer-and-shot bartending. Anyone who knows me laughs at the thought of me as a "handyman." I'm terrible with my hands, lacking even basic carpentry or mechanical skills, or the patience to do the simplest jobs properly. More than once, I tried to change a light switch without going to the basement to turn off the power. A friend once witnessed the electricity throw me across the room and laughed for five minutes. As long as I got the laughs. Plus, a resume filled with dead-end jobs kept the what-if's to a minimum. When you're all alone in some cheap roadside motel after grinding your way through a nasty one-nighter... those what-if's can make it a long night.
Your one choice for each of the following to take to a desert island?
Movie: Dr. Strangelove.
Book: How to Make Friends and Influence People.
Album: Layla and Other Assorted Love Songs, by Derek & The Dominos.
Food: Spaghetti and marinara sauce with mushrooms and onions.
Anyone in history for conversation: Abraham Lincoln
Anyone in history for romance: Madeline Kahn
Superpower: Flight. And I'm off the island. Oh. Maybe this is a trick question. Come on, I'm just an old comic. Take it easy.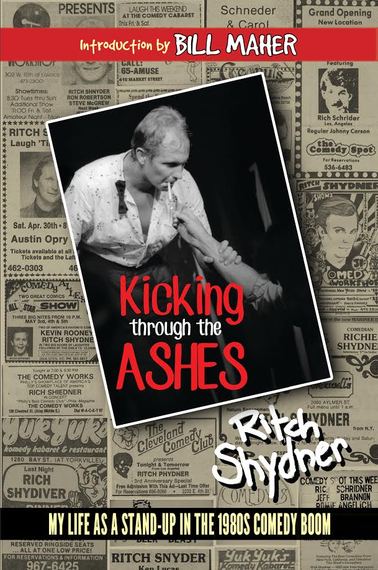 Tell us about your upcoming book, Kicking Through the Ashes. And what's the significance of the title?
Years ago, Phyllis Diller suggested I write a book on the history of stand-up comedy. Taking on the entire history of stand-up comedy became too much but I thought maybe I could chronicle my era, the 1980's Comedy Boom. As for the title, I was always struck by the image of a house burned to the ground and someone kicking through the ashes hoping to find something of value. My career was the house... my bitterness, the fire... and the book, my salvage.
What did you learn from your 2010 documentary movie, "I Am Comic", in which you traveled around the country interviewing comedians?
That if I didn't start doing stand-up again I was a dead man, or deader man.
Which actors do you most admire?
To me the best are magicians, my favorites are the ones where I can't spot the trick - Daniel Day-Lewis, Meryl Streep, Robert Duvall, Robert DeNiro, Kate Winslett, Robert Downey Jr., Gary Oldman, Michael Fassbender, Robin Wright.
What was your fallback plan if stand-up comedy did not work out?
Once I ditched the law, nothing else was ever considered. An acting teacher, Jeff Corey, once instructed everyone in our class to write on a piece of paper whatever we would do if the acting didn't pan out. Afterward he said something to the effect that anyone who wrote a job other than acting might as well go do that job now. It was his experience that the only people who made it in the acting business were the ones who truly believed they couldn't do anything else but act. I had written "stand-up," so when the class ended I was probably the only one who didn't want to drive the car into Malibu canyon.
How has your stand-up act changed from when you first started doing it?
It's less athletic. The younger me was so much more physical on stage, but I do believe I have better material now. I'm like the aging pitcher who, losing his fastball, had to get sharper with his other pitches.
What's left on your bucket list?
Write a screenplay that becomes a movie.
What was your experience like being a staff writer on "Roseanne"?
I called Roseanne in February 1993, knowing it was mid-season but hoping to lay the groundwork for a job the next fall. She told me to report to the studio the next day to begin work as a sitcom staff writer. It wasn't till later I realized that I was abandoning my leaky little pirate ship to become a well-fed galley slave. Fear feeds on dreams.
What's the most memorable performing experience and/or romantic experience you've ever had?
I can combine the two, if you let me stretch the definition of romantic experience - having sex backstage at the Comedy Workshop in Austin as I'm being introduced.
What is one thing about you that people would be surprised to know?
While giving a speech in high school I lost my place and sat down in tears.
Popular in the Community