 Last week my daughter turned 13. She's been using a sub-account on my email address for the last two or three years. In fact it was very sweet, she chose to use her late grandmother's username as a tribute to Grandma for her email address.
My daughter started by setting up two Gmail accounts -- one using her actual name, and a second using a name reflective of her interest in sports, which will be her primary account.
Then came Facebook. I've had a hard and fast rule that she was not allowed to have a Facebook account until she turned 13. That was a little tough for her since many of her classmates have already been on Facebook, some since the fifth grade. I've always maintained that allowing her to lie about her age set the wrong example, thus no account.
Apparently this rule was too tough for her to follow, or I missed some other object lesson about lying. About three months ago, looking at the drop-down menu on her web browser, I accidentally discovered that she's had a Facebook account since the start of school last year. "What's this?" I asked. "And who is 'Jane Doe'?" (The name on the account was not Jane Doe -- but it wasn't my daughter's name either.) She immediately corrected my mispronunciation of her fake last name.
Really? For the record, I have spent quite a bit of time educating my daughter about some of the things she will need to do once she does finally have a Facebook account. Yet there was our address posted on her profile page, set to "Public."
"But Mom! I really tried. I thought I had it locked down!" she exclaimed. To her credit, she did do some things really well, including having a photo of a picture she'd painted as her profile photo, rather than a photo of herself. But her confusion is understandable: Facebook has seven settings just for the General tab, and another eight tabs off to the side on Account settings.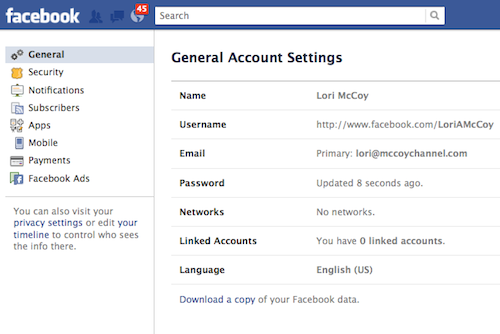 Facebook's privacy settings are tricky. In fact, many of my Boomer generation friends have requested my help with their Facebook account and privacy settings. Facebook's settings also require a lot of monitoring, because the site seems to change things fairly often.
Facebook also has a habit of making its settings more on the invasive side. For instance, "Instant Personalization" in the site's privacy settings currently has eight partner websites. By using Instant Personalization, you give Facebook the authority to share your information with a variety of websites and they in turn, will "make these sites more fun and useful the moment you arrive." At least that's what Facebook's explanation says.
I question whether all that fun is worth giving Facebook my personal information. If you agree, follow these steps: To get to Instant Personalization, click "Privacy," then "Apps and Websites," and you'll see it third down on that list. Click on it and then click "learn more." Eventually you end up on a page where you have to UNCHECK the box. (Just one example of why users complain about the opt-out process on Facebook.)
Once we finished Account Settings, we moved on to Privacy Settings. First up: "How You Connect." We set most of the settings to "Friends," with the exception that "Friends of Friends" will be able to send Friend requests. (That way we won't preclude that great person she meets at a friend's house.)
From there we worked our way through "Timeline and Tagging," which took a little more thought, discussion, and time. Here's the shortcut: Set "Friends" at the very broadest setting, and turn reviewing options on so that your child can see what others write before it shows up on their wall.
We made quick work of Apps and Websites, agreeing that games will not be played on Facebook. (With eight hours of soccer per week not including travel time, there just isn't enough time for games as well as homework.) Here, just "disable" all the apps. Another good reason to avoid games on Facebook: Some apps require that you provide them an alarming amount of data in order to use the app. (See the Wall Street Journal article "Selling You on Facebook" and click on the tab for their interactive graphic for an eye-popping visual on how much data is gathered about you.)
Like many parents, I worry about my daughter using social networking sites. I also know I can't make her live as if she were in a convent for the next six years, and for her to want to stretch, grow and make friends independent of me is an important aspect of her development. The best thing that I can do is to arm her with information and tools she can use to develop a responsible online persona. That includes a lot of face-time between the two of us.
How about you? Are you concerned about your teen's privacy online? How did you deal with it?
Popular in the Community