A federal judge has allowed a wrongful death lawsuit to proceed against Kyle Rittenhouse in relation to his August 2020 fatal shooting of unarmed racial justice protesters in Kenosha, Wisconsin.
The suit, filed in 2021 by John Huber, the father of Anthony Huber, claims that Rittenhouse, who was 17 at the time of the killings, conspired with police officers to cause harm to protesters. Rittenhouse was acquitted of homicide after he claimed he acted in self-defense.
Rittenhouse and government officials had challenged the lawsuit. Rittenhouse claimed he had not been properly served with the lawsuit papers.
But U.S. District Judge Lynn Adelman in the Eastern District of Wisconsin dismissed those arguments Wednesday.
Adelman ruled that Rittenhouse "is almost certainly evading service" of the lawsuit documents, The Associated Press reported. "Rittenhouse has been deliberately cagey about his whereabouts," Adelman wrote, refusing to say where he lives.
The judge also ruled that Huber's death "could plausibly be regarded as having been proximately caused by the actions of the governmental defendants."
John Huber hired a private investigator to search addresses in seven states to track down Rittenhouse. Rittenhouse's sister was finally served with the lawsuit papers at her Florida address after she said her brother was not at home.
Rittenhouse, who has become a hero of right-wing extremists, used an AR-15 assault-style rifle to kill Huber, 26, and Joseph Rosenbaum, 36, who were both unarmed, at an Aug. 25, 2020, protest two days after Kenosha police shot a Black man, Jacob Blake. Blake was left partially paralyzed. Rittenhouse, who traveled from his home in Illinois to the Wisconsin protest, also injured a third protester.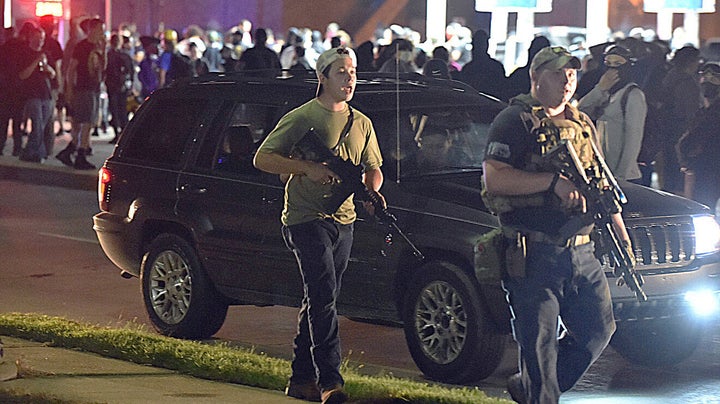 After Rittenhouse fatally shot Rosenbaum, other protesters, including Huber, chased after him to disarm him, according to video of the chaotic scene. When Huber tried to pull the gun away, Rittenhouse shot him in the chest.
Police on the scene "did nothing to stop Rittenhouse's illegal conduct," the suit states. "They did not arrest him for illegally carrying a gun ... they did not disarm him ... they did not stop him from shooting individuals after he started. They did not arrest him, detain him or question him after he had killed two people."
The state's largest newspaper, the Wisconsin State Journal, called Rittenhouse's acquittal "chilling," criticizing the decision for "emboldening" vigilantes. Rittenhouse "didn't deserve to walk free," it concluded.
Rittenhouse complained in his Twitter profile blurb that the judge's decision this week has created a "stressful" time for him. He pleaded for prayers and money from supporters — and tweeted Bible verses like the one below:
Critics tweeted biblical admonishments right back at him, such as: "Thou shalt not kill."
The lawsuit is seeking an unspecified amount of damages from Rittenhouse, Kenosha city officials and law enforcement.
Rittenhouse's attorney Shane Martin told AP: "While we respect the judge's decision, we do not believe there is any evidence of a conspiracy and we are confident, just as a Kenosha jury found, Kyle's actions that evening were not wrongful and were undertaken in self defense."
The ruling puts Anthony Huber's family "one step closer to justice for their son's needless death," said Anand Swaminathan, one of the attorneys for John Huber.
(The moment when Huber was fatally shot was captured in the video below. Warning: It's graphic and extremely disturbing.)
Popular in the Community