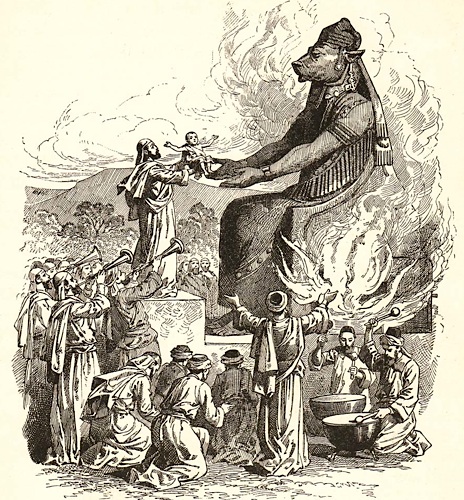 Who hasn't read or watched a film about the ancients who, in a state of religious ecstasy, plunge a dagger into the heart of a young virgin to appease their god? Or consider the image of a blood-stained alter with a young child splayed out as a costumed leader anoints him with oil then casts his tiny body into a fiery volcano.
What do we think when we hear or read about it? These were people who, in their ignorance about the real world, developed sophisticated explanations about angry, hungry, narcissistic deities who required a sacrifice to keep the world and community safe for a time. We also think it's barbaric and unimaginable. We believe that humanity has grown beyond this as we learn more about the natural world. We think that, even with religion permeating our societies, we've managed to inject enough rationality into our god stories to avoid any real harm to humans, especially our children.
In 2009 Herbert and Catherine Schaible lost their two year old boy to pneumonia. As third generation members of the First Century Gospel Church in Philadelphia, they chose to ignore the medical choices available to them and sacrificed their little boy on the altar of Christian based faith healing.
"MADNESS" you say! What sort of convoluted thinking would cause a person to deny reality and deliberately put their child's life at risk? And how is it possible that we, as rational 21st Century Americans, would ever allow such a thing to happen? Don't we have laws that protect these children?
The First Church of Christ, Scientist (Christian Scientists) was founded in 1879 by Mary Baker Eddy. Drawing partially from a biblical passage in the book of James:
"Is any among you afflicted? Let him pray. Is any merry? Let him sing psalms. Is any sick among you? Let him call for the elders of the church; and let them pray over him, anointing him with oil in the name of the Lord: And the prayer of faith shall save the sick, and the Lord shall raise him up; and if he have committed sins, they shall be forgiven him. Confess your faults one to another, and pray one for another, that ye may be healed. The effectual fervent prayer of a righteous man availeth much." (emphasis added)- James 5:13-16 (King James Version) .
The Church holds that sickness and death are illusions caused by false beliefs, and that a person can be healed by special prayer.
In 1967 5-year-old Lisa Sheridan died of pneumonia. Her mother, a practicing Christian Scientist, was convicted of manslaughter for following her religious teachings and refusing her daughter medical treatment. This spurred on the Church to successfully lobby the federal Department of Health, Education and Welfare to amend the Code of Federal Regulations to include the following language:
"A parent or guardian legitimately practicing his religious beliefs who thereby does not provide specified medical treatment for a child, for that reason alone shall not be considered a negligent parent or guardian; however, such an exception shall not preclude a court from ordering that medical services be provided to the child, where his health requires it."
To be fair, the Department of Health and Human Services repealed that regulation in 1983 but by then the damage had been done as the various states codified this new federal language. Today there are 37 states plus the District of Columbia that still carry such language in their criminal code.
The practical result of this situation, according to Shawn Francis Peters author of When Prayer Fails: Faith Healing, Children, and the Law, is that we send a defenseless little child marching up to an alter of ignorance to be splayed out and sacrificed at the rate of one per month in America.
Arguments and rhetoric around the Free Exercise Clause of the First Amendment are used to justify this. But what of the child's right to breathe, to exist? What is more important? What should take precedence?
Proponents of this barbarism will argue that the prophylactic language of the statues do allow for the court to order medical services. But practically speaking the courts are impotent against the myopic will of the parents who deliberately hide their sick children from the eyes of the authorities until it's too late.
The state of Oregon has had a particularly contentious history with this issue. As a result Oregon's legislature recently demonstrated the courage and will to remove the religious exemption language from their child abuse statues. But these blood stained alters of religious dogma still dot the landscape of America.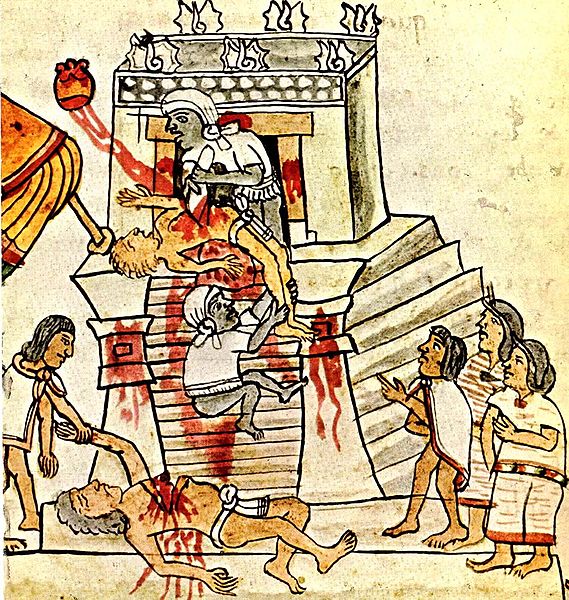 It's a curious thing that we humans so easily lose sight of the real world consequences of our self-centered "spiritual" machinations. No doubt many will take exception to the argument that this concession to religious liberty is the equivelant of ritual child sacrifice.
Can you picture the image... the angry orange and black backdrop of a setting sun filtering through the smoke choked air; the wide-eyed writhing victim roped to the blood stained rock; the cloaked superstitious priest with his arms raised; the blade glinting on the ritual dagger as it plunges down?
Can you picture Mr. and Mrs. Schaible... the playful wallpaper backdrop witness to the dark passion play; the sickly stench choked air; the fever-eyed writhing toddler in the sweat-stained bed; the white collared, superstitious pastor with his hands raised, the anointing oil glinting on his thumb, his mouth moving in silent prayer as the little boy closes his eyes for the last time?
Popular in the Community