The narrow, black leather and mirrored elevators dash you from floor 103 to 118, where you're greeted by employees standing under soft red lights that set a decadent mood. You'll be moved to strike a pose as you walk down the mirrored corridor, but your sophisticated side takes over and pushes you toward the end of the hallway. Within seconds you spill out onto views few can rival and many envy. Welcome to OZONE, the highest bar in the world (*SEE PHOTOS BELOW*)
The mood is "Mad Men" meets "Sex and the City" with a side of "2011: Space Odyssey." The vibe is something out of a James Bond movie (Daniel Craig-style) and the ambiance can go from serene to seductive in a matter of seconds. The Ritz-Carlton officially crossed the line from conservative to cool when it designed OZONE.
Located on the 118th floor of the Ritz-Carlton Hong Kong, visitors and guests will be treated to panoramic views of the city and Kowloon when the hotel opens on March 29. Thanks to a sushi bar and Asian kitchen, wrap-around bars and a DJ booth, you can dine here, drink here, or dance here. Or, you can simply sit back and enjoy the views.
On Tuesday night in Hong Kong, OZONE opened up to hotel employees (and yours truly) for a reception celebrating the pending opening of the hotel. The novelty of being one of the first people to sip a cocktail at the highest bar in world still hasn't worn off, but I can assure you a trip to this new height will be worth the elevator ride.
And lest you think the view is the only thing appealing about this bar, think again, dear reader. After all, what's a good bar without a signature cocktail? OZONE has created a menu of specialty drinks specific to the hotel and bar. I convinced June Lee, manager of Ozone, to reveal of one of the bar's signature drinks - the Senses:
2.0 oz Hennessy VSOP 700m
1.5 oz fresh orange juice
2.5 oz Cranberry Juice Ocean Spray
splash of Chambord
splash of Lemon juice
splash of MONIN Vanilla
Crushed blackberries
Shake and pour all ingredients in an old fashion glass. Garnish with 2 pieces of blackberries and orange twist.
My prediction: When this bar opens, it will be the highlight of Hong Kong.
My suggestion: Get there early, head straight outside and grab the corner table-and-sofa section to the right with city views of Hong Kong. It's the best spot in the house and bound to be a favorite for VIPs and celebrity guests. You might as well be first.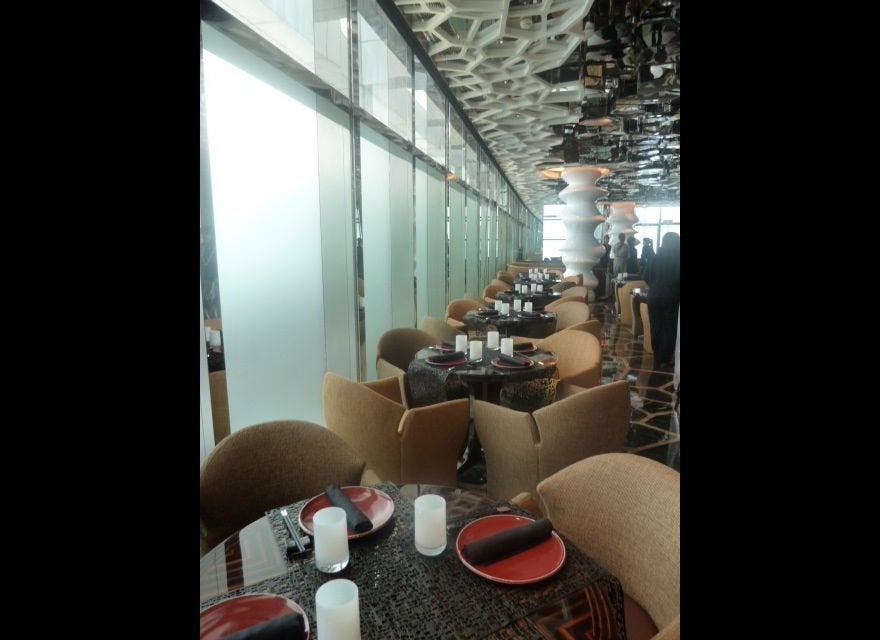 Ritz-Carlton Hong Kong: OZONE