Communities nationwide are benefiting from efforts to removed unsafe, outdated dams and restore river health. In the U.S., more than 1,100 dams that have outlived their usefulness have been taken down over the past 100 years. The United States is the global leader in river restoration through dam removal.
While some dams continue to provide important services, others should be removed when they are no longer useful, are unsafe to communities, or when their costs outweigh their benefits. Over the years, American Rivers has helped communities remove dams and restore thousands of miles of rivers, improve public safety and flood protection, revitalize fish and wildlife, improve recreation, and boost local economies.
Several recent studies highlight the economic benefits of healthy rivers and river restoration. A 2012 Ecotrust report found that restoration projects generated $977.5 million in economic activity and as many as 6,483 jobs between 2001 and 2010 in Oregon alone. A study by NOAA shows habitat restoration creates 17-33 jobs per $1 million invested (as a comparison, the oil and gas sector creates about five jobs per $1 million invested; road infrastructure generates seven jobs per $1 million invested).
Despite the clear benefits of river restoration, U.S. Representative Doc Hastings (R-WA), Chairman of the House Natural Resources Committee, has introduced an extreme piece of legislation that would make river restoration virtually impossible for communities nationwide. The bill would also create expensive new federal subsidies for new dam construction.
Hastings' radical bill, which American Rivers has dubbed the 'Dangerous Dams Protection Act' (HR 6247), outlines a radical and destructive vision for rivers and hydropower--a vision that is at odds with mainstream thinking about hydropower policy, and even good business sense.
The bill is designed to muzzle critics of unsafe and environmentally destructive dams - many of whom have a track record of working collaboratively with local stakeholders to identify solutions that benefit local economies and the environment. Examples include carefully crafted multi-stakeholder agreements to improve the health of the Klamath, Penobscot, Elwha and, in Congressman Hastings' own district, the Yakima and White Salmon rivers.
The "Dangerous Dams Protection Act" would:
• Harm rivers and wildlife and threaten public safety by prohibiting using federal funds to remove or even study the removal of any hydropower dam - including unsafe dams that a dam owner and the local community want to remove.
• Slow job growth and hurt businesses by blocking river restoration efforts and killing jobs in the river recreation economy.
• Create an expensive new subsidy that would encourage private groups to build new dams, whether or not they are in the public interest, and require taxpayers to foot the bill.
This extreme proposal assumes every hydropower dam is safe and financially solvent. It's a dangerous assumption that is not based in reality. It would even prevent communities and businesses across the country from removing dams they no longer want, dams that are financial liabilities and fundamentally unsafe.
The bill would not only jeopardize public safety, but also a fast-growing sector of the economy and an outdoor recreation industry that fuels the economic engines of so many communities across America.
This misguided bill comes at a time when American Rivers is celebrating great progress on river restoration projects nationwide, including a historic effort on Maine's Penobscot River. Ultimately, taking down two dams on the Penobscot and improving fish passage at other dams on the river will open access to 1,000 miles of habitat for Atlantic salmon and other native sea-run fish. We are securing these environmental benefits while maintaining energy generation on the river, thanks to improvements at remaining dams.
It's one of the most significant dam removal and river restoration efforts in the nation - the result of a strong partnership among conservation groups, the Penobscot Indian nation, the dam owner, and state and federal government. But it wouldn't have been possible if the Hastings bill had been law.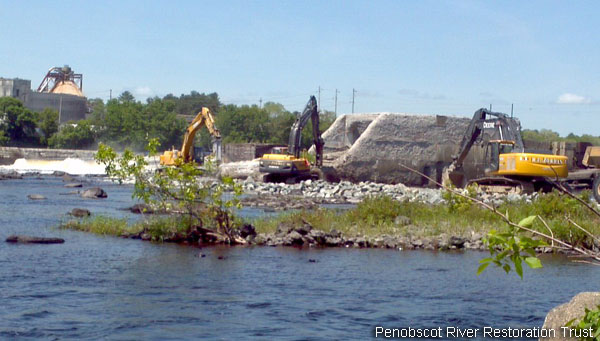 American Rivers will continue to lead the fight for river restoration and solutions balancing the need for hydropower and healthy rivers. We are working with the hydropower industry and a bipartisan group of members of Congress to support the Hydropower Regulatory Efficiency Act (HR 5892) and its Senate companion bill, the Hydropower Improvement Act (S 629) -- which, in contrast to the radical Hastings bill, present real solutions to encourage hydropower generation in the right places while minimizing adverse impacts on rivers and the human and natural communities that depend on them.
It can be tough these days fighting for positive legislation given the political polarization in Washington, DC. And it takes a lot of hard work, with financial support from the federal government, to help hundreds of communities across the country remove outdated and unsafe dams. But as the great conservationist and President Theodore Roosevelt said, "Nothing in the world is worth having or worth doing unless it means effort, pain, difficulty . . . ." Restoring thousands of miles of free-flowing rivers and making communities safer and more prosperous in the process is worth doing. Unfortunately, Chairman Hastings would rather create more barriers to river restoration than remove them. That's a dam(n) shame.
Calling all HuffPost superfans!
Sign up for membership to become a founding member and help shape HuffPost's next chapter