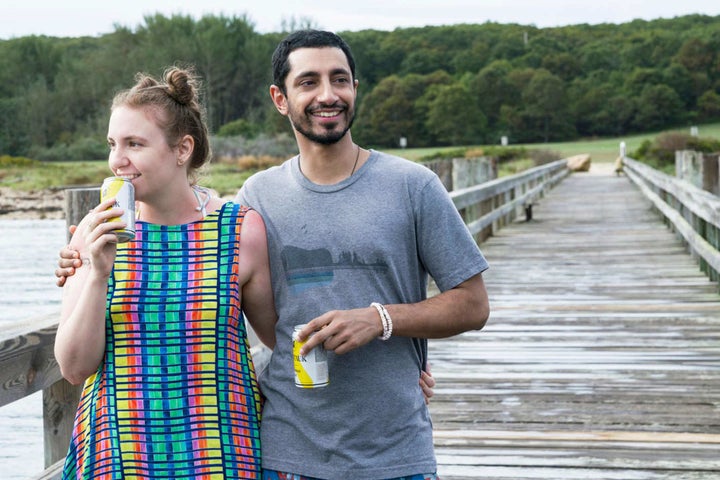 Riz Ahmed, a fresh-faced candidate to become the internet's newest boyfriend, rapped in a bathing suit on Sunday's season premiere of "Girls."
Here's a GIF. You're welcome.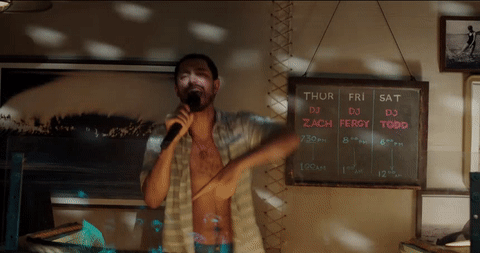 On the heels of his Golden Globe-nominated role in the bleak miniseries "The Night Of" and his turn as a Rebel Alliance fighter in the battle-torn "Rogue One: A Star Wars Story," it appears Ahmed is finally getting to have some fun.
On "Girls," he plays Paul-Louis, a Long Island surfing instructor who takes a liking to Hannah while she attempts to write an article about how wealthy women are co-opting the waves just like they co-opted yoga. Hannah being Hannah, she has no patience for surfing lessons or sand ― until Paul-Louis shows her some special attention. (Beware spoilers below!) 
Out dancing one night, after Hannah spills some sort of red cocktail all over her bosom and grinds on the floor, Paul-Louis steps up to the DJ booth for a little surprise: "Slow Jamz." Ahmed displays his well-documented rap skills, ripping through one of Twista's verses from the 2004 hit, featuring Kanye West and Jamie Foxx. Paul-Louis flashes his nipple, plops his scantily clad leg on the table and crystallizes Hannah's affection. "I'm gonna fuck him," she screams from the crowd of supportive onlookers. She's right.
As things tend to go for Hannah, not everything comes together seamlessly after she and Paul-Louis sleep together. Turns out, he's in an open relationship and his girlfriend is arriving in a few days. But Paul-Louis has such surfer-groove charm that Hannah is drawn to him anyway. (Is she even still working on her article at this point?) He's about to become a blip on her ostensibly maturing radar before being thrust back to the clamor of New York City. If only there were more! "Why get mad at fun, right?" Hannah asks reluctantly. 
It's lovely to see Ahmed smile, something he hasn't done much of onscreen since breaking out as Jake Gyllenhaal's antsy assistant in 2014's "Nightcrawler." Paul-Louis doles out wisdom from the School of Chill Vibes, like, "If you look down, you're gonna fall down. That's what I always say. Just like life." He reflects a recurring "Girls" adage: escaping the big city provides a clarity and a sense of possibility only achieved through a temporary reprieve from the claustrophobia. Most importantly, he raps in a bathing suit. 
Thanks, Riz. We love to see you smile. 
Calling all HuffPost superfans!
Sign up for membership to become a founding member and help shape HuffPost's next chapter
BEFORE YOU GO
PHOTO GALLERY
Lena Dunham