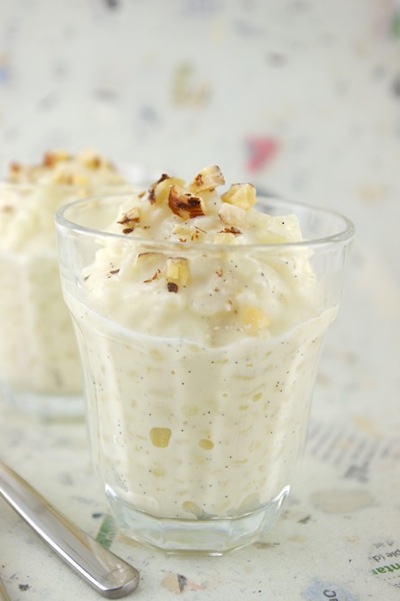 There is a waning generation of women of a certain age and class in France who raised their children the very old-fashioned way and my Mother-in-law is one of them. She bundled her babies, swaddling them tightly in layers of clothing until they could no longer move, even in the heat of summer. She plumped them up with bottle upon bottle of bouillie, baby formula and then milk thickened with cereal, from the tenderest of age. One by one as they each turned a year old, they were strapped - yes strapped - to the potty at regularly daily intervals and left there, and she still considers that her kids were potty trained at one. She sent them off to religious schools, turning them over brains and souls into the hands of the brothers and sisters with total confidence, never once asking a question or verifying what the children were learning or doing, allowing a free hand at punishment, just having complete faith in their knowledge and authority to do right by her offspring. And she raised them all on huge steaming bowls of dense, thick, sweetened pasta or rice.
Riz au Lait (or the same made with tiny elbow macaroni), rice cooked down in milk and then heavily sweetened was simply the one weighty snack meant to fill up or caler her growing children on the cheap, to insulate them against the cold and damp of winter or to simply add on the pounds, an old-fashioned way to help them grow faster and protect their bodies against whatever could ail them. The classic nursery treat.
And oddly enough, this didn't turn my husband off of the stuff. He begs me to make him Riz au Lait, good old-fashioned Rice Pudding, thick, creamy and sweet, his ultimate comfort food. I recently was in the mood to bake and opening up my refrigerator found to my horror that we were out of eggs. As it was a national holiday here in France, no eggs, I knew, were to be had. Husband jumped in and excitedly exclaimed, "Ah, the perfect reason to make me Riz au Lait! No eggs!" And so I did. And here is the recipe I came up with, a traditional Rice Pudding, simple, homey and sweet, thick yet creamy smooth, the rice melting in the mouth, just a kiss of vanilla and as sweet as you like. Just perfect.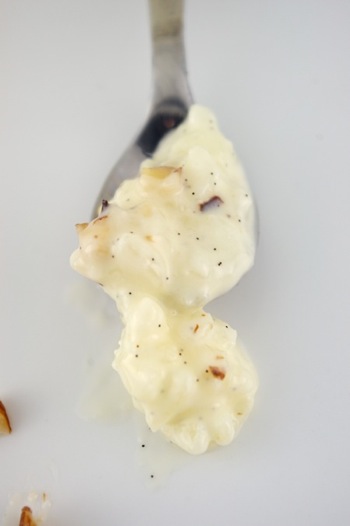 RIZ AU LAIT

Serves about 6 depending on how much one eats.

7 oz (200 g) uncooked rice for risotto or pudding
3 ¼ cups (750 ml) whole milk or half low-fat milk + half light or heavy cream
7 - 8 Tbs (100 - 120 g) sugar or to taste
1 vanilla bean *
Pinch of salt
1 Tbs (15 g) unsalted butter

* if you don't have a vanilla bean, simply add half teaspoon of vanilla extract to the cooking rice and milk.

Place the rice in a colander with tiny holes (so as not to lose any rice out the bottom!) and rinse under running water until the water runs clear. Drain.

Place the rinsed rice in a saucepan and cover with water; bring the water to a boil and allow to boil for 5 minutes. Drain the rice.

Return the drained rice to a medium-sized saucepan with the whole milk (or half low-fat milk and half cream), 1 tablespoon of the sugar and a pinch of salt. Using a small, sharp knife split the vanilla bean down the center and scrape out all of the seeds. Add both the seeds and the pod to the other ingredients in the saucepan. Bring it just up to the boil and then immediately turn the heat down to very low and, placing a cover atop the saucepan but leaving it ajar, allow the pudding to simmer, stirring often, for 30 to 35 minutes or until the rice has absorbed almost all of the liquid. The rice should be very soft almost melting in the mouth. It should not be al dente. The pudding should be creamy, neither runny nor dry.

Remove the saucepan from the heat and remove and discard the vanilla bean pod. Stir in the tablespoon of butter and about half of the remaining sugar. Taste and add as much of the remaining sugar until desired sweetness. Spoon into individual serving dishes, glasses or bowls.

Riz au Lait is always best eaten warm but this particular pudding is delicious at room temperature and even stays creamy when chilled (if, for example, there are any leftovers). Riz au Lait can also be served with cooked fruit or jam served atop it to give it a tangy kick.
Jamie Schler lives, eats and writes in France. To read more of her work visit Life's a Feast.

REAL LIFE. REAL NEWS. REAL VOICES.
Help us tell more of the stories that matter from voices that too often remain unheard.