 TAMPA, Fla. -- A shift of power from the official Republican party apparatus to an informal coalition of megadonors, super PACs and nonprofit advocacy groups is underway here, as a rising shadow party increasingly drives GOP politics.
Mel Sembler, a Florida shopping mall magnate and a key member of the Romney campaign's finance team, is planning to open his home Tuesday for a few hours to the pro-Romney super PAC Restore Our Future to let the group's leaders chat up potential donors on their plans, according to GOP fundraisers who requested anonymity to preserve their relationship with the groups.
Meanwhile, on Tuesday afternoon, top strategists for three powerhouse GOP allies -- the Karl Rove-founded Crossroads groups; billionaires Charles and David Koch, who founded Americans for Prosperity; and the U.S. Chamber of Commerce -- are planning to huddle at a local hotel to coordinate efforts to spend tens of millions more on television ads and voter turnout, according to sources close to the groups, who were not authorized to speak on their behalf.
While federal election rules bar certain types of spending coordination between the campaign and the shadow groups, both elements mingle freely here.
The Tuesday confab of Crossroads, Chamber and AFP representatives is expected to discuss allocation of resources in the weeks leading up to Election Day, and is the latest in a series of strategy sessions among these pivotal players, who are allowed by law to coordinate with one another. The three groups have been working closely together over the last year, running several multimillion dollar ad drives in swing states such as Florida, Ohio and Virginia.
Two of the biggest financiers of the shadow GOP network, billionaires Sheldon Adelson and David Koch, will be in town, too, and are expected to attend some public events for groups that they've helped to bankroll. Koch will be honored on Thursday at an AFP event; and Adelson is likely to be at one of the events planned by the Republican Jewish Coalition, a pro-Israel group of which he's long been the leading donor, according to RJC members.
The Huffington Post has learned from the GOP fundraisers that Adelson is expected to write a multimillion-dollar check to the Chamber for its political program, which is focused on helping the GOP take the Senate and keep the House. And Adelson, according to the fundraisers, is also expected to provide more financial help to the RJC so that it can expand "significantly" a $6.5 million ad buy and voter mobilization drive, which the group announced in late July, to boost the Jewish vote for Romney in the three key states of Florida, Ohio and Pennsylvania.
Underscoring the outsized influence of Adelson, his wife, Miriam, is being honored in Tampa by the YG Network, a super PAC with ties to House Majority Leader Eric Cantor (R-Va.), to which the Adelsons have donated $5 million. The group has named a pavilion after Miriam Adelson, an Israeli-born physician.
This cluster of GOP allies, along with several other groups, are expected to spend close to $1 billion as part of the effort to defeat President Barack Obama and put the GOP in charge of both houses of Congress. Of that total, some $200 million is expected to come from casino mogul Adelson and the Kochs, who run an energy conglomerate.
Adelson seems to have the deepest political pockets this year and is on track to equal, if not surpass, the $100 million figure for political donations that he mentioned in a Forbes interview earlier this year.
Adelson -- whose sprawling Las Vegas Sands casino empire is under federal investigation for possible illegal bribes to expand its lucrative gambling operations in Macao, China -- and his wife have between them donated over $40 million to super PACs, including at least $10 million to Restore Our Future.
In addition, Adelson has donated tens of millions more to a few advocacy groups that are not required to reveal their contributors, including some $20 million to the Rove-affiliated Crossroads GPS and another $10 million to a new grassroots group started by the Kochs, according to fundraisers with knowledge of his giving but who were not authorized to speak on his behalf.
This unprecedented largess to a shadow GOP network has given a disproportionate importance to an elite cadre of super donors since high court rulings in 2010 gave the green light for individuals and corporations to give unlimited checks for ads and other electoral tools that can advocate for candidates.
In August, Americans for Prosperity launched a $25 million ad drive and an ambitious national 'get out the vote' effort in 300 counties in battleground states for Mitt Romney, as well as local Senate and House candidates.
Crossroads leaders have said that they expect to spend another $35 million on ads this fall.
And the Chamber, which intends to spend at least $50 million on congressional races in battleground states alone, plans millions more in ads and voter mobilization.
CORRECTION: Due to an editorial oversight, a previous version of this story incorrectly identified Americans for Prosperity as a super PAC; it is not.
Before You Go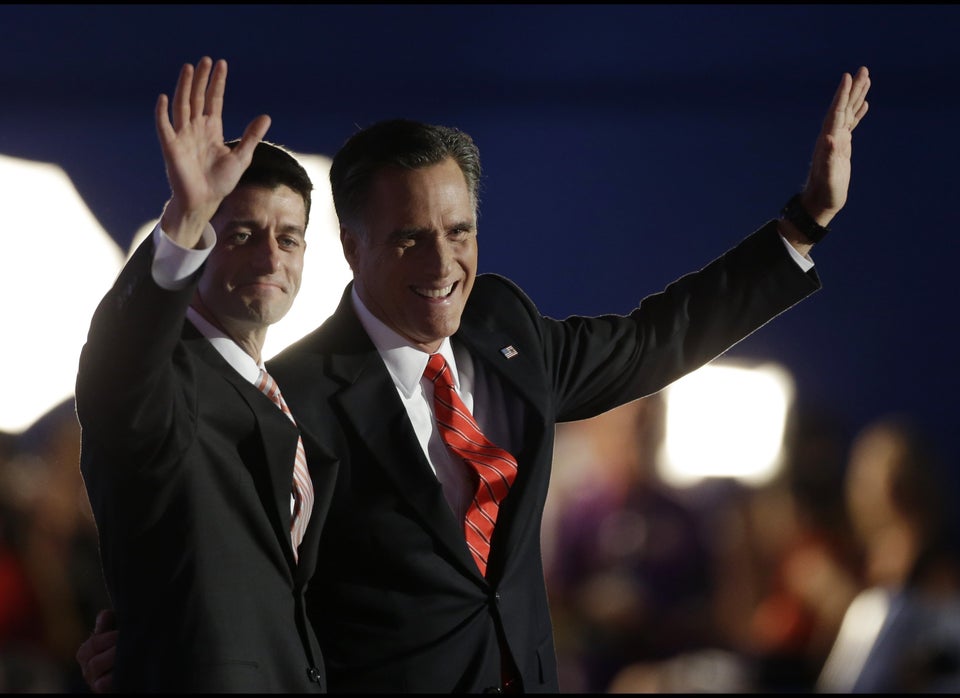 Republican National Convention 2012
Popular in the Community