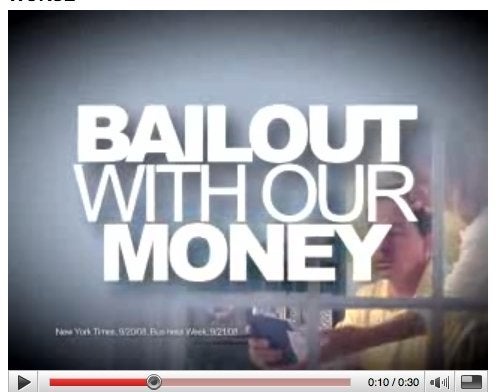 And now, this morning, the Republican National Committee independent expenditure arm has released an ad that essentially trashes that very bill (while trying to link it, in a negative way, to Barack Obama).
Watch the video below, and note the first two lines: "Wall Street squanders our money and Washington is forced to bail them out with - you guessed it - our money. Can it get any worse?"
Is this not a quintessential example of politicizing the Wall Street crisis -- the very thing McCain has been railing about? Not only is the RNC using the bailout as an electoral wedge, but it's doing so in a completely misleading way, by suggesting that McCain doesn't also support the package.
UPDATE: The Obama campaign releases a statement:
"For John McCain's party to demagogue a rescue plan that he supports in order to score cheap political points is not only dishonest and dishonorable, it is the height of irresponsibility on a day when we urgently need to pass that plan to prevent an economic catastrophe. So much for country first," said Obama-Biden spokesman Bill Burton.
Calling all HuffPost superfans!
Sign up for membership to become a founding member and help shape HuffPost's next chapter