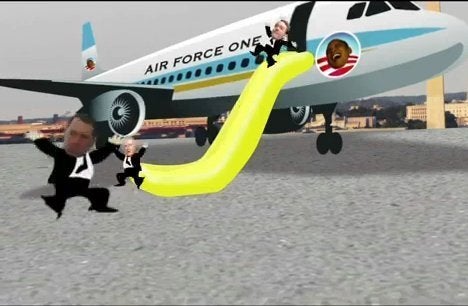 The RNC is out with a new ad that seeks to paint Democratic candidates on the ballot as reluctant to accept the campaigning help of President Obama, or, as they illustrate it, so terrified of it that they flee Air Force One down an escape slide, a la Steven Slater, the former JetBlue flight attendant whose unorthodox style of quitting made him an instant folk hero.
The video shows a number of Democrats aboard Air Force One listening to Obama announcing his plans to go on a "national fundraising tour" that will take place in their "home towns." When the President finishes, a constant stream of suited characters begin escaping the plane by sliding down its emergency escape.
"With unemployment hovering around double digits and a majority of Americans unhappy with the direction of the country, it is not a surprise endangered Democrats do not want President Obama to come to their districts and remind voters of their failed economic policies," RNC Chairman Michael Steele said about the video. "So long as the president continues to ask Democrats to ignore the concerns of voters and help ram through his liberal agenda, he can expect the campaign trail to be quite a lonely place."
The ad is attempting to capitalize on recent reports of Democrats displaying hesitance in welcoming campaign appearances by Obama. Sen. Michael Bennet (D-Colo.) and Rep. Joe Donnelly (D-Ind.) have appeared more standoffish toward Obama and Washington in general. Others such as Sen. Patty Murray (D-Wash.), Sen. Russ Feingold (D-Wis.) and Elaine Marshall, a Senate candidate in North Carolina who had earlier expressed reservations about Obama's involvement in her campaign, have all said they were excited to have the President at their events.
Watch the RNC's latest ad:
REAL LIFE. REAL NEWS. REAL VOICES.
Help us tell more of the stories that matter from voices that too often remain unheard.