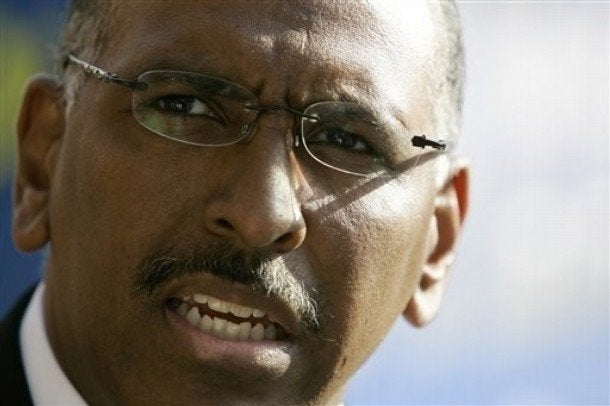 A member of the Republican National Committee has written a highly critical email to fellow members regarding chair candidate Michael Steele, arguing that the former Maryland Lieutenant Governor is far out of line with social conservative values and should not be trusted to take over the chairman's post.
The letter, written by James Bopp Jr., an Indiana Republican and counsel at the National Right to Life Committee, was sent to RNC Conservative Steering Committee members just days before the RNC members vote on the next head of the committee. In a missive of over 2,500 words, Bopp picks apart Steele's previous work on the Republican Leadership Council -- a centrist organization -- and makes the argument that it is disqualifying for his candidacy.
"My concern is that we need a RNC Chairman who is able to unify all branches of the conservative movement within the RNC," writes Bopp. "Unfortunately, there are those who want to divide the conservative movement by pitting fiscal conservatives against social conservatives, and ultimately to drive social conservatives out of the Republican Party. I count Christie Todd Whitman and John Danforth in that group. They founded the Republican Leadership Council to wrestle "control" of the Party away from "social fundamentalist." That Michael Steele helped start this group, and actively supported it, means he was at least willing to aid and abet this cause."
In 2006, Steele helped revive the Republican Leadership Council, before leaving roughly a year and a half later over what he described as ideological differences.
Bopp's email, sent by a Republican source to the Huffington Post, comes as Steele appears to be struggling to gain traction in the wide-open field for RNC chair. The Maryland Republican was forced to email members of the committee on Monday to deny a rumor that he was "making a deal with Chairman Mike Duncan" -- which would have been a recognition of poor standing among his fellow candidates.
More broadly, however, Bopp's letter is a reflection of the difficult, soul-searching debate in which RNC is currently engaged. The organization is divided between those who want to broaden the party beyond its base and those who won't tolerate any leader who is not a social conservative. None of the six prospective chairman have been able to materialize a unifying platform.
South Carolina GOP Chair Katon Dawson has run, primarily, on his capacity to manage a party, raise money, and win elections. As an added bonus, he is conservative. Competitors are sending out fake USA Today covers trashing him as the "Whites Only" candidate -- a reference to his membership in a restrictive country club. Former Ohio Attorney General Ken Blackwell also has some backing in this community. And current chairman Mike Duncan can claim roots among social conservatives. Saul Anuzis, the chair of the Michigan GOP, has run a largely outside-the-party, pro-technology campaign, positioning himself as the candidate who could move the RNC away from its southern roots.
In this context, the Bopp email is something akin to a call to arms for the socially conservative. He cites archived examples (the original content was removed) of the RLC's website to prove the extent of Steele's involvement with the group, and directly challenges Steele on five fronts:
• The fact that the Republican Leadership Council was "unfriendly" to social conservatives was obvious from the beginning.
• The involvement of the RLC in contested Republican primaries was one of its central purposes.
• Steele's involvement in the RLC was not just some favor to a friend or some casual meet and greet.
• Steele's call to prohibit conservative RNC members from meeting is consistent with his apparent hostility to social conservatives' involvement in the Republican Party.
"Steele's involvement with the RLC ultimately raises a serious concern about his commitment to bringing unity among the members of the RNC," Bopp concludes. "My goal is to unite all conservatives, social, fiscal and national defense, behind the Republican Party, and to unite all members of the Republican party behind our next Chairman. Steele's involvement in the RLC and his subsequent commitment to stop conservatives from meeting suggests that he will be unwilling and unable to do so."

Neither Bopp nor Steele's offices could be immediately reached for comment.

Calling all HuffPost superfans!
Sign up for membership to become a founding member and help shape HuffPost's next chapter