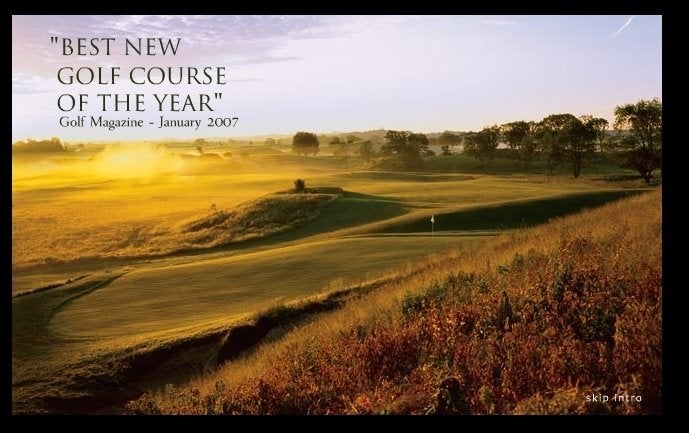 This is the state of internal GOP debates these days:
Mike Duncan, who is running for reelection as chair of the Republican National Convention, was apparently compelled by the Twitter feed of a young GOP strategist to erase a backdrop of his website that showcased an elite country club.
David All, of the David All Group, filed several posts on Thursday raising concerns that the backdrop of Duncan's website -- apparently a photo of the high-end Wisconsin Erin Hills Country Club -- sent the wrong type of political message.
"Mike Duncan using an elitist golf course as his background image is exactly what is wrong with the GOP. $160 green fees," read one tweet. "RNC Chairman Mike Duncan's background image: I believe it sends an elitist message," he wrote in another.
Later in the afternoon, the backdrop on Duncan's website was altered. Officials with the Duncan camp denied that All had any effect. They noted that web images -- which are only seen on the border of the site -- are set to change at random, mainly to shots from the congressman's home state: Kentucky. But the link to the Erin Hill's backdrop (which was posted by All and had a Duncan URL) was, it seems, erased.
"Clearly a lot of people responded, it sparked a little discussion, and they listened," said All, who, It should be mentioned, is volunteering on behalf of Duncan's competitor for the RNC chair, Saul Anuzis.
Asked to respond, Chris Taylor, a spokesman for Duncan said: "I don't believe that the decision of the 168 RNC members [who decide on the next chair] will be made over arguing about backdrops to websites. I believe that it comes down to the issues, that is what these members are focused on. And that is what Chairman Duncan is running his campaign on."
Taylor may be right. But there is a larger point here:
The GOP, perhaps rightly so, is in a very sensitive place right now when it comes to the image it presents. There is an obvious concern, echoed by Karl Rove and others, that the party is in serious danger of being regionalized -- forced to pin its hopes on turning out the white vote, primarily in the South. During the course of the Republican primary, the leading candidates all shunned a minority's issue debate, prompting more moderate figures, including former Rep. Jack Kemp, to wonder whether this was political suicide.
"What are we going to do -- meet in a country club in the suburbs one day?" Kemp said. "If we're going to be competitive with people of color, we've got to ask them for their vote."
UPDATE: A former RNC employee emails a reminder that All is not disinterested in stirring up Republican concern about Duncan's candidacy. He does, after all, have a horse in the RNC chairman race.
"I saw your post today on Duncan's reelection site," he writes. "I can say, without a doubt, Duncan is less interested in golf than he is in electing more Republicans. David's doing his job, he's drumming up controversy where none exists."
Popular in the Community