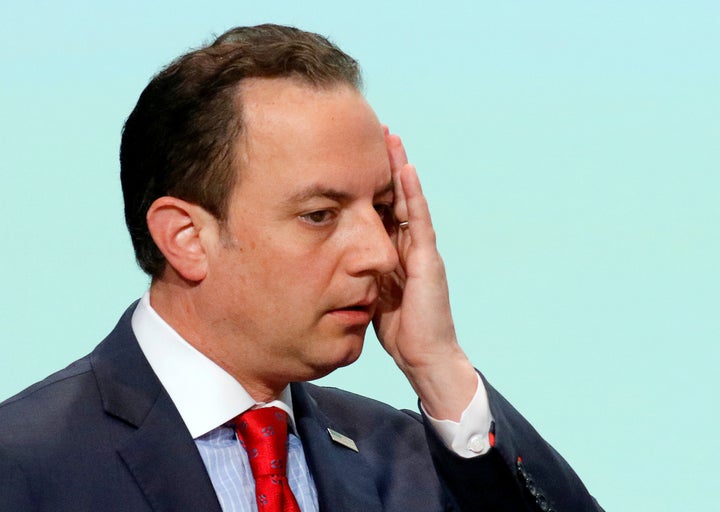 Donald Trump has "pivoted" away from his call to ban all Muslims entering the United States, RNC chairman Reince Priebus said Sunday.
"He has pivoted to this position," Priebus told CNN. "It is what I've seen him say in person...He has said he has changed, and he has put that position on the table and that is his position. It is not a religious test. It is a ban on immigration from countries that harbor or train terrorists "
Much of Priebus' Sunday was devoted to insisting that Trump has transformed into a less bombastic, more electable candidate ― in a separate interview with ABC, he managed to work in the word "pivot" four separate times.
But the Trump campaign shows no sign of admitting such a shift has occurred. Trump's December statement calling for an explicit religious test, in the form of "a total and complete shutdown of Muslims entering the United States until our country's representatives can figure out what is going on," remains live on his website.
"Mr. Trump is going to be refining his policy — putting out more specific details, which everyone's been asking for, but there has been no change," Trump spokeswoman Katrina Pierson told CNN late last month.
The proposed ban has resurfaced in the wake of Trump's decision to pick Indiana Gov. Mike Pence as his running mate. In December, Pence greeted the idea with unequivocal criticism:
But since accepting the vice presidential nod, Pence has expressed support for what he described as "Donald Trump's call to temporarily suspend immigration from countries where terrorist influence and impact represents a threat to the United States."
In an interview on Fox News Sunday, Trump campaign manager Paul Manafort claimed that the two men on the ticket were in agreement.
"Look, first of all, this team is not going to see eye-to-eye on everything," he said. "But on the issues you're raising, they're not disagreeing on fundamental things. They're actually agreeing. They both agree there needs to be a ban in terrorist countries until we figure things out."
Calling all HuffPost superfans!
Sign up for membership to become a founding member and help shape HuffPost's next chapter