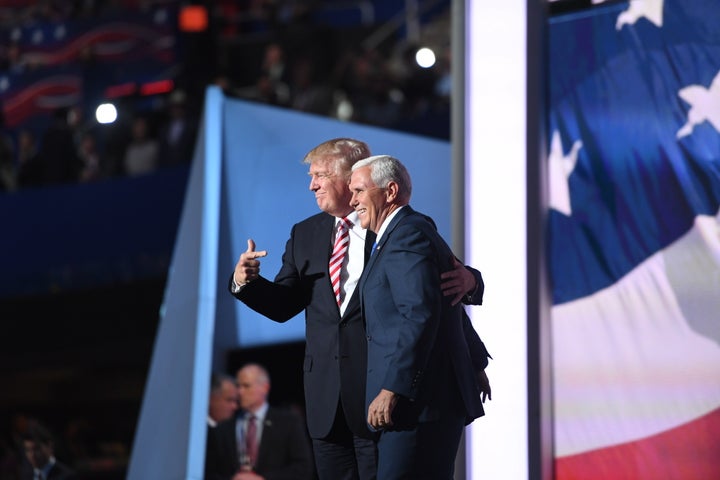 CLEVELAND ― Walk around Quicken Loans Arena, where Republicans have nominated Donald Trump as their presidential candidate this week, and you'll notice something missing: There is practically no evidence of corporate involvement at the 2016 Republican National Convention.
In recent history, corporations have provided both direct and in-kind contributions to political party conventions, often proudly displaying their signage around town and within the arena. This year's convention feels different. Thanks to Trump's open attacks on Latinos, women, Muslims and Black Lives Matter activists, among many others, the convention has drawn protests from activist groups calling for a corporate boycott.
It appears to be working.
Just prior to the start of the convention, the host committee announced a $6 million shortfall in funds and, according to reports, the Republican National Committee sent a last-minute appeal to billionaire casino magnate Sheldon Adelson to help fill that hole.
The RNC ultimately had to apologize to Adelson for filling the letter with false claims about corporations that had pulled their funding. Those companies had actually never promised to give money in the first place.
"As you come here and you walk around, you don't see the type of very visible, proud arm around the shoulder that corporations have traditionally done at these conventions," noted Rashad Robinson, spokesman for Color of Change PAC, a group that has pressed corporations not to fund the convention ― particularly those in the tech sector. 
Some companies did provide technical or in-kind support for the convention, including Google, AT&T, LG, Microsoft, Delta Airlines and Cisco. It isn't immediately clear if these and other companies only provided in-kind technical support, or if they also made direct contributions to the host committee. The host committee does not need to disclose its donors until 60 days after the end of the convention.
Corporate sponsorships have been far more apparent outside the arena at the many convention-related parties, events and workspaces around town.
Facebook, Twitter, Tumblr and AOL (which owns The Huffington Post) have all set up workspaces for reporters. Press events have also featured corporate and lobbyist sponsorship, including the daily RealClearPolitics forums funded by America's Credit Unions, a number of medical professional trade groups and the Partnership for a New American Economy, a corporate-backed coalition of U.S. mayors.
The Rock and Roll Hall of Fame has also hosted nightly parties. On Tuesday night, it featured a controversial set by the '90s rock band Third Eye Blind, which took the opportunity to denounce the Republican Party platform. The event was designed to promote the charity Musicians On Call, but was funded by the recording industry's lobbying arm and a host of corporations, including AT&T, Microsoft, Blue Cross Blue Shield, Comcast, 21st Century Fox, Aflac, Southern Company and DTCC. The lobbying firm Fierce Government Relations was also a sponsor. In addition to the Recording Industry Association of America, other corporate trade groups sponsoring the event included the Nuclear Energy Institute, American Gas Association, Edison Electric Institute and the U.S. Chamber of Commerce Global Intellectual Property Center.
This was one of the few events that featured the U.S. Chamber of Commerce's name. The powerful business lobby is a central part of the Republican Party's election infrastructure and, with the GOP's establishment wing, pushes for business-friendly policies, fewer regulations and lower taxes.
The Chamber, however, is a major proponent of international trade deals and immigration reform legislation ― both opposed by Republican Party nominee Trump. Along with the National Association of Manufacturers, the Chamber has feuded with Trump over his opposition to pro-corporate trade deals and proposals to impose high tariffs on imports.
One longtime Republican Party activist expressed surprise over not receiving an invitation to any Chamber event in Cleveland.
Tom Donohue, president of the Chamber, was in Cleveland on Wednesday and appeared on Fox Business, where he noted that he was not yet endorsing Trump and said that corporations are still waiting to hear from both candidates. That may explain why both the Chamber and corporate America are less noticeable at this year's Republican convention.
"I'm not sure ... because business is still looking carefully and listening," Donohue said. "Trump talks about some important things, energy and taxes and financial areas. Hillary, perhaps, has more experience, and businessmen like that ― businessmen and women like that."
"But I don't think that'll be decided until you hear the speeches here and next week and you see the first debate," he continued. "And then you'll see people going to move where they're going to move."
That timeline is definitely too late for convention organizers and party-goers looking for corporate backing.
Christina Wilkie contributed reporting.
Calling all HuffPost superfans!
Sign up for membership to become a founding member and help shape HuffPost's next chapter
BEFORE YOU GO