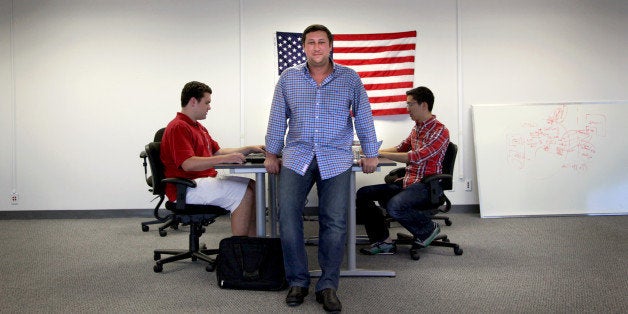 WASHINGTON -- Last month, after Rep. David Jolly (R) won the closely contested special election in Florida's 13th Congressional District, the Republican National Committee declared that the election was not simply a win for Republican principles such as opposition to Obamacare and reckless government spending, but also a vindication of the GOP's new tech focus.
The victory, the RNC said, was due in part to their deployment of "a new suite of data-driven tools."
In politics, as in sports, winners write the history of How It All Happened. And as Democrats chalked up President Barack Obama's reelection in 2012 to their party's tech savvy, Republicans hope to tell the nation this fall that they added to their House majority and took back the Senate by catching up to the Democrats' data-crunching capabilities.
Never mind that some Republicans have spent the last year pointing to evidence that "big data" and technological wizardry made only a marginal impact on the 2012 presidential election. If the GOP does well in the midterms, they will sing a thousand songs praising algorithms and "data-driven" everything.
Winners need a narrative to explain their success. Political parties hoping to become winners need money. The Republican National Committee, in particular, has staked its reputation -- in the press and with conservative donors -- on becoming the center of data and tech for the GOP. The RNC is not only seeking to imitate what the Democrats have been doing for years, they hope to improve upon it. And the committee has made some progress toward building the infrastructure they need to be successful.
But as the 2014 midterm elections grow nearer, behind-the-scenes, intra-party squabbling has highlighted where the RNC still has a ways to go in using tech to win the future. The friction between the RNC and a handful of state parties and Republican campaigns has revealed the committee's struggle to assert its control over the GOP's data and tech strategy, despite an incapability to fully occupy that role.
Few Republican sources were willing to comment on the record, for fear of either losing business or angering the Republican establishment. Because comments from a number of independent sources corroborated a conflict between the RNC and several state parties, campaigns and Republican consultants, The Huffington Post agreed not to identify some of those who spoke.
After the GOP's 2012 election loss, private sector groups responded quickly to offer new data and technology solutions to a party shocked by the sophistication of the Obama campaign. The RNC, meanwhile, went through a more deliberative process: they compiled an after-action report, then decided to invest in data and technology, and only then hired a team that includes Facebook engineer Andy Barkett as chief technology officer and Chuck DeFeo as chief digital officer, plus a team of engineers, who started building systems. Most recently, the RNC hired chief data officer Azarias Reda to focus on analytics.
Despite, or perhaps because of, this deliberative effort, the RNC began to face questions from donors and operatives earlier this year about what progress had been made since the high-profile hire of Barkett in June of 2013, a senior RNC official told The Huffington Post on condition of anonymity.
And so the committee decided it was time to start doing a little self-promotion.
The effort began with the RNC's press release following Jolly's special election in Florida. But the National Republican Congressional Committee also claimed credit for the win, asserting that it had created a program called "Honeybadger" to help build a model of which voters were key to winning, and also to increase the number of Republicans turning in absentee ballots. Some of the coverage implied that the NRCC had taken the RNC's voter file and improved on it. More significantly, the NRCC got decidedly more attention than the RNC because of an aggressive PR push and its use of the memorable "Honeybadger" moniker, a reference to an Internet meme.
The resulting disparity in credit did not go over well at the RNC, which had in fact played a major role in enabling what the NRCC did, through its voter file, its field staffers and the use of an RNC-designed digital control panel that allowed real-time data sharing.
A week later RNC Chairman Reince Priebus wrote an op-ed for CNN.com lauding his committee's progress. Priebus talked about the RNC's new application programming interface (API), called Dynamo, which will allow outside vendors to plug into the RNC's central voter file more easily. He stressed that the RNC has been responsible for placing staffers in the field over the past year to conduct much of the voter outreach in a more community-oriented way, rather than parachuting staff and volunteers into key races in the last few weeks of a campaign.
And Priebus also boasted that among the tools "at [the] fingertips" of Republican field staffers and volunteers across the country was the RNC's new voter relationship management (VRM) system, known as Beacon. Beacon, he said, "makes it easier for people to download and see the data."
Beacon is designed to "pull" reports from the voter file and to originate lists of voters for workers in the field to contact. So if Beacon had been operational in the Florida special election, Republicans could have used it to go in to the RNC voter file and find voters in that congressional district with a high propensity for voting Republican, but who did not have a track record of voting in special elections or even non-presidential elections. Those lists of names and addresses would then be sent to the mobile phone of volunteers through an app. The app would include directions to the targeted homes and an individually tailored script to read at the door (or over the phone). Then, finally, the volunteer would upload the response they received back into the application, feeding it directly back into the RNC voter file.
Republicans did have a mobile app in Florida, but instead of using one program in the state to find voters they needed to turnout, the GOP used a patchwork of programs. Beacon is intended to consolidate and simplify the process of pulling lists, and to allow more widespread use of RNC data by other campaigns and conservative groups -- while ensuring that the fresh data produced in the field is fed back into one comprehensive voter file.
The quality of the RNC's voter file depends on it. The better the file, the richer the data for analytics and modeling the voter universe, which in turn creates better-targeted voter lists for the next round of door knocks and phone calls.
Having a program like Beacon in place would be a major development for Republicans -- if it truly were in place. For years, Democrats have been united around a single voter file management system, the Vote Builder system from NGP VAN, a company that helps campaigns leverage technology. Vote Builder has allowed campaigns and state parties to draw on data from voter contacts of past campaigns, and to feed the results of their subsequent conversations with voters back into the same massive file. Beacon is intended to finally allow the GOP to do the same, bringing a level of cohesion to data collection and voter contact that has not existed previously.
The problem, as another RNC official recently admitted on condition of anonymity, is that Beacon "is not currently operational." It was not used in the Florida 13th District special election. The system was rolled out last Thanksgiving for an initial round of testing to a handful of states, and is currently being tested in several more. The RNC official said that the system will be used in beta mode by select operatives in all 50 states a few weeks from mid-April.
For now, the RNC is using a program called GOP Data Center, built by FLS Connect, a political data technology company. Data Center was built in 2012 to connect primarily with the door-to-door mobile device application GeoConnect, also built by FLS Connect. But it is harder for Data Center to connect with other applications not built by the company. This has limited the ability of outside users to tap into the resources available in the RNC's voter file, thus limiting the ability of the RNC to continually update and refine that same file.
The head of a prominent Republican technology firm in Washington commented recently on the RNC's recent tech challenges, requesting anonymity in order not to compromise business interests.
"It's been tough up to this point to utilize [the RNC's] data," he said, adding that the new VRM, Beacon, will be a step in the right direction. It is intended to allow much more freedom of use by outside vendors and technology products, as long as the RNC signs off on them.
But a handful of state parties, and some number of Republican campaigns, have been unhappy with RNC tools such as the GOP Data Center. In 2013, the executive director of the South Carolina GOP compared it to a VW Beetle. More tellingly, the RNC official said, "We decided we needed to improve on Data Center, which is why we have Beacon."
The dissatisfied state parties and campaigns were unwilling to wait last year for the RNC to finish its work on Beacon and began using private sector alternatives, even if they had to pay for it: from the i360 system owned by a subsidiary of the Koch brothers' empire; to Voter Gravity, created by Republican operative Ned Ryun; to NationBuilder, a company viewed with suspicion by some conservatives because of the progressive background of its founders.
"The RNC's been saying for a year, we're going to have these field programs out earlier than ever, and they've hired those field reps. But those field reps need the tools," a senior official at one state party noted, speaking on condition of anonymity. "We've just been rolling out the i360 canvassing app to people in the state because they haven't given us a hard date but we need to get working."
"We couldn't wait so we needed a system to give people right away," the official said.
Even one of the party's own Washington-based committees, the Republican Governors Association, is using i360 rather than the RNC's products (the Koch brothers are one of the RGA's biggest donors). Arizona, Montana and West Virginia's state parties are using i360, Virginia is considering it, and a few others are talking to Voter Gravity about signing on with them. Two other states, Pennsylvania and Colorado, are using NationBuilder in addition to using RNC data. In addition, the Republican State Leadership Committee signed a contract with NationBuilder in 2012.
In Arkansas, Rep. Tom Cotton is using i360 in his campaign for the U.S. Senate against incumbent Sen. Mark Pryor, a Democrat. Senate Minority Leader Mitch McConnell's reelection campaign in Kentucky is using NationBuilder as its "central hub," a senior adviser said on condition of anonymity. The RNC has "some excellent data and we have improved beyond that," the adviser said.
Beacon is intended to open up the RNC voter file to as many new apps and programs want to interface with it. But when campaigns, or worse, state parties, use i360, that is a problem for the RNC, because i360 is more than an app. It has its own voter file. And so every state party that uses i360 is sending out field staffers -- paid for with RNC money, funneled through the state parties -- to collect data that goes back not to the RNC, but to the Koch-brothers owned subsidiary.
Not surprisingly, some officials at the RNC have pressured state parties and campaigns not to use the outside products, according to multiple sources. The pressure has been "fairly heavy handed," said one Republican consultant working on multiple statewide campaigns who spoke on condition of anonymity.
The RNC has been "discouraging for a year people from using other systems," the state party official said.
Yet one source at a technology company involved in competing for business from campaigns said recently there wasn't anything wrong with the RNC's request for state parties and campaigns to stay in a holding pattern until their technology platforms are fully operational.
"They asked everybody to hold off on purchasing new technology until they figured out how they were going to proceed and how things were going to connect," the technology company source said. "What they're figuring out now is their prime concern: how do we get our prime database to campaigns as expediently as possible and how do we get what campaigns are learning back to us so we can model on it and learn from it?"
As one state party chairman put it: "They don't want people using rogue applications because that data won't get fed back into their file."
But the RNC denied the charge that they have been discouraging Republican groups from using outside technology in the absence of functional platforms.
"We want them to use whatever they can to get where they need to be," RNC Chief of Staff Mike Shields told The Huffington Post Friday.
On a March 26 conference call with state party officials, Priebus mentioned that states who were using unsanctioned vendors would have "problems," according to participants on the call. That comment, Shields said, was merely a description of technological problems that would ensue.
The biggest tension is between the RNC and the Koch operation, largely because Freedom Partners' i360 national voter file is seen as a direct competitor to that of the RNC.
i360 has been operating since 2009, building its capabilities in data analytics and modeling, refining its own voter file, and building mobile apps for volunteers going door to door. The results have not always been a success, but they have been at it longer.
Shields said the two camps are trying to reach an agreement on how to work together.
"I believe there is a desire in both organizations to get to a point where we share a lot of information and work together," Shields said.
Officials at Freedom Partners, the Koch-affiliated organization that owns i360, declined to comment on the record about talks with the RNC.
The senior RNC official admitted that it is still catching up to companies like i360 that began over the past year and a half to fill the vacuum that existed as the RNC slowly ramped up development of its own technology products. He said they do not fault state parties and campaigns that got a head start on conducting field and canvassing operations, at a time when "there were things [the RNC] couldn't do yet."
Michael Beach, co-founder of Targeted Victory, a Republican digital firm, said the pieces are now in place, and that the RNC is on its way to "providing the basic operating system that everybody can build around and which allows everybody to communicate."
But RNC sources acknowledged that Beacon will continue to operate largely in beta mode throughout the 2014 midterm cycle, putting most of the GOP's load on the shoulders of Data Center, which has its own challenges. Fully replacing Data Center likely won't happen until the 2016 cycle.
As the senior RNC official put it bluntly: "We haven't caught the Democrats yet."
CORRECTION: The original article incorrectly referred to the Republican State Leadership Committee as the Republican State Legislature Committee.

Before You Go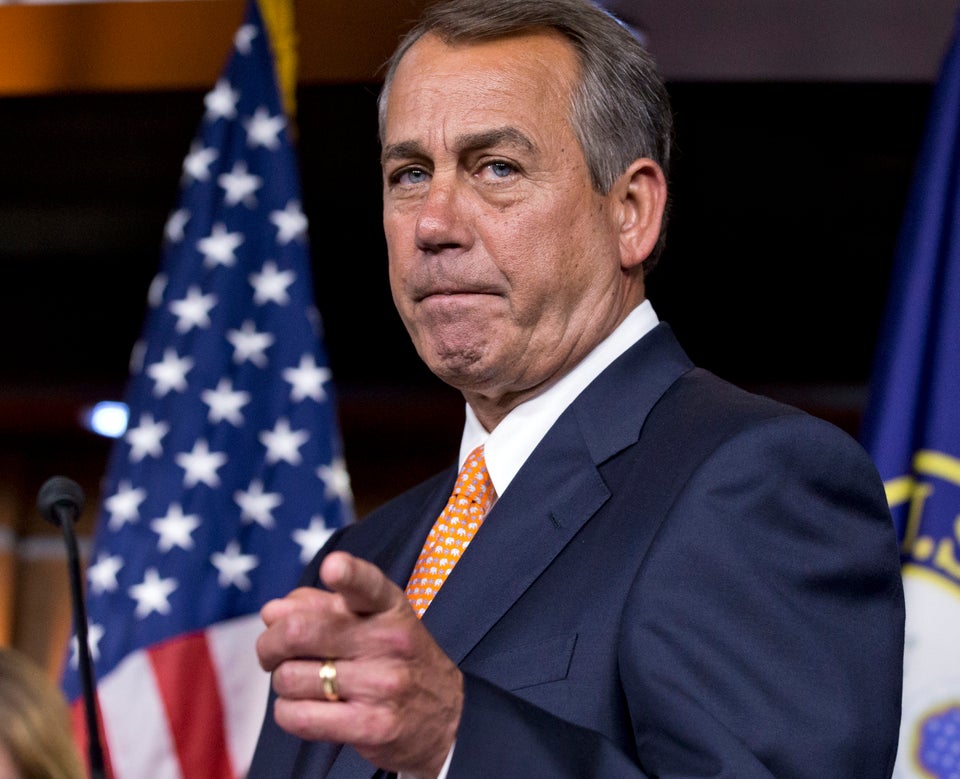 Conservatives Pointing Fingers
Popular in the Community