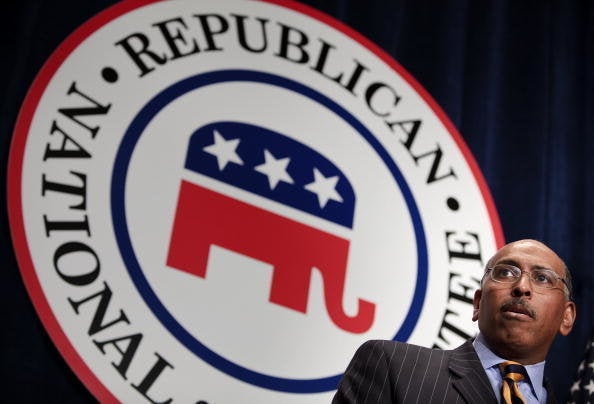 The Republican National Committee is distancing itself from a personal tweet sent by one of its directors that suggested President Barack Obama had once admitted his Muslim heritage.
Late last week, the committee's new media director, Todd Herman, posted an item asking whether the president was among the 20 percent of the public who thinks he was a Muslim. The tweet linked to an old interview Obama gave in which he stumbled, verbally, in trying to explain why people were confused about his religion.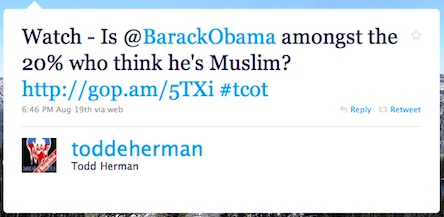 Asked whether the tweet was RNC sanctioned, spokesman Doug Heye replied, "no," before offering perhaps the fullest distancing yet of any Republican entity from the Obama-is-a-Muslim rumors.
"An errant, or sarcastically-intended tweet aside, the RNC has never spoken about the President's Christianity because it is both crystal clear and a non-issue. What is an issue, and remains foremost in the minds of voters is the failed efforts of Barack Obama, Nancy Pelosi and Harry Reid to grow jobs. Today, it was announced that existing home sales plunged by 27%; discussing this issue will serve the voters far better than any nonsense that won't employ a single American."
Politico's Ben Smith, who was first to notice Herman's tweet, suggested that the GOP had "concluded that poking at the allegation that Obama is a Muslim is less likely to blow up in their faces than they used to think." And, indeed, later in the day yet another GOP official seemed to offer a dog whistle of sorts when asked about the topic.
But not everyone seems willing to poke around at the myth. Heye's statement was clear and direct in putting to bed the Muslim rumors. And by Tuesday afternoon, Herman's tweet had been removed from the page, replaced with a note that the page no longer existed.

Popular in the Community