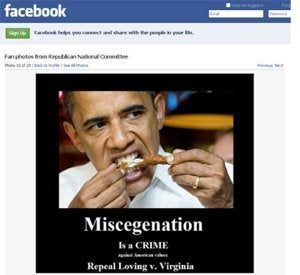 The Republican National Committee came under fire after a user posted a controversial photo on its Facebook page. The RNC "fan" upload features a picture of President Obama eating fried chicken with the slogan: "Miscegenation Is a CRIME against American values... Repeal Loving v. Virginia."
Loving v. Virginia is a milestone civil rights case that led the Supreme Court to rule that prohibiting interracial marriage violates the Constitution.
E-mail has been a recurring Achilles heel. In February, the mayor of Los Alamitos, Calif., sent around an image of the White House surrounded by watermelons; he was forced to resign. The leader of a San Bernadino County, Calif., Republican women's club resigned last fall when the club circulated a similar photo, with then-candidate Obama surrounded by fried chicken, watermelon and ribs. The web also spread word of two South Carolina Republicans' reference to a stereotype about Jews.
Popular in the Community