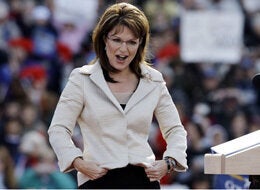 **Scroll down for slideshow**
UPDATE: The man behind Palin's style transformation is Jeff Larson, Karl Rover's former protégé and the principal robocaller who smeared John McCain in 2000.
Politico reports that the RNC has been shelling out the big bucks--over $150,000--on Sarah Palin and her family's wardrobe since she joined the McCain ticket in late August.
According to financial disclosure records, the accessorizing began in early September and included bills from Saks Fifth Avenue in St. Louis and New York for a combined $49,425.74.

The records also document a couple of big-time shopping trips to Neiman Marcus in Minneapolis, including one $75,062.63 spree in early September.

The RNC also spent $4,716.49 on hair and makeup through September after reporting no such costs in August.
So what does $150,000 buy you? Here's an idea.
This news follows an AP report that Governor Palin charged the state of Alaska for her kids' travel.
Palin also came under fire in September for splurging on a $2,500 Valentino jacket for her speech at the RNC and buying $400 glasses. Both fashion statements seem at odds with her "Joe Six-Pack" image.
And all this follows on the heels of a report that Cindy McCain donned an ensemble at the RNC that may have cost $313,000. Additionally, her husband, John McCain, spent the summer sporting a pair of $520 Ferragamo loafers and reportedly paid 'American Idol' makeup artist, Tifanie White, $5,500 for her services.
Related