WASHINGTON -- Reince Priebus, chairman of the Republican National Committee, took to the airwaves over the last 24 hours to defend his threat to shut CNN and NBC out of the 2016 GOP debates if the two networks continue with plans to air programming on Hillary Clinton. He also offered a glimpse into what the crusade has at stake: a packed Republican primary season covered through the lens of the "liberal media."
In a slate of TV and radio interviews, Priebus discussed letters he had sent to the heads of CNN and NBC Monday, in which he outlined concerns over each network's decision to air a documentary and miniseries, respectively, centered around Clinton, who is widely regarded as a frontrunner for the 2016 Democratic nomination for president. The RNC chairman accused the two networks of giving the former secretary of state "special treatment" that could influence public opinion and damage their credibility as impartial news organizations.
"It's not really a bunch of whining, it's just us telling them what we're going to do about it, that's all," Priebus explained during an appearance on Bloomberg TV's "Street Smart."
"They're going to assert what they want to do, and we're going to assert what we want to do," he said. "I just want their presidents and their chairman to know that if they want to move forward and spend millions of dollars promoting one particular candidate before the 2016 election, then we're going to do what we want to do, and we're just going to shut them out of our debates."
Republicans have reportedly been afraid of Clinton's rising popularity and launched a series of attacks in recent months that target a range of issues, from her response to the 2012 terrorist incident in Benghazi to allies who have been marred by scandals.
During a Tuesday interview on Fox News Radio's "Kilmeade and Friends," Priebus rejected guest host Leslie Gold's characterization that Republicans were "freaked out" about films that could just as well be critical of Clinton as they could be fawning or flattering in their portrayal.
"It just doesn't matter," he responded. "In today's world, cult personality, cultural votes, which is what presidential elections are -- it doesn't matter."
"Let's imagine that it's critical or even-handed ... When you build up a name, when you start a small wave far from the shore, it builds and builds and builds," Priebus added. "And if Hillary Clinton is running for president, her candidacy will build and build itself. It really makes no difference."
But the RNC's gambit isn't simply about putting the brakes on Clinton's potentially formidable candidacy. According to conservatives, the larger point is that the media holds a liberal bias, and the Clinton-related programming serves as the perfect example of that. The RNC even launched a petition on its website, urging supporters to pressure CNN and NBC to pull the plug on their plans. The petition's banner reads "The Liberal Media Loves Hillary."
To both Bloomberg TV and Fox News Radio, Priebus said the threatened boycott of CNN and NBC was about the Republican Party standing up for itself and refusing to take "slaps in the face" from the same media that will ultimately "depose" their candidates in a presidential election.
Chief among the myriad reasons Republicans gave for why Mitt Romney lost the presidential election in 2012 was how the media covered, and in some ways shaped, the Republican side of the race.
In a so-called autopsy report from March, the RNC specifically lamented the media's role in its 2012 election losses. As Slate's Dave Weigel pointed out, one of the prescriptions in that report was for the GOP to "create a system that results in a more rational number of debates."
On Bloomberg TV, Priebus acknowledged that concern, calling the last primary season "a 23-debate traveling circus."
"The last thing I want to do is add more debates that will promote agencies and companies that are going out of their way to make sure that they're promoting Hillary Clinton," he said.
Priebus also dismissed a question on whether the RNC would oppose a Fox News documentary on New Jersey Gov. Chris Christie, a favorite to seek the GOP nomination in 2016, saying the conservative network had announced no such plans.
The question of media bias is often debated, but there is certainly plenty of anecdotal evidence to suggest it exists, from political donation trends among journalists, to studies showing that Obama benefited from favorable coverage in 2008 and 2012, to comments by journalists like CNN's Jake Tapper, who said last year that the media "helped tip the scales" for Obama in 2008.
Both CNN and NBC, for their part, have rejected Priebus' claim that their programming is indicative of political bias. A spokeswoman for CNN urged members of the RNC to "reserve judgement" on a project they know little about, while NBC News issued a statement to clarify that it had no connection to NBC Entertainment, which is developing the miniseries, starring Diane Lane as Clinton.
Which NBC organization is behind the miniseries is irrelevant, conservatives contend and, if anything, reflective of how the media's liberal bias extends to Hollywood.
RNC spokeswoman Kirsten Kukowski dismissed the rationale as "absurd."
"I will remember that next time NBC News asks me for a comment on what GOP candidates, elected officials or state parties say or do," she told The Huffington Post.
Media Matters for America, the liberal media watchdog that has on many occasions defended Clinton against Republican attacks, released a letter Tuesday evening siding with the RNC in its dispute with CNN and NBC.
Media Matters co-founder David Brock, a known Clinton ally, wrote to the heads of each network urging them to cancel their programming.
"Given that this project could coincide with a potential Clinton campaign, the timing raises too many questions about fairness and conflicts of interest ahead of the 2016 election," Brock wrote.
Brock asked NBC News if it would allow NBC Entertainment to tarnish its name by developing a miniseries for ratings, and posed the same question to CNN with respect to CNN Films, the arm behind the planned Clinton documentary.
Caitlin MacNeal contributed reporting.
Before You Go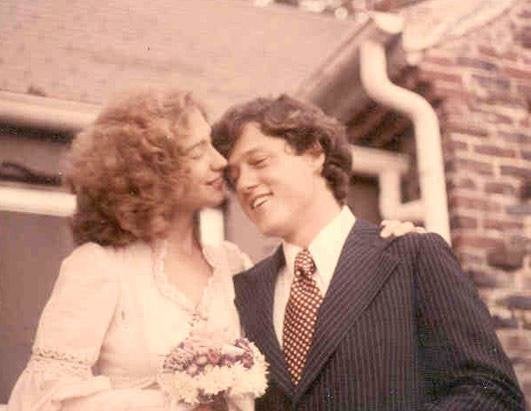 Hillary And Bill Through The Years
Popular in the Community