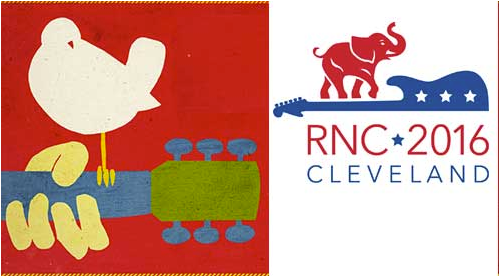 WASHINGTON ― The 2016 Republican National Convention logo is strikingly similar to the world-famous Woodstock image of a white dove perched on the neck of a guitar.
The RNC's red, white and blue logo features an elephant posed on a guitar neck. 
Woodstock Ventures, the group that produced the historic peace, love and rock 'n' roll-promoting music festival and owns all its intellectual property, called the convention logo "strikingly reminiscent" of the 1969 Woodstock logo, but plans no legal action.  
"This isn't a legal issue. This is much more as what we regard as an opportunity for civilization," Joel Rosenman, co-founder of Woodstock Ventures and a co-producer of the festival, told The Huffington Post. "What's underneath ― the principles and values ― are far more important than who's doing what with whose logo." He suggested Republicans adopt some "Woodstock values" into their party platform. 
The Woodstock Festival drew nearly a half-million people to a dairy farm in Bethel, New York, nearly 50 years ago. It featured renowned artists such as Jimi Hendrix, The Who, Santana and Janis Joplin. The festival was a celebration of counter-culture at a time of high tensions surrounding civil rights and the Vietnam War.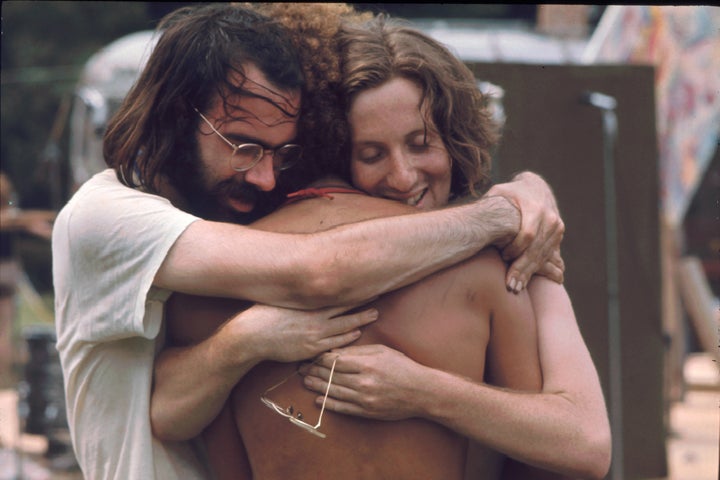 Rosenman first noticed similarities in the logos after receiving an email with the question: "Is Woodstock part of the RNC?"
He attributed the similarities to the GOP's attempt to adopt a hipper and more approachable image to attract young people and music-lovers. Just take a look at nominee Donald Trump's often unauthorized use of popular songs in his campaign and his list of celebrity endorsements.
A spokesman for the RNC couldn't immediately be reached for comment.
"Any of these would be things that we'd support and we'd happy to lend our enthusiastic approval to," Rosenman said.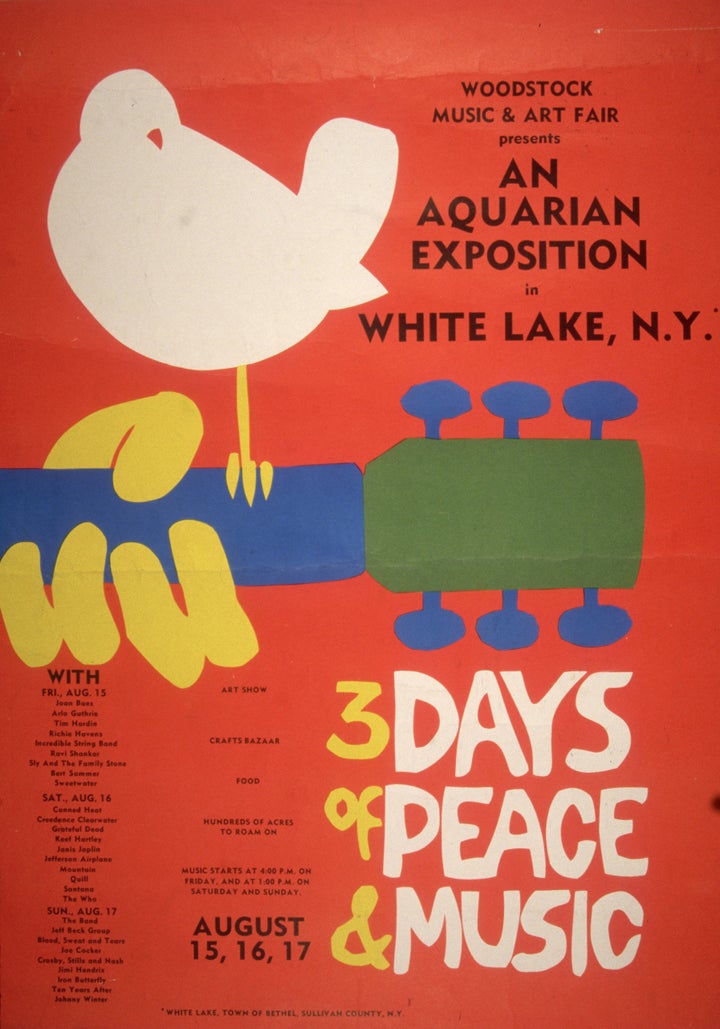 Despite the similar imagery, Rosenman ― perhaps showing a bit of Woodstock's peaceful attitude ― said there was no need for an intellectual property battle here. The RNC logo, he noted, was a "political, non-commercial and temporary [one-week] use."
Woodstock's goal, he said, is to inspire individuals to take action on issues, "whether they're societal or climate change issues."
"If that's what the RNC is evoking by evoking our logos, then we say great, rather than just putting an elephant on a guitar," Rosenman said. "And anyway," he added, "we know elephants play the bass."
Language was added to clarify Woodstock Ventures' position on legally protecting its intellectual property.
Calling all HuffPost superfans!
Sign up for membership to become a founding member and help shape HuffPost's next chapter
BEFORE YOU GO