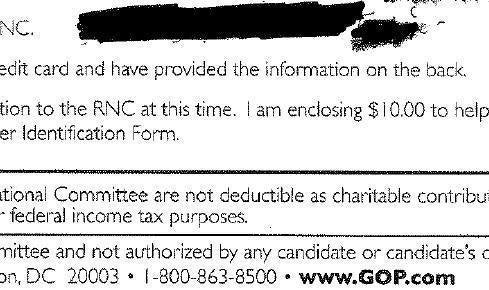 A voter in Minnesota received the mailer and called the number intending to complain about the attempt to raise money with a form that looks like a government document.

But the Minnesotan was instead directed to a second toll-free number that greets callers as "sexy guy" before offering them the chance to talk with "real local students, housewives and working girls from all over the country."

The individual then forwarded the mail piece to the voter's congressman, a Democrat, who shared it with the Democratic Congressional Campaign Committee.
The problem was a typographic error, in which "1-800" was included instead of the correct, and decidedly unsexy, "1-202." Honest mistake! We've all been there.
Of course, it seems like an oddly fitting thing to happen to the RNC given the shenanigans they were trying to pull with this mailer. That Minnesota voter's complaint? It had to do with the fact that this was one of the RNC's "census" mailers, fundraising asks that are dolled up to look like official census forms. This was another one of Michael Steele's stupid ideas that nobody liked. Last month, House Republicans made their opinion on these mailers known:
170 Republicans voted to ban the RNC letters, and Issa and Chaffetz blasted Steele's tactics in a recent committee hearing on the matter. "I have seen the Republican Party send out documents that say 'census.' I think it's wrong, I think it's deceptive, and I wish they wouldn't do it," Chaffetz said. Steele recently defended the mailers, saying, "If it's against the law, I won't [send them]. Until such time, this is an aggressive fundraising season."
So, the story here, I guess, is we have some measure of karmic backlash against a terrible idea that was executed with a minor example of the incompetence we've come to expect from the RNC these days.
Here's an audio snippet from the phone sex line in question. Definitely treat this as Not Safe For Work, because I doubt that any of you have Michael Steele's inexplicable job security.
Calling all HuffPost superfans!
Sign up for membership to become a founding member and help shape HuffPost's next chapter